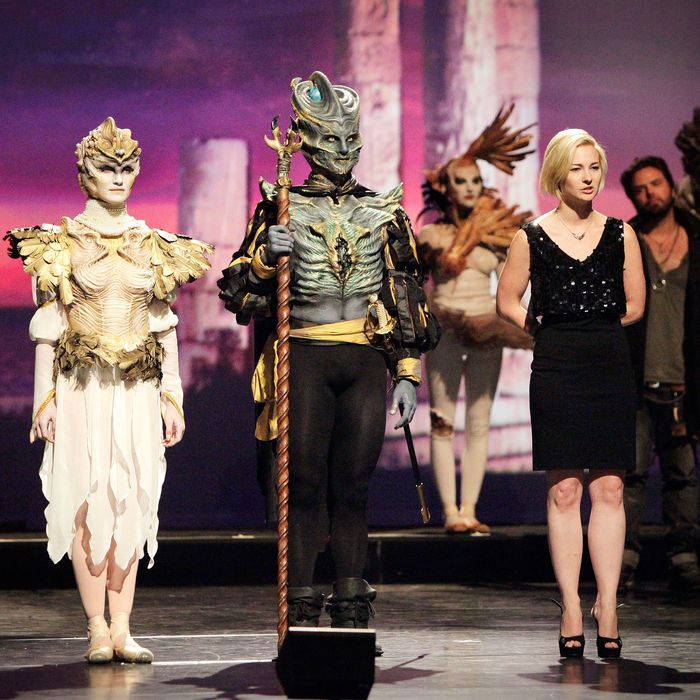 Photo: Syfy/2013 Syfy Media, LLC
My heart is heavy because there will be no new episodes of Face Off for a good, long while. Oh, there's a one-off special tonight, in which the judges count down their twenty favorite looks in the show's history, but there won't be a new episode of the reality series until season six premieres January 14. That's too long. I need more Face Off in my life right now.
For the uninitiated, Face Off is Syfy's answer to Project Runway, only instead of fashion designers, the contestants are special-effects makeup artists. Each week, they're tasked with creating monsters, aliens, goblins, and witches, and then it's off to the workroom where they design and fabricate sometimes gross, often spooky elaborate masks, prosthetics, and makeup. Face Off hits two fronts that I wish more reality shows (or just shows in general) would pursue: First, it's about a relatively obscure field of profession with a high barrier to entry and a tremendous amount of required expertise; and second, it's the least petty show I've ever seen.
I've gushed about my love of skill-based reality TV shows before, but Face Off occupies a slightly different space than, say, Top Chef: The skills it requires are pretty much unknown to the layperson. I might not be as good or as knowledgeable a chef as any of those contestants, but I've been to a restaurant and I know how to cook. But I'd have absolutely no idea how to sculpt a clay design, make a cast of it, pour latex, silicon, or polyfoam into that cast, glue it to a human being, and then paint it to look like what I want. (The only reason I know those steps is that I've seen every episode of five seasons of Face Off.) There's something joyous about the demystification, and something deeply impressive about contestants who are good at sculpting and good at polymer science.
Along with talent and creativity often comes self-aggrandizing bitchiness, at least on reality television, and shows seemingly reward dickish behavior that masquerades as competitive spirit. (See: Any episode of Top Chef, but most recently, the great lemongrass shitstorm, in which everyone was a jerk about having or not having lemongrass.) Not so on Face Off. Contestants regularly help one another carry heavy things, make aesthetic judgments, open tough-to-crack molds, and even apply last-minute touch-ups. I've seen this happen a handful of times over the many, many seasons of Project Runway, but it happens constantly on Face Off.
And it's not that the contestants themselves are more saintly than anyone else; this is a production and editing decision. The show rarely acknowledges interpersonal beefs between the artists, and the talking-head confessionals are almost never the snippy criticisms endemic on shows like Top Model. There was a vaguely alluded to two-episode showmance in the third season, and that's the extent of anything smoochy. It's a refreshingly mature spin on the idea of a talent contest, focusing on talent and not intrigue or even personality.
Which is not to say that I love every contestant. Laney's sexy-baby voice drove me crazy this season, and Eddie's glassy-eyed stare made me wonder how he stayed in the competition as long as he did. And the show itself has some serious flaws, namely host McKenzie Westmore, whose intros and challenge descriptions are terribly re-dubbed. I wish there were more challenges about ethereal beauty and fewer about goblins and ghouls, and I wish the show did a better job at explaining where the costumes come from. (There's pretty clearly someone sewing the costumes for the contestants' characters, but that person or team of people are never mentioned.) Mostly though, I just wish for more Face Off.