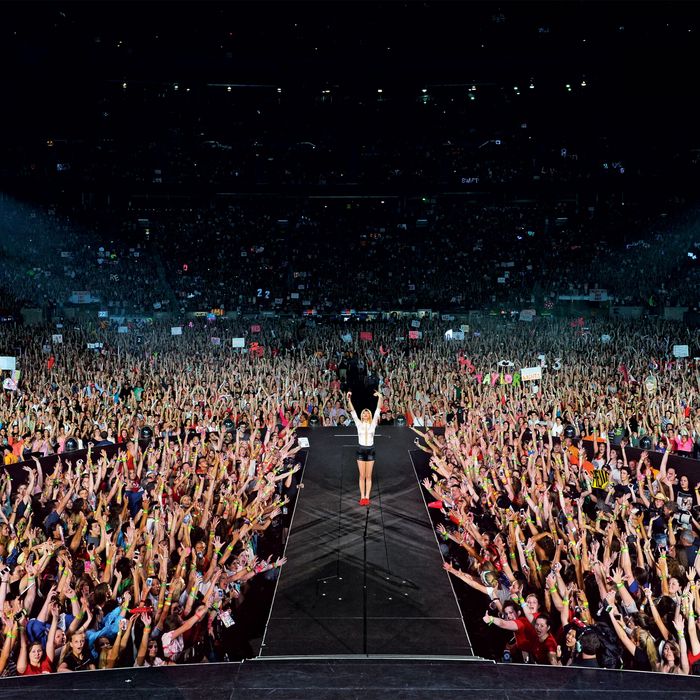 Swift's sold-out performance at MetLife Stadium in July.
Photo: Larry Busacca/TAS
Taylor Swift worries a lot about security. It's an understandable concern. This spring, a man was arrested in the wee hours of the morning near her estate in Watch Hill, Rhode Island. Police reportedly spotted him walking out of the ocean; he told the arresting officers he had swum two miles to meet Taylor Swift. The singer has two other homes—a modest house, which she calls a "cottage," in ­Beverly Hills, and her main residence, a penthouse apartment near downtown Nashville—and her team makes every effort to keep the addresses hush-hush. But fans have a way of sniffing these things out. On a Sunday morning in late September, a 12-year-old girl and her mother, who had flown to Nashville from Connecticut to see Swift's concert at the Bridgestone Arena the night before, walked into the lobby of her building. This was celebrity stalking at its most benign: The mom and daughter had a gift for Swift, a big container of homemade chicken soup, which they left with her doorman.
Swift needed the soup. When I arrived at her apartment later that day—my visit was scheduled—she was audibly under the weather. She looked the picture of health: She greeted me in her big, open-plan kitchen, wearing a loose-fitting white-lace frock and friendly grin. But when she spoke, what came out was a croak, a husky voice pitched about two octaves lower than Bea Arthur's. "I made these, and I'm super-proud of them," she said, pushing a plate of cookies across the counter. "They're pumpkin-chocolate-chip. I didn't cough on them, just so you know. You're safe."
Swift had been sick all week, fighting the kind of head cold best treated by curling up in bed with a magnum of NyQuil. She didn't have that luxury. She'd come home to Nashville to wrap up a seven-month-long North American tour in support of her fourth album, Red, which was released in October 2012. The concert the previous evening was the final one of the tour, and the toughest. "It was a struggle," she said. "I found it a little bit easier to sing than to talk, which was, like, a miracle."
In fact, Swift's cold had provided one of the show's Kodak moments. About halfway through, she settled in front of a microphone to perform her 2010 hit "Sparks Fly." Suddenly, she thought better of it. "I'm sorry, guys, but I just really have to blow my nose," she said. "I swear I'm gonna do this really fast, can you please scream to fill the awkward silence, please?" She scurried down a flight of steps offstage, where, presumably, a roadie was waiting with Kleenex.
For another star, the move would be inconceivable: a mystique-shattering breach of the fourth wall. Can you imagine imperial Beyoncé or imperious Lady Gaga telling a sold-out arena: Hang on a sec, I've gotta go snort into a napkin? But for Swift it was a coup de théâtre. The crowd—14,000 plus, mostly female—erupted in a deafening, inhuman roar. Twenty seconds later, Swift was back onstage, strumming her twelve-string acoustic guitar and singing "Sparks Fly."
Swift's Red tour is her biggest yet, and it has all the trappings of a stadium-pop blockbuster. There are Jumbotrons and LED lights, multilevel stages and hydraulics and confetti drops, a seven-piece band, four backup singers, fifteen dancers, nearly as many costume changes. Yet the heart of a Taylor Swift show is intimacy: moments like the tissue break, when the razzle-dazzle recedes, the band and dancers step into the shadows, and Swift bathes cavernous arenas in a homey campfire glow. Introducing "Mean," a song about bullying, Swift stood at the lip of the stage, picking at a banjo. "I always wanted to know and I always used to daydream about what it would be like to stand on a really big stage and sing songs for a lot of people, songs that I had written … Daydreaming was kind of my No. 1 thing when I was little, because I didn't have much of a social life going on. I didn't always have 14,000 people wanting to hang out with me on a Saturday night."
This is the signature Swift humble-brag, modesty that has at times seemed so false that it earned its own meme, the Taylor Swift Surprised Face—a reference to the What? Me?! gasps of astonishment she unleashed once too often when her name was called at awards ceremonies. Still, can you blame her for being shocked? The scale and scope of Swift's success is startling. In an age of catastrophic music-industry contraction, Swift stands apart; sometimes she has seemed like a one-woman bulwark against the collapse of the traditional record business. In the seven years since the release of her self-titled debut, Swift has sold 26 million albums. Sales of Taylor Swift song downloads have topped 75 million; according to the Recording Industry Association of America, she is the No. 1 digital singles artist of all time. Since 2006, she has placed 43 songs in the Top 40 of Billboard's Hot 100 pop chart as the lead performer, more than any other artist in that period. She's had 31 Top 40 country singles, including thirteen No. 1's.
These numbers are especially improbable when you consider the music, and the musician, behind them. Swift is an oddball. There is no real historical precedent for her. Her path to stardom has defied the established patterns; she falls between genres, eras, demographics, paradigms, trends. She is a Pennsylvania Yankee turned teen-pop country singer, a Nashville star who crossed over to Top 40, a confessional singer-songwriter who masquerades as a global pop diva. Her music mashes up the quirkily homespun and the gleaming pop-industrial, Etsy and Amazon, in a way we've never quite heard before.
Swift herself is a figure of contradictions. She's a rock critic's darling who hasn't the faintest whiff of countercultural cool about her. Raunchiness is the norm in today's pop, but Swift is prim, rated G. She is a model of can-do 21st-century girl power whose vision of romance is positively medieval—fairy-­princess, shining-knight, prancing-­unicorn medieval. She can write the sickly sweetest love song you've ever heard and churn out the most bilious, vindictive, name-naming, slut-­shaming breakup ballad; often, they're the same song. Swift's influence has reverberated through popular music, yet she remains sui generis, a genre of one. By rights, she should be a fringe figure, a cult artist. But as 2013 rounds the corner toward 2014, as Swift puts a bow on her fourth album and begins work on her fifth, there's no mistaking it: Beyoncé, Rihanna, Gaga, Katy, Miley, ­Justin, Justin, Usher, Jay Z, Kanye—they're all vying for second place. How, why, is Taylor Swift the world's biggest pop star?
The best place to seek answers may be Nashville, the city that shapes Swift's approach to art, business, and the intersection of the two. Her apartment, a three-bedroom corner duplex with soaring ceilings, sits more or less in the center of town, about two miles southwest of the Cumberland River, near the campus of Vanderbilt University. Swift did the interior design herself, a ­project she says took years to complete. It's easy to see why. The apartment is a very pleasant, very visually busy place. There is a lot of décor for the eye to absorb.
There's rustic hardwood furniture, Oriental rugs, a giant hearth where an electric fire flickers even when the temperature outside is in the high ­seventies. There are cabinets cluttered with books and tchotchkes; there's a kitchen backsplash in the shape of a giant heart. In a corner near a window, there's a topiary rabbit, as tall as an NBA shooting guard, wearing a marching-band hat. On the wall of her ­living room, I noticed a photograph in a gilded frame: the famous image of Kanye West, stage-crashing Swift's acceptance speech at the 2009 MTV Video Music Awards. Underneath the picture is a caption, handwritten by Swift: Life is full of little interruptions.
Swift's ceilings are hung with all kinds of things: gathered silk, wooden birdcages, chandeliers, lanterns. Ornate railings line the apartment's second-floor balconies; it looks like a stage set for a production of Romeo and Juliet—or for the scene in the final verse of Swift's 2008 hit "Love Story." In short, it's exactly the kind of apartment you'd expect Taylor Swift to inhabit: whimsically girlie, dreamy, appointed in a style you might call Shabby-Chic Alice in Wonderland. Swift showed me one of the guest bedrooms, which holds an eye-popping cacophony of patterned wallpaper and ­fabrics. "I wanted, like, every color," she said.
Swift is a homebody. Even when she's touring, she tries to sleep in her own bed, picking the shortest distance to one of her three residences and flying home in her private jet after shows. "It's not a bad gig," she deadpanned. You might not know it from her public persona, but Swift is funny; she has a dry, ready wit. I told her about the strange man who was seated next to me at the concert the night before. He looked to be in his early forties and was wearing a Taylor Swift T-shirt covered with Taylor Swift pin-back buttons. He announced that he was alone and had driven to Nashville from Oklahoma for the show; he filmed the whole concert on his phone, mouthing every word to every song with unnerving intensity. "He's probably in a file somewhere," Swift said.
The most impressive features of Swift's apartment are the twenty-foot-high windows, which wrap around a corner of the building, offering panoramic views of Nashville. If you look out those windows to the west, you can see the famous epicenter of the country-music industrial complex, the strip of song-publishing firms, recording studios, and record labels known as Music Row.
Swift first saw Music Row in 2001. At the time, the Swifts were living in Wyomissing, Pennsylvania, near Reading, on an eleven-acre Christmas-tree farm that the family owned as a secondary ­business. (Her father, a successful stockbroker, worked for ­Merrill Lynch.) Taylor had discovered country music a few years earlier, when her parents bought her a LeAnn Rimes album. At age 11, ­Taylor persuaded her mother to take her to Nashville during spring break, so she could go door-to-door on Music Row, armed with a demo CD of karaoke performances.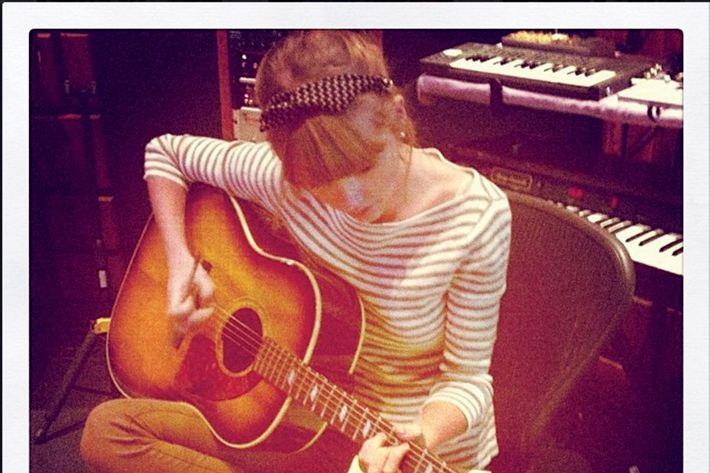 She came up empty on that first trip, but three years later the family relocated to ­Hendersonville, Tennessee, an affluent suburb about twenty miles northeast of Nashville, so Taylor could pursue her musical dream. For once, it is not glib to say that the rest is history. In 2004, when she was 14, Swift signed a songwriting contract with Sony/ATV ­Nashville; she may have been the youngest professional songwriter in Music Row ­history. A year later, she inked a deal with Big Machine, a fledgling label run by ­former DreamWorks Nashville Records executive Scott ­Borchetta, and released her first album, Taylor Swift, in October 2006.
Revisiting Swift's debut, you're reminded just how much of a country record it was. The lead single, "Tim McGraw," tipped a Stetson to the ­country superstar; on the album cover, Swift looked like a mini-me version of McGraw's wife, Faith Hill, whom she thanked in the liner notes "for being the most graceful woman in the world." The songs were genre fare: lyrics about Chevy trucks and bedtime prayers and slammin' screen doors, sung by Swift in a Dixie drawl, an accent she couldn't possibly have picked up in the Keystone State.
There is a long tradition of country carpetbaggers: musicians from points north who squeeze into cowboy boots, start dropping their g's, and make a beeline for Nashville to launch, or revitalize, their careers. The country star Alan Jackson lampooned the phenomenon in a 1994 hit, "Gone Country," and the trend has been pronounced in recent years, with rockers like Sheryl Crow and Darius Rucker migrating to Nashville, one of the last places hospitable to guitar-based pop-rock in an era dominated by hip-hop.
You could make the case that Swift traveled that well-worn path herself. In fact, she did a bait-and-switch maneuver, planting roots in loamy country soil, then pivoting to pop. With each album, her drawled vowels have become more clipped; she's pushed the fiddles and mandolins down in the mix, or jettisoned them altogether. The tale is told by two of her biggest hits, "You Belong With Me" (2008) and "We Are Never Ever Getting Back Together" (2012). The former is a power-pop song with a country twang; banjos are prominent amid the surging guitars, and Swift still sounds like she's a Southerner. (Listen to her sing the phrase "typical Tuesday night.") "We Are Never Ever Getting Back Together," on the other hand, is a pure bubblegum-pop ditty, which Swift sings—and in funny asides, speaks—in a Valley Girl accent purged of all down-home traces. Good-bye, twang; hello, vocal fry.
Yet Swift's ties to Nashville are still strong, crucial to her music and to what can only be called the Taylor Swift Brand. Radio is a major force in country, and Swift has remained a country-radio favorite the old-­fashioned grassroots way: by schmoozing and glad-handing ­station executives, ­program directors, and disc jockeys.
"Country radio is much more like a family than any other group of people that I've met," Swift said. "They just say, 'Look, we've known each other for years. You've stood by us, and we've stood by you. That's how this works.' "
Swift has made splashier gestures toward the country Establishment. In October, the singer attended a gala ribbon-cutting ceremony for the Taylor Swift Education Center at the Country Music Hall of Fame and Museum, which she personally endowed with a $4 million donation. "I love being a part of the country-music community," she told me.
Those feelings are, to say the least, reciprocated. Swift is ­Nashville's sweetheart; it can't stop lavishing her with accolades and honors. This fall, the Nashville Songwriters Association International named her Songwriter/Artist of the Year for a record sixth time. She has been nominated for 21 Country Music Association Awards, and she's won nine. Midway through this year's CMAs ceremony, a phalanx of eight of the biggest stars in country—McGraw and Hill, George Strait, Brad Paisley, Keith Urban, and the three gaudily moussed simps in the trio Rascal Flatts—appeared onstage to present Swift with the Pinnacle Award, a ­special prize that had only been given out once before, to Garth Brooks. Brooks won his when he was 43; Swift turns 24 next month.
The Swift-Nashville love affair works for both sides. She is country's first truly global star, its ambassador not just to the nation's mall-rat hordes but to Ireland and Brazil and Taiwan. She confers modernity, cosmopolitanism, youth on a genre that traditionally has stood for the opposite values. The country Establishment may not be crazy about pop music, but it loves having a pop star in its midst, and is willing to follow Swift anywhere she goes, sending songs like "We Are Never Ever Getting Back Together" to No. 1 on the Hot Country Songs charts. Nashville barely even flinched when confronted with "I Knew You Were Trouble," surely the only record with a dubstep bass-drop ever to get spins on country radio.
For Swift, Nashville offers plenty in return. The country audience is music's most loyal and reliable; in a decade of record-industry decline, country sales figures have been notably more buoyant than other genres. Nashville turned out to be the perfect staging ground, the ideal base of operations, for Swift's broader conquest of pop culture. If you ask Swift to reconcile her musical impulses, she gives an answer that has the virtue of being both true and politically savvy boilerplate. "I love country and I love pop," she told me. "I love them both."
But Swift's relationship to country is not merely a matter of careerist calculation. Nashville is a song town, and Swift is first and foremost a songwriter, steeped in Music Row's values of craftsmanship and storytelling. This was evident from the beginning, on Swift's debut record, when listeners were amazed to hear a scrawny teenager—who in early publicity photos looked like she'd been awkwardly airdropped into a debutante's ball gown—singing self-­written songs that showed such sure-footed command of form. Her songs had catchy verses that erupted into catchier singalong choruses, and the kinds of clever lyrical twists and switchbacks for which country songwriters are renowned. Her first country No. 1, "Our Song," which she wrote for a talent contest as a high-school freshman, bounded out of the speakers, grabbing your ears from the first bar. The lyric was a little Mobius strip: a teenage romance tale, which looped around, in a nifty final verse, to Swift, the songwriter: "I grabbed a pen / And an old napkin / And I wrote down our song." With each album, she's refined her craft. Consider a refrain from another big hit, "Mine" (2010): "You made a rebel of a careless man's careful daughter." That's awfully deft writing: a little miracle of narrative concision, ­vacuum-packing a novel's worth of backstory into ten words and two bars of music.
Swift told me she could imagine a time when she'd stop performing and just be a writer. "When I'm 40 and nobody wants to see me in a sparkly dress anymore, I'll be, like: 'Cool, I'll just go in the studio and write songs for kids.' It's looking like a good pension plan."
Perhaps. But Swift's songwriting may be too quirky, too personal, to fit all comers. Swift's parents named her after James Taylor, and she has a seventies-folkie's soul; she is a confessor, a memoirist. On Red, Swift made the big leap into high-gloss pop, co-writing three songs with the wizardly Swedish hit-makers Max Martin and Johan "Shellback" Schuster, who are responsible for dozens of pop smashes over the last decade and a half. You could hear Martin and Shellback's touch in the bright, punchy sound of those songs, "We Are Never Ever Getting Back Together," "I Knew You Were ­Trouble," and "22." Yet the songs are unmistakably Swiftian; unlike other Martin songs, you can't imagine them being recorded, interchangeably, by Katy Perry, or Pink, or any of the other usual suspects. Listen to a key line in "22": "We're happy, free, confused, and lonely at the same time / It's miserable and magical." It's a classic Swift lyric: purple but precise, self-involved yet self-aware—all in all, about as spot-on a description of a young woman's turbulent inner life as you're likely to hear on hit radio.
"I think that allowing yourself to feel raw, real emotions in public is something I am never going to be afraid to do," she said. "Hopefully that's the case, if I can remain a real human. I'm fine with being honest with my fans about the fact that it's okay that everything isn't okay all the time. I love my life, I love my career, I love my friends—but things are not okay all the time. So I don't sing about things being okay all the time."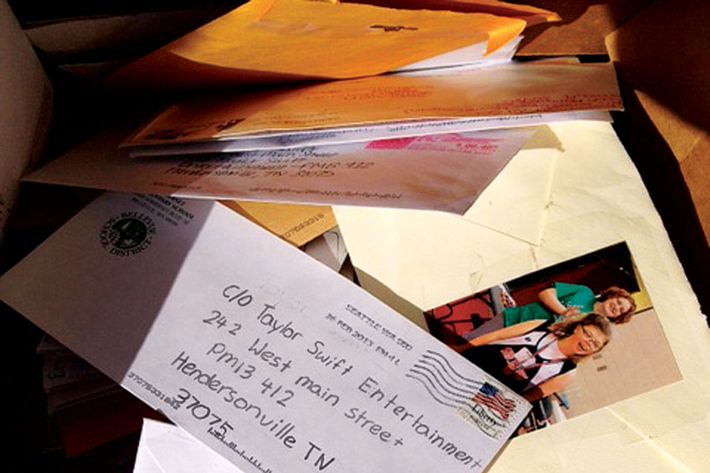 She never has. The second song Swift ever wrote, when she was 12, was a lament about junior-high-school ostracism called "The Outside." (The song appeared on Taylor Swift.) Swift quit Hendersonville High for good when she was 16, but her songs have never quite left the schoolyard: She still obsesses over castes and cliques and social hierarchies. In "22," Swift sings about fleeing a party packed with "cool kids"; in "We Are Never Ever Getting Back Together," she scoffs at the ex-boyfriend who plays "some indie record that's much cooler than mine." One explanation for Swift's immense popularity may be her insistence on playing the unpopular girl—36.7 million Twitter ­followers be damned. Other divas project invulnerability, striding through videos like jackbooted superheroines. Swift offers a different image. To put it in the teen-movie terms of "You Belong With Me": In life Swift is, unmistakably, a "cheer captain"—blonde, leggy, confident, talented, and, oh, yeah, world famous. But in her songs she's staked out a different persona: She's a bleacher warmer, a wallflower, an underdog.
Swift is best known, of course, for writing love songs, and lost love songs—and, especially, vengeful, scorched-Earth lost-love songs. The liner notes to her debut album included this dedication: "To all the boys who thought they would be cool and break my heart, guess what? Here are 14 songs written about you. HA." Back then, the boys in question were Swift's high-school classmates, but she's since moved on to dating musicians and movie stars. These days, spotting-the-celeb in Taylor Swift's lyrics is a favorite media parlor game.
Like many famous people, Swift complains about the prying of tabloid gossips. In fact, she does a lot to encourage the attention. Accepting the Best Female Video award for "I Knew You Were Trouble" at the VMAs this August, Swift said: "I also want to thank the person who inspired this song, who knows exactly who he is"—a statement that unleashed a torrent of tweets about One Direction singer Harry Styles, the song's reputed target.
At such moments, you can't help but conclude that you are watching a shrewd businesswoman at work: It doesn't hurt Swift's bottom line to keep gossip mills whirring. But Swift's vengeful streak has also brought censure—lots of it. She's been maligned as a serial kisser-and-teller, as an entitled rich kid, as a mean girl with a victim complex. Swift can be shrill. When singer Joe Jonas dumped her and began dating actress Camilla Belle, Swift's (alleged) response was "Better Than Revenge" (2010), a song that spent as much time shaming the girl as the rake ("She's an actress / She's better known / For things that she does / On the ­mattress"). "Dear John," allegedly about Swift's reported fling with John Mayer, had a delectable melody, but Swift's self-righteousness, her immature insistence on her own immaturity—"Don't you think I was too young / To be messed with?"—curdled the drink.
Swift has heard the criticism, but she waves it off. "There's a spin on every single celebrity out there," she said. "I know that one of my spins is: 'Oh, Taylor's heartbroken. Oh, Taylor fell in love and the guy broke her heart. She's sad all the time, and lonely.'
"I mean, they can say that all they want. Those are real feelings that every single person goes through. I think that it's okay to be mad at someone who hurt you. This isn't about, like, the pageantry of trying to seem like nothing affects you. I'm a songwriter. Everything affects me."
"I'm a songwriter," surely, is the apt response. The tradition of musical score-settling stretches all the way back to medieval troubadours and lyre-plucking ancients; it's been a mainstay of American song at least since the first bluesman aimed an acidic twelve-bars at the woman who'd done him wrong. Bob Dylan is an incorrigible, at times malicious, kisser-and-teller; for decades, rock critics have been quoting with admiration Elvis Costello's famous dictum: "The only motivation points for me writing all these songs are revenge and guilt." Drake's new album Nothing Was the Same is, as usual, a vérité catalogue of his "bitches" and booty calls, in which he goes so far as to name one of his civilian exes, "Courtney from ­Hooters on Peachtree"—a creepier move by far than Swift's sly swipes at her famous former beaux. It's hard not to detect a sexist double standard in the policing of Swift's confessions, especially when you consider the routine misogyny in the songs of rockers, rappers, and woebegone beardy indie balladeers. Taylor Swift is a young woman who dates guys, falls in love, falls out of love, and writes some songs about it. Must we begrudge Swift her muse?
You could call Swift a generational bard: She merges the ­pleasures of old-fashioned songcraft with millennial social-media oversharing. There's no doubting the artfulness of Swift's best status updates. Red's center­piece is "All Too Well," co-­written with songwriter Liz Rose, a frequent ­collaborator. If the Internet is to be believed, "All Too Well" is about Jake Gyllenhaal, whose romance with Swift convulsed the tabloids in late 2010. It's a ballad that rises, like a slow-cresting wave, over a bass line similar to the one in U2's "With or Without You." There are the usual recriminations, which arrive in tight, crackling couplets: "You call me up again just to break me like a promise / So casually cruel in the name of being honest." But "All Too Well" is also a montage of fond ­memories, vividly drawn: The song catches a couple "singing in the car, getting lost upstate" and dancing around the kitchen "in the refrigerator light." Here is Swift, watching her boyfriend react as she pages through childhood photographs at his mother's house: "Photo album on the counter, your cheeks were turning red / You used to be a little kid with glasses in a twin-size bed." It takes a special songwriter to craft a sneering kiss-off that's also tender valediction.
"I heard from the guy that most of Red is about," Swift said. "He was like, 'I just listened to the album, and that was a really bittersweet experience for me. It was like going through a photo album.' That was nice. Nicer than, like, the ranting, crazy e-mails I got from this one dude. It's a lot more mature way of looking at a love that was wonderful until it was terrible, and both people got hurt from it—but one of those people happened to be a songwriter."
She rolled her eyes. "So what are you going to do? Did you not Wikipedia me before you called me up?"
These days, Swift is thinking a lot about her next record. While on the Red tour, she'd been writing songs and stockpiling ideas: reams of lyrics, thousands of voice memos in her iPhone. Swift will end the year by performing in Australia and New Zealand and will play a few dates in London and Berlin in February. But she plans to spend much of 2014 writing and recording the new album, a prospect she finds exhilarating and terrifying.
"I worry about everything," Swift said. She was sitting in her dining room, at the head of a large antique wooden table. "Some days I wake up in a mind-set of, like, 'Okay, it's been a good run.' By afternoon, I could have a change of mood and feel like anything is possible and I can't wait to make this kind of music I've never made before. And then by evening, I could be terrified of the whole thing again. And then at night, I'll write a song before bed."
Swift hopes to collaborate with new songwriters and producers. But she planned to begin, she said, by heading back into the studio with Max Martin and Shellback. "I want to go in with Max and Johan first, just to figure out what the bone structure of this record is going to be.
"I have a lot of things to draw from emotionally at the moment. But I have to draw from them with a different perspective than on Red. I can't say the same things over and over, you know? I mean, I think it's just all the more important that I don't ever allow myself to coast.
"At the same time, there's a mistake that I see artists make when they're on their fourth or fifth record, and they think innovation is more important than solid songwriting. The most terrible letdown as a listener for me is when I'm listening to a song and I see what they were trying to do. Like, where there's a dance break that doesn't make any sense, there's a rap that shouldn't be there, there's like a beat change that's, like, the coolest, hippest thing this six months—but it has nothing to do with the feeling, it has nothing to do with the emotion, it has nothing to do with the lyric. I never want to put things in songs just because that might make them popular, like, on the more rhythmic stations or in dance clubs. I really don't want a compilation of sounds. I just need them to be songs."
As for the theme of those songs: That's a foregone conclusion. "I only write songs about crazy love," Swift said. "If I go on two dates with a guy and we don't click, I'm not writing a song about that. It didn't matter in the emotional grand scheme of things. There's a lot that goes on in daily life that isn't really worth turning into a verse and a chorus."
Swift is definitely in the right line of work: Popular song is, to a large degree, the art of setting crazy love to a tune. But Swift's romanticism has brought disdain from certain quarters. In a post on the website ­Jezebel titled "Taylor Swift Is a Feminist's Nightmare," Dodai Stewart scorned the singer as retrograde, a prude infatuated with white-knight romance. "For Taylor, 15 means falling for a boy and dreaming of marrying him. My 15 was more like: Flirt with this one, make out with that one, try a cigarette, get drunk, lie to your parents, read some Anaïs Nin … [Swift's] image of being good and pure plays right into how much the patriarchy fetishizes virginity, loves purity, and celebrates women who know their place as delicate flowers."
Swift is practically Victorian compared with stars like Beyoncé, Gaga, and Rihanna, to say nothing of another ­daughter of Nashville who's been in the news lately, Miley Cyrus. Those women represent an aggressively sexualized feminist pop, harnessing big beats and skimpy outfits to work through questions of power and self-determination. Swift's songs aren't totally chaste: Sex is there in the rush and flush of the music, and it peeks through, discreetly, in the lyrics. But she is demure. Among other things, this is an excellent marketing strategy. Swift has moved from teen-pop stardom to adulthood, bringing her old fans along while staying wholesome enough for the next generation of tweens and their parents.
Still, is Taylor Swift really a "feminist's nightmare"? You could argue the ­opposite. Her straight-laced fashion sense and dance moves—the fact that she's never writhed across a concert stage wearing a negligee, or less—may make her more square than some other singers. But she's also less beholden to that old feminist bugbear, the Male Gaze.
In fact, seeing Swift live is revelatory: It's in a setting like Bridgestone that her uniqueness, the weirdness of her conventionality—and, yes, her feminism—snaps into focus. I've been going to arena shows for three decades; I've never experienced a louder, more rabid crowd than at Swift's concert. Nor, for that matter, a more female crowd, music critics from New York and creepy dudes from Oklahoma to the contrary. Even at a Justin Bieber show—even at a women's-studies seminar—you won't find as pronounced a female-to-male ratio, nor such a wide age range: toddlers and teens and tweens and their moms, for sure, but also college co-eds, and grandmothers, and rowdy thirtysomething office workers, like the gals who sat in the row behind me, passing a flask of booze. To push through the turnstiles of a Taylor Swift concert is to enter, as the saying goes, a women's space. Swift has the power to turn a hockey arena into a room of one's own.
She puts on a good show. In the past, Swift's singing has been shaky—who can forget the wounded-water-buffalo ­harmonies in her duet with Stevie Nicks at the 2010 Grammys—but these days her pitch is sure; she sings confidently, ­prettily, if not quite muscularly. The ­concert is elaborately choreographed, and she hits her marks like a pro. But the most fascinating bits come between songs, when Swift speaks to the crowd. Her ­banter consists almost entirely of talk about songwriting. It is a rather eccentric brand of stage patter: more hippie arts-camp counselor than rock star.
"I think for me, a question that I get asked sort of a lot is: How do you write a song? Like, where do you start? I just imagine that I am putting a message in a bottle and sending it out into the ocean."
"I remember being really young, and the thing I would write songs about, mostly, was the fact that I really didn't really fit in in school. Songwriting became a coping mechanism for me early on."
"I think it was Joni Mitchell who said that, 'Songs are what you think of on the drive home.' You know, the Great Afterthought."
At Bridgestone the loudest cheer of an earsplittingly loud night came when Swift was sitting at the piano, in the middle of a rambling introduction to "All Too Well." "I'm sure," she said, shooting a sidelong glance at the audience, "we have a lot of people here tonight who write songs." Call Swift a stooge for the patriarchy if you like, but the message of her concerts is a different one: that great power is unleashed when a female takes a guitar and pen in hand and makes some art.
At her apartment, I ask Swift to explain her rapport with her fans.
"There's more of a friendship ­element to it than anything else," she said. "Maybe it's a big-sister relationship. Or it's a Hey, we're the same age—and we were both 16 when my first album came out, and we've both grown up together.
"Audiences respond differently to ­different effects that artists have on them. I've noticed this, from bringing lots of special guests onstage. Crowds scream for lots of different reasons. There's a certain cute-boy scream. And there's, like, a ­certain 'I identify with this lyric, this lyric is my life' scream. I guess that's the scream that I hear in my concerts."
*This article originally appeared in the November 25, 2013 issue of New York Magazine.