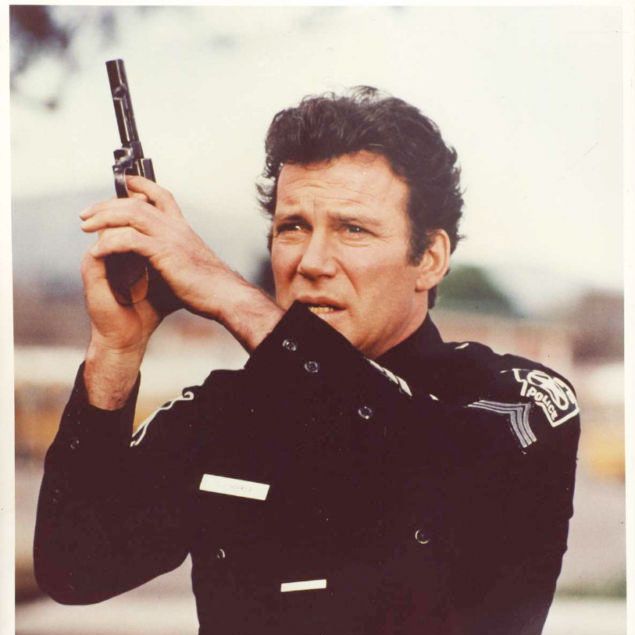 One thing Adam Scott is making sure we're all completely aware of: Opening credits sequences from the 1980s are pretty awesome. For the third installment of his Adult Swim project, The Greatest Event in Television History, he and a few pals took on the grandiose challenge of faithfully re-creating the opening credits sequence of the 1980 to 1986 Ted Knight sitcom Too Close for Comfort. Scott's previous stabs at mock-perfect apery included the 1981 to 1989 detective series Simon & Simon, with Jon Hamm and Scott inhabiting the roles of the titular brothers, and Hart to Hart, in which he and Amy Poehler (with Horatio Sanz!) sent up the gooey 1979 to 1984 Robert Wagner–Stefanie Powers mystery/romcom mash-up. With a fourth re-enactment on the docket for January 23, 2014, we wanted to offer our assistance in setting Scott's course for adventure and his mind on a new romance. No, not by urging him to tackle the delightful but too-well-known credits sequence for The Love Boat (although we'd love to see him as "Your Yeoman Purser" Burl "Gopher" Smith), but by considering one of these ten TGEITH-worthy series from the 1980s.
T.J. Hooker (1982–86)
There's been some chatter that there may only be one more TGEITH left in the tank. Hopefully that's not the case, but if so, the franchise can't end without paying tribute to a William Shatner or a Heather Locklear series. T.J. Hooker kills both of those birds with one ironic stone. Also, with all due respect to our esteemed Star Trek nerds out there, this ABC police drama provided Shatner's finest TV performance … in an opening credits sequence, at least. It begins with a long shot of Shatner, in uniform, running, intently, gun at the ready. He also slides on a floor and jumps from a helicopter into a speeding boat. The opening credits also features a shirtless Adrian Zmed as well as both a bikini-clad Locklear and a gun-toting Locklear. It is 90 seconds of TV perfection, and it deserves the honor of being TGEITH-ed.
Empty Nest (1988–95)
Now that TGEITH has tackled a sitcom, the door is open to many more sitcom spoofs. And while mining credits from a late-1980s show would mean breaking a pattern, this series spun-off from The Golden Girls in 1988 fits perfectly with the vibe established by last night's Too Close for Comfort riff. We're already imagining Nick Offerman's sour face getting frenched by a big ol' dog, like Richard Mulligan in the first few moments of the open. Scott would step into David Leisure's smarmy shoes with no problem, while Retta clearly embodies the "I do not have time for your nonsense" vibe Marsha Warfield gave off in every episode of Empty Nest.
The Greatest American Hero (1981–83)
What's great about this mid-1980s ABC show, about a teacher who ends up a superhero, is that it combines multiple genres. Like Simon & Simon, it's a two-handed action-adventure, with William Katt and Robert Culp overcoming a new challenge every week. But it's also got a sci-fi aspect and it's frequently a comedy, drawing laughs from our hero's struggle with his new powers. All of this is on display in the credits: Katt's pratfalls, Culp's cool gunplay — and a spaceship! As if all of this weren't enough, the show already has the word greatest right there in the title.
One Day at a Time (1975–84)
CBS's long-running family comedy is beloved for many reasons, not the least of which is that it was one of the first sitcoms to realistically depict the struggles of single moms. If TGEITH were to tackle this open, it would probably be more loving homage than mockery. And yet, there's still plenty of silliness lurking within the One Day credits: Bonnie Franklin's endless comically exaggerated looks of frustration, the groovy dance moves of both Mackenzie Phillips and Pat Harrington (Schneider!), Valerie Bertinelli at peak Valerie Bertinelli cuteness. As for casting, Amy Poehler is a no-brainer for Franklin's Ms. Romano, while Scott would obviously play Schneider. Whitney Cummings hasn't appeared in TGEITH yet, but she'd be right to replicate the lanky Phillips. Casey Wilson, meanwhile, was born to play Bertinelli's Barbara Cooper.
Joanie Loves Chachi (1982–83)
Not many TV theme songs feature the lead characters singing, but this short-lived spin-off to Happy Days does. And it's amazing … ly awful. But that's what make it a perfect TGEITH: Scott has done lots of stunts, and plenty of mugging. But crooning a cheesy love song? That's a challenge!
Bosom Buddies (1980–82)
Today, TV opens can run less than five seconds. But the open for Tom Hanks's first big role runs nearly two whole minutes, making it a virtual miniseries by TGEITH standards. It needs every second, though, to fit in all the amazing elements of a perfect sitcom open: physical comedy, bromantic bonding, pretty girls, funny costumes, and, of course, dudes in dresses.
Silver Spoons (1982–87)
So far in the history of TGEITH, small kids have been excluded from making small-screen history. This must change, and the season-one open of Ricky Schroder's breakthrough sitcom would be a good place to start. Modern Family's Nolan Gould or Trophy Wife's Ryan Lee (Warren!) could bring the cute if given a chance to play Ricky, although Aziz Ansari's youthful visage makes him a candidate, too. A more daring choice — and forgive us for going back to the same well — would be Amy Poehler. You heard it here first, folks.
The Fall Guy (1981–86)
The theme song's lyrics, sung by Lee Majors himself, say it all: "I'm not the kind to kiss and tell/But I've been seen with Farrah." Or maybe they don't, because the visuals are just as high caliber as that mind-bending verse (note: Majors had been married to Farrah Fawcett at the outset of The Fall Guy, but they divorced in 1982; the lyric is forever), and not only because they include Heather Thomas, perennial second fiddle to Heather Locklear in the Heather fame game of the 1980s. With Adam Scott in the sidekick role, Malin Åkerman as the tougher-than-she-looks bombshell, and Don Johnson taking over as death-defying stuntman Colt Seavers, TGEITH should celebrate this lost classic from the TV guru who gave us Battlestar Galactica (Glen A. Larson) starring the dude from The Six Million Dollar Man (speaking of incredible opening credits sequences).
It's a Living (1980–89)
The open to this unexpectedly long-running 1980s sitcom would let Scott tackle a workplace comedy, appropriate given his long run in the Pawnee parks and recreation department. This show had so many iterations — running on ABC, then first-run syndication — and thus many openings. But they all included a staple of title sequences back in the day: Actors pausing in the middle of a scene to turn and mug for the (imaginary) camera. Scott is always at his best in a tux, so he'd be great as Paul Kreppel's piano player.
Manimal (1983)
This show lasted barely three months on NBC's schedule in the fall of 1983, but its impact can still be felt on TV to this day. Well, OK, that's not true. But the show's title sequence is stunning in its unironic embrace of the idea that it's totally normal that a "wealthy, young, handsome" guy would suddenly find himself able to transform into an animal on cue. It looked like an SNL TV show spoof when it aired; three decades later, Scott & Co. would be able to milk every eagle's shriek for laughs. And in addition to casting the on-camera roles, the intro for Manimal includes an incredibly serious narration explaining the show's incredibly ridiculous concept. The voice of Jon Hamm would be perfect.