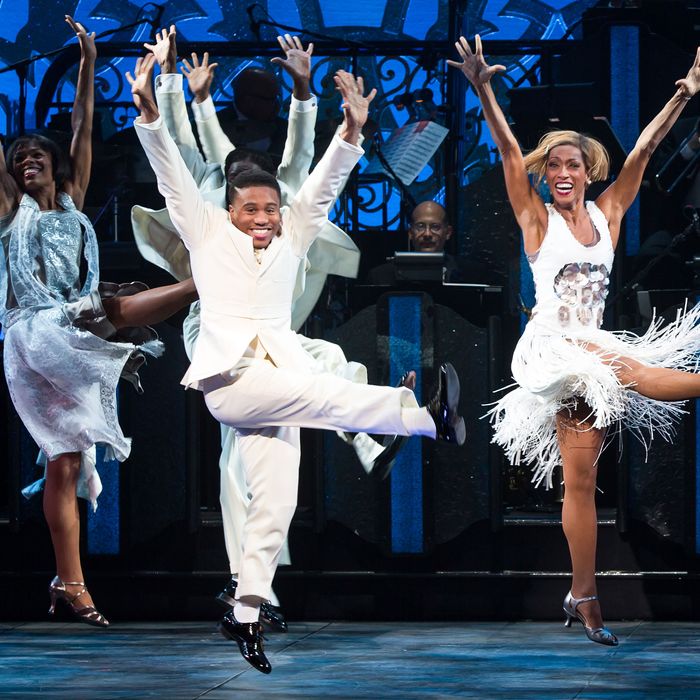 Virgil "Lil' O" Gadson, Karine Plantadit, and company in After Midnight.
Photo: Matthew Murphy
Revues these days are usually small, cheap, and tacky affairs. Six people in tuxes and gowns sing two solos each plus a few awkward medleys while clambering around a set made of cubes and obelisks. Since the great Ain't Misbehavin' ran from 1978 to 1982, this has not been a very satisfying genre on Broadway, theatrically or commercially. Inexpensive though they may be to produce, revues do not usually offer anything so unique in the way of stars or stories that audiences feel they must attend. Worse, material written for various other contexts and characters is expected magically to emulsify like mayonnaise, with little added to hold it together. In our story-hungry age, what takes the place of narrative?
After Midnight solves all of those problems, and then some, by managing a clutch of apparent contradictions: opulent yet tasteful, wild but disciplined, kinetic and sexy but smart, smart, smart. The result is one of the best revues in recent memory and a flat-out success on any terms. 
The concept is simple: a celebration of the music and performance styles associated with the Cotton Club during its Harlem Renaissance heyday in the twenties and thirties. (An earlier version of the show, produced at Encores! in 2011 and 2012, was called Cotton Club Parade.) About half of the two dozen numbers are the work of Duke Ellington, either as composer or arranger; songs by Harold Arlen (usually with the lyricist Ted Koehler) and Jimmy McHugh (with Dorothy Fields) fill out most of the rest of the bill. "Stormy Weather" and "Black and Tan Fantasy" and "I Can't Give You Anything But Love" and the rest have been parceled out to a company large enough (there are 25 multi-threat performers) to allow great depth of expertise in unique styles of song and dance while also filling the stage for satisfying ensembles. Tap, scat, call-and-response, blues, big-band, jazz, "eccentric" dance: all are represented. There is even a so-called guest star — currently the American Idol vocalist Fantasia Barrino — to focus the eye and prime the box office with a few solo spots. 
Barrino's vocal abilities are no surprise, but her sense of both fun and hauteur might not have been predicted from her only previous Broadway appearance, as a replacement Celie in The Color Purple. She holds her own even in the company of pros like Adriane Lenox, who brings an almost demented saltiness to her bluesy, Ethel Waters-type character. (Suggestive though they are, the double-entendre numbers "Women Be Wise" and "Go Back Where You Stayed Last Night" do not originally feature phrases like "Shut the fuck up.") Lenox is a good example of how After Midnight makes up for a lack of narrative with a clear sense of character, and simulates dramatic development by having performers return in similar but deeper veins to build on their earlier impressions. Indeed, the whole cast is regularly seen in pairs or trios whose numbers are mined for unsuspected variations within what might at first seem one-off novelties. Barrino's Cab Calloway scat specialty, "Zaz Zuh Zaz," shows how it's even possible to make drama out of nonsense. 
Good as Barrino and the others are, the real stars of the show are found upstage on the bandstand: the sixteen musicians "hand-picked by Wynton Marsalis" and conducted by Daryl Waters. They are not only as good a group as has recently been assembled for a Broadway show, but they are playing from charts, most by Ellington or his house arrangers, that are truly superb. Never published, their parts and scores mostly lost, they exist today only thanks to the aural archeology of transcribers working over the years for Jazz at Lincoln Center. They include moments of such intricacy that you can't believe they were ever unraveled. Yet here they are, and when the bandstand slides toward the apron of the stage, bringing the sound almost into your lap, After Midnight achieves an apotheosis of pure joy.
This is no accident but rather the result of the show's painstaking attention to detail and refinement of taste — traits not usually associated with a revue. The overall concept (credited to the Encores! artistic director, Jack Viertel) and staging (by the director-choreographer Warren Carlyle) might almost be called classical. Nothing is milked: certainly not the instrumentals, but also not the vocal stylings, which in contrast to current performance norms are brisk and disciplined. The dances follow natural arcs, often toward quiet endings, and even the curtain call is restrained. This wouldn't matter if the details left exposed by such restraint weren't so aptly chosen. The brief linking material spoken by Dulé Hill is drawn from Langston Hughes's Montage of a Dream Deferred. A gorgeous traveling curtain introduced when Barrino sings "Zaz Zuh Zaz" references the murals of Romare Bearden. It's the work of the artist Ruben Toledo, whose wife Isabel, the fashion designer, is making a knockout theatrical debut with the costumes. Her colorways and unique fabrications and cuts look like a million bucks, though they presumably cost a lot less, since After Midnight was produced on a modest-for-musicals budget of about $6.5 million.
If the ensemble dancing never quite rises to the level of the specialty solos and duets, and if one or two concepts for production numbers fizzle, After Midnight is still an unmitigated pleasure. And it may be the best kind of pleasure: the kind that changes with time. (After Barrino leaves the show in February, scheduled guest stars include k.d. lang, Toni Braxton, and Kenny "Babyface" Edmonds.) Presumably, theatrical archeologists of the future won't have as hard a time rediscovering After Midnight as our era's transcribers did in rescuing the Ellington material. Because this is one for the record books.
After Midnight is at the Brooks Atkinson Theater.