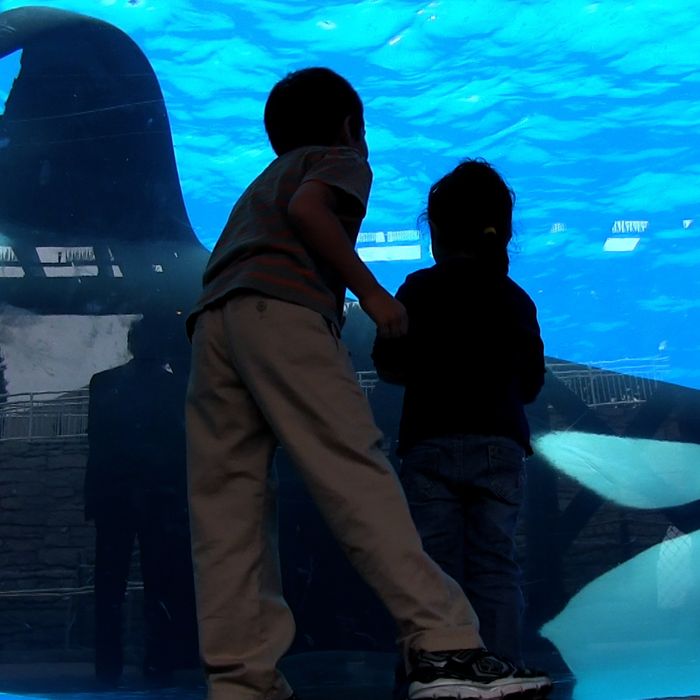 CNN sometimes seems to exist solely as a punching bag for the rest of the media. Trade reporters revel in the network's slumping ratings, conservatives whine about Piers Morgan on Twitter, Jon Stewart is forever finding a new way to mock it for some perceived gaffe. What hasn't drawn as much attention is the all-news channel's aggressive efforts to bulk up its long-form programming — content that's not tied to breaking news. The international travelogue Anthony Bourdain's Parts Unknown won an Emmy in its first season (with its second cycle ending Sunday). The network just launched a new Friday night sports interview series, Unguarded, with former ESPN-er Rachel Nichols hosting. And then there's its most ambitious attempt to break out of the 24/7 news cycle: CNN Films.
Since its creation a year ago, the unit has helped produce a number of buzzworthy theatrical documentaries, including the White House retrospective Our Nixon, the education-themed Girl Rising, and the Sea World exposé (and likely Oscar contender) Blackfish. The upside for filmmakers, of course, is that the deep-pocketed CNN invests in their productions. In exchange for the financial help (and a produced-by credit), CNN gets first dibs on TV rights to the docs. So far, early ratings have been promising. CNN estimates more than 11 million viewers saw Our Nixon when it aired several times back in August. And Blackfish, from director Gabriela Cowperthwaite, is also doing very well: It drew over 1.3 million viewers when it debuted last month, skewed far younger than most CNN programs, and easily beat Fox News and MSNBC in all key demographic groups. And instead of airing the movie just a few times over one weekend, CNN has since scheduled multiple encore plays, adding several million more viewers to the film's overall audience. Not surprisingly, reports are starting to surface that CNN chief Jeff Zucker is looking to do more programming in the vein of Blackfish and Parts Unknown, returning the network to a formula that worked for it back in the nineties, when shows such as Style With Elsa Klensch and Pinnacle were common. Tonight, CNN Films presents the TV premiere of its latest project, Pandora's Promise, which attempts to make an environmentalist argument in favor of nuclear power. Vulture rang up CNN senior VP Amy Entelis and had a brief chat about her strategy for CNN Films.
What was the thinking behind the move into documentaries?
It's about expanding what kind of content we can bring to our audience. People can get their news from a variety of different places now, and the competition for that is very fierce. We want there to be more things that bring an audience to CNN. People come to CNN for every crisis and every breaking news story. And [that] will always be our pillar. But we also want people to come to CNN in between those crises. We want … to have more appointment television. We want it to look and feel different. We want to make an event out of it.
What kind of projects are you looking to do?
We're choosing subjects that we cover every day, but [with films] we're able to cover them in a really in-depth way. We can't let a team here devote a year or two to that type of look at a single subject. Filmmakers are able to do that. With Blackfish,that story was covered by CNN two years ago, when Dawn Brancheau was killed. But then we move on to the next story. And this is a way to go back to a story our viewers know about. It's something we couldn't have done in the breaking news mode. It's in our sweet spot, because it builds off a story we've already covered.
Right now, you've been mostly coming onboard projects already in the works. Is that going to change?
So, it's definitely going to be a mix of models. In the case of The Flag… that was a pitch. Someone brought us the idea, and we ran with it. In other situations, we've been at film festivals … like with Blackfish. We were sitting at the screening of it an Sundance, and within 60 seconds, I said … "We have to get this film." And the third model is when we have an idea [for a film]. For example, we had the idea of exploring the world of college education. That's a conversation we had inside [CNN]. So we went out and found somebody we thought would tell that story really well, Andrew Rossi, and we told him about our idea and said, "If you're interested, go out and create a treatment for us." [The result will air sometime in 2014.].
So is any one financial model the most preferable?
Films we commission, we own all the rights, but they're more costly. So that economic model — we can't do 100 percent of that. So right now, it's a mix. But we're barely a year old, and next year, we'll have ten films overall. We're learning as we go.
You're doing a Roger Ebert documentary that Martin Scorsese is producing, and you mentioned the Rossi film. What else is in the pipeline?
Next month we have An Unreal Dream, which is this wonderful story of a man who was convicted of murdering his wife, was going to spend his life in prison, and was later freed by DNA evidence. It's a story we see all the time in the media, but this really gets into details you don't normally see. And Sole Survivor is the story about plane crashes. There are fourteen plane crashes in the world where only one person walked away alive. And this is the aftermath of those crashes, and how people handle being the only person coming out alive. That's going to be on early next year.
Some Oscar bloggers have mentioned Blackfish as an Oscar contender. Are you interested in getting into the awards derby?
I don't want to get carried away with Oscars or Emmys.