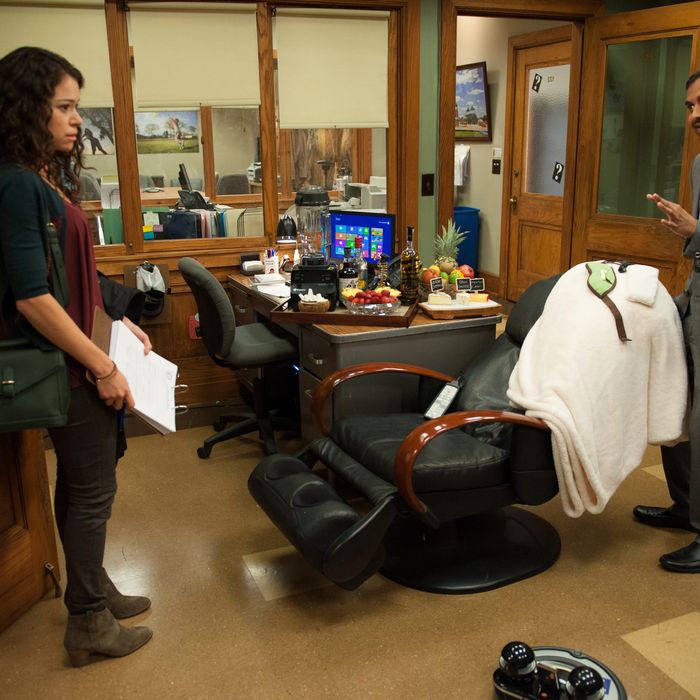 A scene from Parks and Recreation.
Photo: NBC
This piece originally ran in November of 2013. It has been updated in advance of the Parks and Recreation series finale tomorrow, February 24.
When Parks and Recreation says its good-byes in its hour-long series finale, there's a better than average chance that we'll hear Tom Haverford (Aziz Ansari) toss out yet another seemingly outlandish idea for a business he's unlikely to ever start. Yes, the dapper serial entrepreneur already owns a semi-successful teenage-clothing-rental emporium, but that's not going to stop a guy who lines his shoes with swatches of red carpet so that he can be perpetually walking the red carpet. Here is our entirely arbitrary assessment of the viability of the 26 business ideas he's mentioned on the show so far.
26. Entertainment 720, "Pawnee's first and only entertainment media conglomerate." [FAILED!]
25. Disco Dairy: "Spread the Party" — butter with glitter in it.
24. Toddler cologne: promoted with the tagline "Baby, you smell good."
23. Snail Mail, an "escargot delivery service."
22. Yogurt Platinum, "a gourmet alcoholic yogurt."
21. Tommy Fresh, a cologne.
20. Sparkle Suds: "Dress Loud" — laundry detergent with glitter in it.
19. LASIK for fingernails: You only need to cut your fingernails once. "All we need is a complicated laser I have no idea how to build."
18. A service that allows him to pimp himself out "to hot older ladies."
17. SnakeJuice, a high-end Kahlúa-style liqueur billed as "the Connoisseur's Juice" and created when Tom "mixed a bunch of alcohol together, and some sugar and coffee, and a bunch of other junk, and it kind of tastes like Kahlúa."
16. H2H0, "a new brand of bottled water."
15. A tuxedo line for babies.
14. Snakehole Lounge, "Pawnee's sickest nightclub." [(PRESUMABLY STILL) OPEN FOR BUSINESS!]
13. Tommy and the Foxx, a raunchy animated series based on the imaginary friendship between Tom and Jamie Foxx.
12. Homes constructed inside private jets, for investors who want to "buy a Gulfstream G4 jet, take the wheels off, turn the jet into an apartment building."
11. Tom's Bistro, a nightclub based on the idea that "the word bistro is classy as shit."
10.Talking Tissues: Every time you pull one out, you get a little message to hype you up. "Blow that nose, playa!"
9. White fur earmuffs, "for men."
8. A scented phone "that smells good."
7. Club-a-Dub-Dub (or the Clubmarine), "sort of a submarine-themed club."
6. Know Ya Boo, "a dope new game show where I ask couples scandalous questions and they have to guess what the other one answered."
5. Saltweens: Saltines for tweens.
4. VIP department stores, "a department store with a guest list."
3. Rent-a-Swag, "high-end clothes rentals for teens, tweens, and everything in-betweens." [OPEN FOR BUSINESS!]
2. Eclipse, "a nightclub that's only open for one hour two times a year — cover charge? $5,000."
1. Contact lenses "that display text messages."