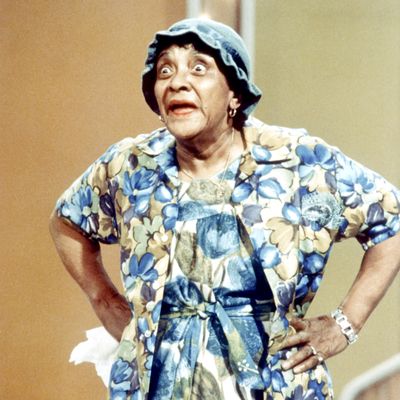 Photo: Michael Ochs Archives
Whoopi Goldberg Presents Moms Mabley is simple but perfect — one of those documentaries that's about what it seems to be about, but is also about something else. It gives you a sense of its subject, Moms Mabley, a trailblazing comic whose brilliantly constructed stage persona and politically innovative material made her a household name at a time when there were few African-American comics who'd attained crossover success and perhaps even fewer women. Goldberg grew up watching Mabley on variety shows (including The Smothers Brothers Comedy Hour) and listening to her hilarious and sometimes racy routines on vinyl. Goldberg says she was especially fascinated by Mabley's gender and color. She was one of the most famous African-American comedians of the twentieth century, and one of the very few women whose renown rivaled those belonging to all of stand-up's men. At the peak of her earning power she made $10,000 a week. She was a sought-after performer for about 50 years, from the early years of Prohibition through her death in 1977. 
The documentary shows what it was like to play the so-called "chitlin circuit" with Mabley between World War I and the sixties, and it fills in as much of Mabley's somewhat sketchy background as it can. That's not easy, and the program doesn't pretend that it is. We're told that Mabley is believed to have been raped twice in her life, and that the crimes were a major source of her deep melancholy and her willingness to perform rather grim material about oppression of all kinds, but that these traumas were never verified and might be apocryphal. We're told she was a very out lesbian for her time, and would don men's suits after a performance and then go to a nightclub with a beautiful young woman on each arm, but the documentary mainly infers this from photos or from retold second- and thirdhand stories, and never pretends to have definitive knowledge of anything too specific. 
In its heart, this documentary is less a standard biographical portrait than an examination of style. It treats film and TV clips and audio recordings of Mabley as primary sources and dissects them with a professional performer's keen and unsparing eye. It tells us where Mabley came from, as best it can, and how she turned her life into art; then it looks very specifically at her choices as an artist, and asks and answers some fascinating questions. Why did Mabley wear floppy hats and plain dresses rather than something more glamorous? How was she able to be so political without alienating commercial broadcasters or record distributors? What did she do with her face, her voice, her body? "Moms don't know no jokes," she says in one routine, then grins and adds, "but I can tell you some facts!"
Goldberg, who directed the documentary and appears onscreen as both interviewer and commentator, is completely invested in Mabley's story for obvious reasons, but she expresses her love and respect in practical, at times studious ways, avoiding the sorts of gooey "Oh, what a marvelous genius she was!" quotes that gum up so many documentaries about legendary performers. She's assembled one of the greatest lineups of expert commentators I've ever seen in a documentary about a comedian: Harry Belafonte, Bill Cosby, Anne Meara, Jerry Stiller, Joan Rivers, Kathy Griffin, Dick Cavett, Arsenio Hall, and many other boldface names appear on camera, and every last one of them is talking shop. They gush a bit about what Mabley meant to them personally (Stiller's "I had this white boy's yen for the black culture" is one of the more endearingly frank admissions), but they spend the vast majority of the documentary's screen time picking apart who Mabley was and what she did. Hall is especially sharp talking to Goldberg about how Mabley told long, often slow and meandering stories with such precision that it created a different sort of excitement. "Think of the people who'll tell you a four-minute story on a stand-up stage [today]," Hall says. "There aren't too many of them."  Analyzing Mabley's truth-telling-grandma appearance, Rivers says, "She made herself harmless." If you want to be dangerous, that's how you do it.