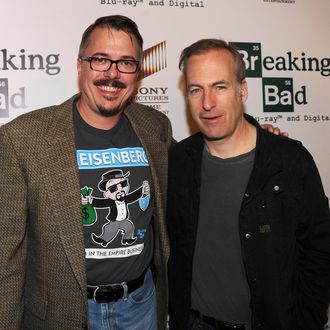 Creator Vince Gilligan at the screening of "No Half Measures: Creating The Final Season Of Breaking Bad" DVD Launch at Pacific Theatres at the Grove on November 25, 2013 in Los Angeles, California.
Photo: Kevin Winter/Getty Images
Vince Gilligan's flying pretty high after the finale of Breaking Bad, basking in critical acclaim and fan devotion. Does he want to gloat about it, "shove the show's success up everybody's ass?" asks GQ. "I don't know whose ass to shove it up," says Gilligan. "I'm trying to think if there are any old girlfriends who treated me badly. The reaction has been so stratospherically beyond anything I would have expected," he says. "I'm certainly not the Dalai Lama, but there's nobody I can think of that I want to say to, 'Yeah! Suck on that, bitch!'" Ugh, it's like Jesse Pinkman's driving away all over again.