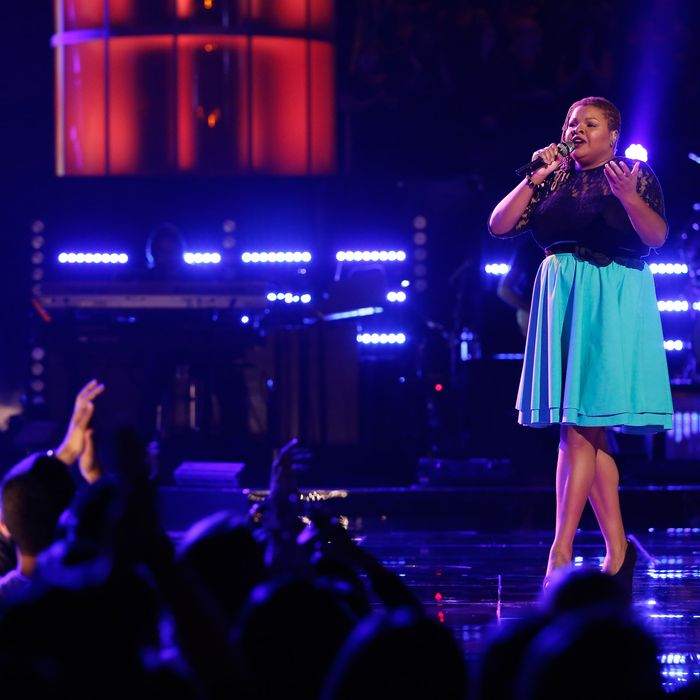 And we're back, everyone!
Christina Aguilera and a Great Big World, "Say Something"
Why is Christina performing again? What is going on? Is she blackmailing someone? Who are these anonymous "breakout song writers"? (One of them has a particularly interesting Richard Simmons thing going on.) What is Christina's cool hat? We got no context for any of it. This song was really beautiful, though. I could imagine listening to it on a particularly self-pitying day.
Amber Nicole, "Wasting All These Tears on You"
Lord. Sometimes I am impressed with the depths of This Is the Voice's marketing machine. Making poor Amber sing Cassadee Pope's weird alt-pop-country song that was not a hit? It was a genius sort of torture. Amber is really talented, but she had serious pitch problems on much of this one (and not just that last, especially wonky, note). I was surprised! Honestly.
Johnny Gray, "Bittersweet Symphony"
Cee Lo observed that Johnny has a certain "Americana" to his voice. He really does sound like a man who is singing while rocking back and forth on a Shaker chair. Anyway, this song is boring and he still did a fine job with it. He sang it like an interminable folk song.
OMG SPRINT SKY BOX. But what is going on with this horrible incarnation of the Sprint Skybox? The judges are involved and that is always so much worse because that is when you can tell the collective "drying out" has dulled their wits.
Tamara Chauniece, "I Will Survive"
Tamara did a great job on this, didn't she? Although her rhythm was off in parts, she has the perfect voice for disco. I wish disco was still happening.
Kat Roubichaud, "She Keeps Me Warm"
I am going to say it now: Janey Jimplin is a star. Even when she is singing a slow song without much of a tune, she's wickedly charismatic. She hugged a rando for no reason just because she was moved by the music. That is some rock-star shit! I am worried about her song selection, though. Will that dumb song garner iTunes votes? Only time will tell.
Caroline Pennell, "We're Going to Be Friends"
Caroline looked really good tonight. The side-swept bangs were a fantastic choice! She has such a strong rhythmic sense, and such an interesting phraseology. Caroline is far more than an indie affectation.
Josh Logan, "Crazy"
Josh is like the second coming of Gavin DeGraw and I mean that. He is one of the few on this show that sounds like he could eventually be a professional singer. That is actually the weirdest part of this show. It has given me a tremendous appreciation for professional vocalists I merely thought were average before, like Katy Perry or Taylor Swift or even Gavin Degraw. The average This Is the Voice contestant might be able to do more vocal acrobatics than those artists, but they don't have that special quality that immediately arrests you. But Josh has that! His version of "Crazy" might have been a little fussy, but I enjoyed it. Josh has "IT."
Olivia Henken, "Roar"
I thought this song was going to be the graveyard of Olivia's dreams, but she ended up acquitting herself adequately on this. Sure, it was boring, but it could have been a disaster, U.S.S. Akron level! Every Voice contestant in recent memory has screwed up on Katy Perry.
Stephanie Anne Johnson, "Georgia on My Mind"
I think Christina doomed Stephanie. I just don't think any teen in their right mind will download this song. They are more likely to download "Wasting All These Tears on You" and they definitely don't even know it! (What if this is a perverse gambit to make the teens download "Wasted All These Tears On You"? Tell me your thoughts in the comments section.) Stephanie faltered in parts, but she ended up really strong on this, so it's too bad. She has such a unique, cool timbre.
Matthew Schuler, "Wrecking Ball"
Now, THIS is a song that the teens will like! Finally! "Wrecking Ball" is such a good song for the post-therapy MYllenial age and Dennis the Menace happened to do some really nice things with it, too. His high notes are extraordinary. I liked his outfit. He looked cute.
Jacquie Lee, "I Put a Spell on You"
Does Jacquie have a bit of an Eve Harrington thing going on with old Xtina? Or is Xtina Margot to a young Jacquie? Tell me in the comments section if I am imputing too much. In any case, Jacquie did a fantastically accurate and brilliant job on this. It was like watching someone do the most accomplished floor gymnastics routine at the Olympics. I think she could win.
And now we are at the end of the show! Who did you think won the day?