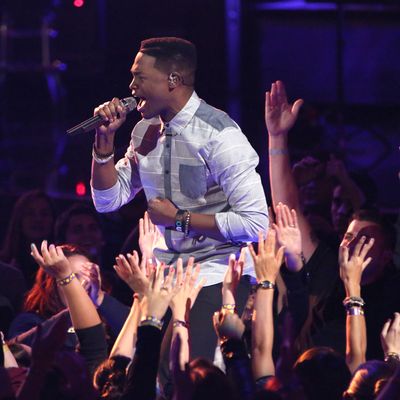 Photo: NBC/2013 NBCUniversal Media, LLC
What a revolutionary episode! Can you believe that after all this time Carson Daly grew a beard? It looks so good! Also, I found all of the contestants' Twitter accounts, and I have a LOT of thoughts.
All Artists, "Say It Just Say It"
I love a good old unison sing-a-long, like the ones they used to sing on whaling ships of old. Sure, every single person was pitchy during this song. But who cares? It was a sign of togetherness in a weary, competition-hardened world, just like Ye Olde Carson's facial hair.
Austin Jenckes, "Your Love"
Blake has the won "This Is the Voice" a staggering number of times, and I usually attribute that to country's nonsensical dominance of the teens and voting and popular music, but last night I realized something — Blake really is a better coach than the others. He always gives his contestants a song that they can actually sing, that is catchy, and that people would genuinely want to download. What is the point of The Voice aside from that? Austin was beneficiary of that approach last night — big time. He's a limited vocalist, but he sang really well and the song was so fun! I would download it.
OMG! Guess who was in the Sprint Skybox last night? Christina Milian? Wrong. It was Usain Bolt stumping for Tessanne because they are both from Jamaica, which was AWESOME. Carson Daly said, "That country must be on fire" about Jamaica and then challenged Usain Bolt to a race in the Sprint Skybox. Can you imagine how much people must do that to poor Usain? Me neither.
Jacqui Lee, "Clarity"
In an Usher Raymond move, Xtina took Jacqui to yoga and made her do a bunch of exercises. Then she made Jacqui sing "Clarity" in a "broken-down way," which was a mixed bag experiment. It definitely helped Jacqui with dynamics and phrasing (which is her weak point, she is all power) but she had a lot of trouble with pitch when she wasn't belting.  One thing — I like how Jacqui's mom just CANT TAKE IT. She just cries whenever Jacqui sings. I feel like that's how I would be as a mom if my kid were on The Voice. I would just be drinking Starbucks and being hysterical.
Will Champlin, "Love Me Again"
If Blake is the best coach on The Voice then Adam is BY FAR the worst. Inevitably, he always gets the best talent (people always want to please the handsome man), but then he squanders said talent by giving people a (relatively, but STILL this is The VOICE goddamnit) obscure song that doesn't cry out for a cover. Will did a really great job last night, but why use THIS opportunity to introduce a British song to U.S. audiences? What if U.S. audiences hate it? And Britain does have a heightened tolerance for romantic, instrument-heavy pop with a disco/doo-wop backbeat! I'm not even sure we like that all that much.
Caroline Pennell, "Leaving On a Jet Plane"
This didn't do much for me, but around this time I started finding everyone's Twitter account, and Caroline's is extremely sweet. She just got into college! Congrats, kid!
Cole Vosbury, "To Be With You"
This was when I literally said, "Blake is a genius," while watching this show alone in my room. This song was perfect for Cole, he sounds EXACTLY like the lead singer from Mr. Big, and it was both popular and not overdone. I especially enjoyed that guy drumming on an A.C. the whole time.
Tessanne Chin, "If I Were Your Woman"
Another wack song choice by Adam, who I now think is using The Voice to brag about his own rarefied music taste. The Victoria Secret models are already impressed! And let me clarify my point here — it's not that Gladys Knight is particularly obscure, but for "This Is the Voice," it IS! Every single year, people sing "Clarity" and everyone loves it. Pick a song to help your people, my friend! Like "Clarity"! Even Tessanne was like, "I have to trust my coach" about this song. But man, Tessanne is just unbelievable. She was head and shoulders over everyone tonight. Her pitch, consistency, and phrasing were amazing.  And that song is gorgeous, too; btw, I just hope the teens like it.
Ray Boudreaux, "You Are the Best Thing"
A nice, easy-going effort by Ray, who I have now decided will either win everything or be kicked off tomorrow.
James Wolpert, "Without You"
James Wolpert sang Harry Nilsson last night and had some pitch problems on the high notes. Do you think Adam gives him songs that are too hard for him? Like can he physically go as high as everyone is making him go? I wonder that.
Kat Robichaud, "We Belong"
This was so funny because I felt like we traveled into the mind of CeeLo Green. He said to Janie Jimplin that he never wanted her to be in the bottom again and was going to make her appeal to the masses, come hell or high water. So then he brought back Hi Hat (my personal favorite! The non-choreographer to the stars) and made Janie sing in front of some masked Busby Berkeley dancers like a punk-rock Fred Astaire. I just loved the whole thing!
Matthew Schuler, "Beneath Your Beautiful"
Matthew was flat in the beginning of this song, but his phrasing is SO good. This song was romantic!
And that's our show! Who is going to get kicked off tomorrow? Who is your favorite coach?