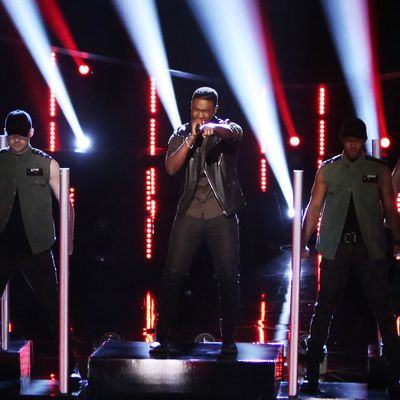 This is a great top eight, perhaps the best ever. I actually don't know who should go home aside from Carson Daly, who should already be away for Thanksgiving.

Robin Thicke, "Feel Good"
Now, I am no fan of Robin Thicke (it was "That's on her" that killed it for me. I was totally fine with "When I Get You Alone"), but this was a very good performance and the man has a great voice. He does, however, perspire quite a bit. That's on you, Robin!
James Wolpert, "Somebody to Love"
I found it really endearing that James Wolpert is actually an a cappella nerd and his girlfriend arranged his a cappella songs. I thought "Somebody to Love" was his best performance ever (possibly because he sang the song a lot with his a cappella group). No pitch problems at all, plus Carson got to mention the video for "The Real Slim Shady." Side note: Sexiest Man Alive Adam Levine really loves James, don't you think? He does not hide that he is his favorite on the team, which makes me feel bad for Tessanne and Will, because they are also good. I think he sees James as a young version of himself. Maybe James, in ten years, will be the sexiest man alive. Only time will tell.
Tessanne Chin, "Underneath It All"
Tessanne is so competent that she can really sing anything, so no surprise she did a great job with this song. It was slightly boring (the song is melodically very limited) but the breakdown was great. My favorite part of the whole segment was when Adam told Tessanne that his mother calls him every night after "This Is the Voice" and tells him, "You were the best one," even though he never sings on it or does anything. America's Mothers: This is how you make the Sexiest Man Alive.
Caroline Pennell, "Dog Days Are Over"
Poor Caroline. It was so sad when she went to a "gelato bar" (Is that a real thing?) with Cee Lo to talk about failure because she was in the bottom last week. I thought she rebounded quite well and acquitted herself nicely on "Dog Days Are Over," which is right in her wheelhouse. Adam was quite patronizing in his comments to her, however, don't you think? America's Mothers — take note.
Oh, look! It's Robin "That's on Her" Thicke in the Sprint Skybox. What is the nature of his relationship with The Voice? Last season, they trotted him out to sing "Blurred Lines." Is he a sponsor of "This Is the Voice" like Starbucks? Please speculate in the comments section.
Cole, Tessanne, Will, Ray, "One Day"
This was so boring. Musicians write the worst songs ever when they imagine some kind of utopia without war.
Cole Vosbury, "I Still Believe in You"
I really liked how Blake got Jay Leno to give his singers advice. It made no sense at all. And yet, this is how Blake wins all the time — through sheer affability. Cole is reminding me of Rod Stewart these days.
Matthew Schuler, "It's Time"
What did you guys think of the inexplicable Jerry, who is apparently some kind of movement person on The Voice? Jerry taught Mathew to "grab hold of everybody and be like come on let's be one" through choreography which I suppose is a good skill. However, I couldn't help but wonder, where is Hi Hat? She usually does this sort of thing. Musically, this performance was kind of lacking. Dynamically he didn't really do much with the song, which was mostly shouting anyway.
Mathew Schuler, Jacqui, Caroline, James, "Lego House"
This was okay. Lego House is no "A Team" though.
Will Champlin, "At Last"
When Adam first gave Will this song, I was convinced he wanted Will off the show. This seemed like a suicidal gesture to me. Plus remember when Will was like, "I went to Berklee College Of Music" and Adam dreamily responded, "That's where I wanted to go." Was this song choice punishment for that conversation? However, Will was note perfect on "At Last" and the iTunes-wielding teens seemed to have really enjoyed it.
Ray Boudreux, "You Need Some Lovin"
Ray's rhythm was both idiosyncratic and excellent on this song, but according to iTunes, I think he will get kicked off tonight. Good-bye Ray!
Jacqui Lee, "Whose Lovin You Now?"
Christina restored Jacqui to what she does best, which is belting like Ethel Merman to very old soul songs. I'm sort of getting sick of it, though. I want Jacqui to belt actual Ethel Merman songs. Can you imagine if she sang "Everything's Coming Up Roses" next Monday? I would cry and die.
And that, my compatriots, is our show! Who should go home and who IS going home? Who is sexier, Robin Thicke in the "When I Get You Alone" video or Adam Levine today?