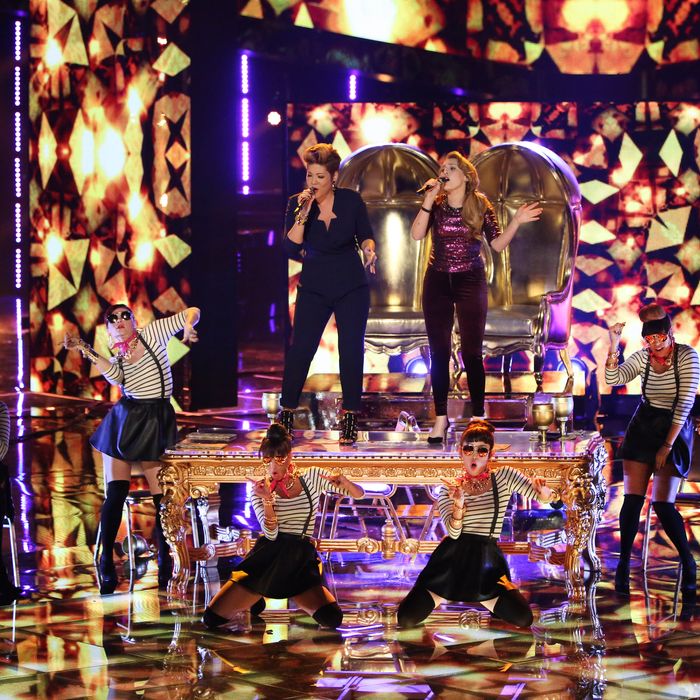 Wow, friends! I was so sad to see Janie Jimplin go, hate to say it. She was quickly becoming my favorite person on the show. Me and Amanda Palmer!
Christina's Team "Michael Jackson Medley"
This made me so uncomfortable. I think it's because I hate when Christina Aguilera wears just a trench coat over what is basically underwear, which she does all the time. Both Matthew Schuler and Xtina were consistently flat (Jacqui, on the other hand, had stellar pitch and acquitted herself quite well on the Janet Jackson part of "Scream." Go, Jacqui!) Anyway, I had to cover my eyes for a lot of this.
And now for some community news! Adam Levine, a man who some have compared to Jason Schwartzman, was named the "Sexiest Man Alive" by People magazine. Some have noted he is the only musician to ever be nominated for the award. I am glad for him, I am glad for Victoria's Secret, and I'm glad for Carson Daly. I am convinced this is why he grew a beard. The pressure is off.
And now for the Confessions, which consisted of Ed Sheeran saying, "I fall over a lot" because that is Cool Britannia, let's be honest.
Next, some of the contestants were saved! This time it was James Wolpert and Matthew Schuler. (Yay for Matthew!) And, as for James, I really don't get it at this point. I mean sure, he has the warbly voice of a cabaret singer in 1932, but he also has terrible pitch problems. Did Janie Jimplin really have to go in his stead?
Kat, James Wolpert, Will Champlin, "Sugar We're Going Down"
This was a very sad performance. Janie joined Rudy Vallée and Will Champlin for a spirited rendition of Fall Out Boy's "Sugar, We're Going Down" (a song I still don't understand), and she rocked it out way more than either of the boys. It made me realize there really is a dearth of female rock stars at the moment. I mean, where ARE you Shawn Colvin?
Later, Ray (?) and Will Champlin were saved. God, Ray! What? Ray is going to win, you heard it here first.
Blake's Team, "Sharp Dressed Man"
This was completely forgettable. I could have gone into a coma during it and no one would have been the wiser. Finally, Tessanne and Jacqui were saved by America's votes. I wholeheartedly agree with this. They are both fantastic. For a moment, I was happy.
And I was even happier when Carson appeared like a disembodied face in the Sprint Skybox. He talked about the sheer amount of lights that illuminate the Voice stage. 2100 lights! And who told you that this was a boring show where not a lot happens?
Caroline and Tessanne, "Royals"
This kind of bummed me out a little because although it was not the greatest song for Tessanne (she didn't have that much to do on it) it was the perfect song for Caroline. She really should have sang this instead of "Leaving On a Jet Plane." It was a super missed opportunity. However, the staging of this performance was insane, even for This Is the Voice. What were those mimes? What were they doing at that banquet table? Why were they acting like robots? Were they the disenfranchised subjects of the royals? There were no answers.
And finally, the United States of America saved Cole Vosbury, keeper of the beard, leaving Caroline, Kat, and Austin up for elimination. Honestly, I was a bit surprised by this. According to iTunes, Caroline has a robust fan following, but I suppose even the teens could not abide "Leaving On a Jet Plane" and had to put their foot down. Honestly, I sort of felt like "Leaving On a Jet Plane" was enough of an offense that Caroline did have to leave on a jet or a plane (Do you see what I did there? I have the subtle wit of an Ed Sheeran), however, unfortunately, Caroline was saved and Austin and Kat had to go. Austin, it was time. Kat, you will be missed! I really don't know why your masked dancers didn't appeal to America more. America generally loves that sort of thing.
And that's our show everyone! Are you disappointed? Relieved? Is Adam Levine the sexiest man alive today? Could you marry him tomorrow, if pressed?