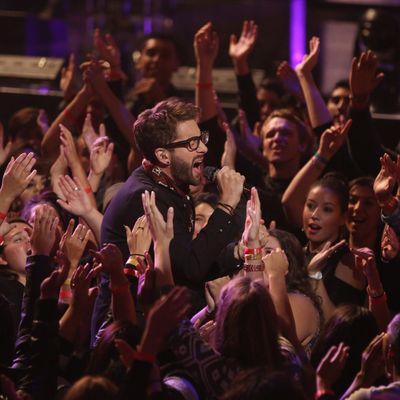 We are now living in a cold new world. A world in which many of our favorite Voice contestants have been eliminated. To wit: Nic Hawk is gone, Adorable Shelbie Z. has disappeared, Stephanie Anne has departed. All my favorites that I knew were too weird to stay are no longer with us! (A bunch of boring people were eliminated, too; Olivia Henken, Gray, and Amber Nicole among them.) There were also some surprise eliminations, such as Tamara Chauniece and Preston Pohl.  The game has changed.
And now, for those who are left.
Caroline Pennell, "Wake Me Up When It's All Over"
Whoa, Caroline is looking amazing lately. I'm really impressed with the This Is the Voice stylists. They are not merely obsessed with pairing long ball gowns with jeans; they are also obsessed with making over Caroline with side bangs. For her part, Caroline gave a typical Caroline performance. It was on key. It was consistent and it sounded really easy even though it wasn't. I think Cee Lo is being very strategic about her. He keeps wailing on and on about how America loves Caroline.
Josh Logan, "Man in the Mirror"
This song really exposed Josh's weaknesses as a vocalist. The arrangement was a couple of half-steps down from its original key and it sounded dry and tough for him to sing. I actually think Josh's real gift is that he is a fantastic mimic (it's why he can sound like Stevie Wonder AND Gavin DeGraw), but you can't mimic Michael. You just can't.
And look! It's a man in the Sprint Sky Box and his name is Matt Lauer and he is growing a beard. OMG WHAT IF MATT LAUER HOSTS THE VOICE AFTER HE LEAVES THE TODAY SHOW??!?!?! It was just a thought.
James Wolpert, "Mr. Brightside"
If you were to ask me to bet on one thing in this competition, I would bet that a high school version of James Wolpert wore a vest while playing in his high school band. Guess what? I guessed right! He did wear a vest! So that was fun. James is no Brandon Flowers, who has the ability to sound mannered and deeply invested all at the same time (James can only sound mannered OR invested), but he did a decent job with this and I'm sure people will download it on iTunes.
Austin Jenkes "It's a Great Day to Be Alive"
Country may have a rep for being a depressing genre, but at least on This Is the Voice, all of the country songs are so pleasant. They are all "My Kinda Party" this and "Fun Times in Georgia" that. This song was nice and jaunty, even though Austin was pitchy with it. My favorite moment of this entire episode occurred when Blake said some dumb thing about Austin being the only man in the competition whom America wants to have a beer with and Cee Lo said, "Is that completely true?" rather peremptorily. Then, everyone stammered for like an hour. It was really awesome. Well done, Cee Lo!
Jacqui Lee "Love Is Blindness"
I can't believe Jacqui is only 16. No one in the competition has her pitch or her thrilling quality. When she hits a high note, it's truly awesome.
Ray Bourdreaux, "All of Me"
I guess I am alone, but I absolutely loved this! It was the first time I really loved Ray. Too bad Xtina hated it and Ray will probably get kicked off.
Kat Rouchibaud, "Sail"
Look at this unbelievable rock star! She crowd-surfed? She kind of screamed a little? She definitely draped herself on the stage at the end. Janey Jimplin is like the second coming of a female Steven Tyler. I wish they put scarves on the mike stand for her. I also loved Kat's husband's bow tie, which was a beautiful shade of baby blue.
Johnny Gray, "Another Day in Paradise"
Have you ever wondered what Phil Collins would sound like if he was a street busker in 1966 Greenwich Village? Now you know! Honestly, I was a fan of it.
Tessanne Chin, "My Kind of Love"
Okay, this is the worst song I've ever heard in my life. It was just yelling and terrible. It had no tune. I think Tessanne has the most gorgeous voice in the competition but Adam is killing her with these song choices!
Mathew Schuler, "Hallelujah"
I liked when Dennis the Menace said that his religious background prepared him for this song, even though this song isn't religious at all? It is a cynical song about power dynamics in love. However, Matthew's pitch, breath control, and phrasing were all really excellent.
Cole Vosbury, "Adorn"
They really love "Adorn" on The Voice — they usually make a million people sing it every season and Miguel was a mentor on the show and all — but I can never remember the tune! Even now, if you ask me to sing it I could not and I heard it last night. So, I don't know if this was song choice but I would this very boring, even though it revealed Cole has an excellent falsetto.
Will Champlin, "Demons"
Gah! This was good, I guess? Adam told Will it was "really passionate," which it was! But sometimes I wish Will had more vocal control and a little less passion.
What say you guys? Who is getting eliminated tomorrow?