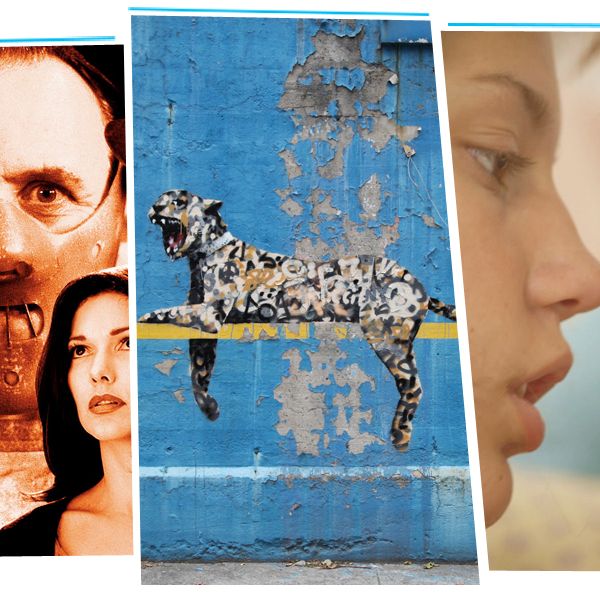 Every week, Vulture faces the big, important questions in entertainment and comes to some creative conclusions. This week, we wrote about a bunch of scary movies, excoriated Banksy, and eulogized Lou Reed and River Phoenix. You may have read some of these stories below, but you certainly didn't read them all. We forgive you.
Q: I'm hoping to get a belated horror fix this weekend. What should I watch?
A: David Edelstein and Bilge Ebiri compiled a joint list of the 25 best horror movies after The Shining. The list has some obvious classics (Nightmare on Elm Street), and some lesser known lights (Cure). We know, we know­—you're silently grinding your ax in a dimly lit basement. But we all have to compromise. Even Edelstein and Ebiri didn't get exactly what they wanted.
Q: I absolutely hate horror movies, and yet I feel left out during this spooky time. What do I do? 
A: Jesse David Fox also has "a twinge of FOMO" for avoiding horror movies for his entire life. Gilbert Cruz, a horror fanatic, suggested The Texas Chainsaw Massacre. By himself. With the lights out. Don't worry, Fox survived to tell the tale, but doesn't want to do it again. What you could do instead is read these fun facts about The Exorcist, which, by the way, the director never really considered a horror movie.
Q: Now that Banksy finished his New York tour, I want to go around the city and look at his work. What's good?
A: Well, according to Jerry Saltz, none of it really: "without the spotlight of hyped-up publicity," the works "look as trite, generic, and as boring as they really are." Unfortunately, you probably missed Saltz's favorite one, which was the truck of mechanical stuffed animals' heads poking through wooden slats driving around the city.
Q: I'm the biggest Friends fan ever. I know every single joke.
A: Oh, really? Could you be any more pompous?
Q: AIDS narratives have largely disappeared from Hollywood since the nineties. Are they ready to do it now? 
A: How to Survive a Plague got an Oscar nomination and The Normal Heart is coming to HBO. Some things though, such as using a heterosexual as the way into the narrative, haven't changed, but at least with Dallas Buyer's Club, there is "a protagonist who's actually dealing with the virus himself." In David Edelstein's review of the film, even though Jared Leto's Rayon is a supporting member, Leto's performance is "so complete —­ physically and vocally — that it's hard to believe he could ever be anything else."
Q: I've been obsessed with River Phoenix ever since I watched Running on Empty. Isn't his life just so tragic?
A: Indeed, Jen Doll writes, "Celebrities who die young tend to claim a certain part of our brains, remaining there, perpetually youthful, forever tragic, containing their warning lessons to others and imbued with a question of what if?" To that point, here's a slideshow of River, from his beginnings as a child actor up until his untimely death at the age of 23.
Q: This is not a question. I just want to say that I feel so incredibly sad about Lou Reed's death.
A: Jody Rosen remembers Lou Reed as a man who, even when he was 25, "had already done a lot of living." He debuted in one of the most influential albums with The Velvet Underground. In the seventies, he seemed like the center of the cool kids. He got into an acrimonious fight with critic Lester Bangs. But perhaps it's best to let the man speak for himself, "My interest — all the way back with the Velvets — has been in one really simple guiding-light idea: take rock and roll, the pop format, and make it for adults. With subject matter written for adults so adults, like myself, could listen to it."
Q: How is Ender's Game? 
A: Putting aside all of the controversy surrounding author Orson Scott Card (if that's possible), David Edelstein writes, "Apart from its artfully inhuman production design, this is not an imaginative piece of filmmaking" and that "this is one of those movies in which you can't always tell what's inept and what's purposefully flat."
Q: I feel uncomfortable about watching the sex scene in Blue is the Warmest Color. Isn't it just lesbian sex made for straight men?
A: No one can escape the male gaze.
Q: Isn't there anything for women?
A: It's the tenth anniversary of Wicked, which was a Broadway show aimed at, according to Laura Reineke, teenage girls. She ranks her favorite songs from the play.