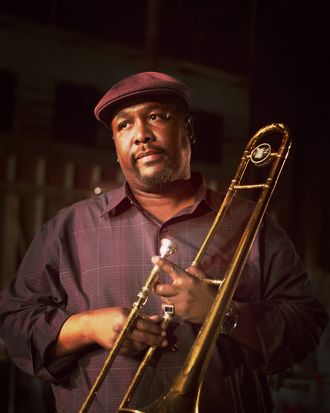 Photo: Paul Schiraldi/Courtesy of HBO
Wendell Pierce's name isn't on any ballot, but the 49-year-old New Orleans native has a politician's uncanny ability to make everyone feel heard and appreciated. He's quick with a teasing quip or an inspirational speech about the power of art. And on the set of The Michael J. Fox Show, on which he plays Fox's boss, local-news director and ladies' man Harris Green, he's the most popular guy in the room. As he arrives to shoot a scene with co-star Juliette Goglia and guest Rob Delaney, you can sense the weary crew perk up a bit. Producers and lighting technicians stifle laughs as he improvises a little in each take: a Jack Lemmon–style necktie-tug; a Rat Pack finger-snap; a "Can you believe this guy?" eyebrow-raise. Pierce has a horrible, hacking cough today—thanks, he says, to a mix of seasonal allergies and too much time in the dry-heated air of Silvercup Studios, where the NBC sitcom is shot—but he confines the death rattle to the downtime between camera setups, guzzling water and repeating "Excuse me" and "I'm so sorry." No sooner has a visiting reporter whipped out a notebook and recorder than an assistant director calls Pierce away for a retake. "Ask me one question now, since I sat down and I coughed on you and everything," he says, sounding wheezy. "Make it a good one. Go."
Pierce has been commanding rooms like this for almost three decades, most notably as a member of the overqualified ensembles on David Simon's The Wire and Treme (which begins its fourth and final season on December 1).
He calls himself "a character guy" and cites Ossie Davis, Roscoe Lee Browne, and Abe Vigoda as role models. He exudes authority as veteran journalist Green, striding through a newsroom set modeled on MSNBC's. Four seasons as trombonist Antoine Batiste on Treme formalized Pierce's obsession with jazz, which was sparked by hanging out with Wynton and Branford Marsalis, Terence Blanchard, and other New Orleans musicians. To placate Simon, he studied the trombone hard enough to fake intricate "improvised" solos (the actual notes are redubbed in editing by Stafford Agee of the Rebirth Brass Band). After five seasons as The Wire's Detective "Bunk" Moreland, he could talk shop with lifer cops.
And lately, though not for any acting role, he could also pass for an office-seeker. He insists he's "not running for anything," but you wouldn't know it from his Twitter feed, which reads like dispatches from the virtual mayor of New Orleans. It's usually serious stuff: police brutality ("Racial profiling affects everyone. @robrown718 arrested for shopping while black"), health care ("With all the self-inflicted wounds, people still know Obamacare is a good thing. Millions will now get healthcare"), gun control ("We should all join the NRA and fight from within their ranks"), agricultural policy ("If we are willing to lift economic sanctions on Iran, we shouldn't put economic sanctions on our own American communities. Pass the Farm Bill").
"There are days that I wake up and go, 'Don't talk about anything but art,' " says Pierce. Then he ends up talking about causes anyway. The impetus was Hurricane Katrina: "When the entire world is destroyed, and you realize you're just a moment away from losing everything, then you see the ugly side of human nature," he says. "To say nothing is to be complicit in bullshit." He saw cops and self-appointed posses with guns stop black residents from entering white parts of town. He watched his father, Amos, whose segregated Army unit fought in World War II's Battle of Saipan, and his mother, Althea, a schoolteacher who died last year, fight for a payout from their insurance company. "My parents paid Allstate for 50 years and received nothing," he says. He watched developers contrive to forcibly gentrify his neighborhood, Pontchartrain Park, one of the first African-American postwar suburbs. "People came to me and said, 'Wendell, you have a great voice, and we need you to use your voice, or they're going to take our neighborhood away.' "
In January 2007, Pierce hosted a picnic for his beleaguered neighbors and spearheaded a plan to rebuild damaged homes. He became a familiar face at zoning meetings and City Hall and at rallies protesting the bulldozing of housing projects and public hospitals. In 2012, he and other investors started Sterling Farms, a chain of grocery and convenience stores serving mostly poor neighborhoods; the company has four outlets in New Orleans and plans to build a fifth in Alexandria. And yes, Mr. Pierce has gone to Washington: He's been a guest at the White House six times. At a state dinner in March 2012, President Obama asked him, "How's the trombone-playing?"
Wherever his activism leads him, though, Pierce knows that for many viewers, he'll always be Bunk from The Wire, pub-crawling partner of Dominic West's heroic screwup McNulty: friends who understood each other so deeply that, in a now-legendary moment, they intuited their way through a crime-scene puzzle while exchanging nothing but exquisitely phrased variants of "fuck."
"A lot of people buy me drinks: 'Have a drink with Bunk!' " he says. "I told someone a long time ago, 'That will be the first line of my obit: "Wendell Pierce, who played Bunk on The Wire, died today." ' " He laughs, then adds, " 'Of old age.' But I had an actor tell me, she said, 'Wendell, you know, you had your Godfather. Everybody wants to be in The Godfather. Those actors can do anything now! The Wire was your Godfather!' It frees you up. One day I'm gonna be on the street in a chicken suit going, 'I played Bunk! Early-bird special, two for $5! I was Bunk on The Wire!' "
*This article originally appeared in the December 9, 2013 issue of New York Magazine.