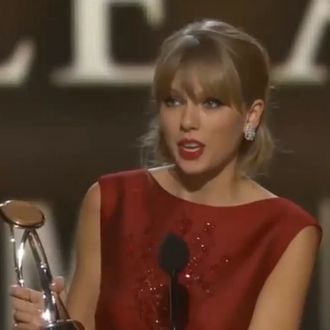 In case you missed it, last night's Country Music Awards collectively bowed down at Taylor Swift's feet. Just kidding! But they did give her the lofty Pinnacle Award, let her perform "Red" with a crew of legends, and cut to her constantly throughout the night. There were the youngs (Kacey Musgraves and Luke Bryan), the olds (Blake Shelton and Brad Paisley), and even Florida Georgia Line. Here were the show's most entertaining moments.
For the opening, hosts Brad Paisley and Carrie Underwood sang a little parody, mocking their famous friends … and Obamacare. It was weirdly charming, especially when Brad "twerked his back out."
"That's not twerking — have you ever been to a Luke Bryan concert?" asked Carrie.
Taylor, along with Alison Krauss and Vince Gill, performed a slowed-down (read: more country) version of "Red" …
… and then was given one of the CMAs highest honors, the Pinnacle Award, given to artists "who take country music to a worldwide audience." The last winner was Garth Brooks, in 1995. Country used to scoff at Taylor, but now they're holding tight like she's about to fly away. The best part here is watching Taylor's very Taylor-y reactions to her video salute. Mick Jagger? Julia Roberts?
Host Carrie Underwood sang a medley of her own No. 1 tunes.
Luke Bryan offered up a song called "Drink a Beer."
Kacey Musgraves, who won New Artist of the Year but then lost the rest of her five nominations (and was caught scoffing on camera while Miranda Lambert accepted female vocalist of the year), sang the wonderful "Follow Your Arrow." Perhaps it was telling that she would be shut out from the CMAs: They bleeped every single time she sang the lyric "roll a joint." Loosen up, ABC!
George Strait beat out Jason Aldean, Luke Bryan, Blake Shelton, and Taylor Swift for Entertainer of the Year.
Florida Georgia Line's "Cruise," which previously came out in 2012 but was re-released this year with an added Nelly verse, won Single of the Year. No one thanked Nelly.
They also performed it, sans Nelly. Taylor was thrilled.
Alan Jackson and George Strait performed a tribute to George Jones, who died at 81 in April of this year.
Oh, and Diddy was there. Suprise! Diddy loves country music. And he loves plugging his new TV channel.