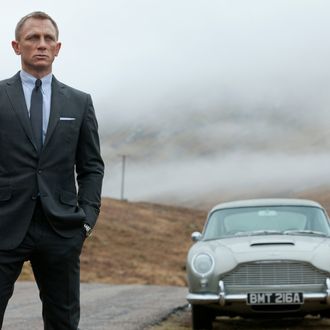 Photo: Francois Duhamel/Columbia Pictures
At the beginning (and throughout) every month, Netflix Streaming adds new movies and TV shows to its library. Here is a quick list of several that you might be interested in. (Some of these were added halfway through, or near the end of, October, but we're going to include them in this roundup anyway, since you may have missed their addition.) Feel free to note anything we've left out in the comments below.
Broadcast News: This is what The Newsroom could be if Aaron Sorkin just dropped all the real world news nonsense and gave into his obvious desire to write romantic comedies. Still, comparing this to The Newsroom feels like a bit of an insult, as each member of this love triangle — Holly Hunter, William Hurt, and Albert Brooks — is both completely cliché and utterly unique in a way rarely seen anymore. Broadcast News is simply one of the great eighties rom-coms. (How do you like that? I buried the lead.)
Flight: The plane crash that featured prominently in this movie's trailer is indeed tense and impressive. But that scene only takes up the first fifteen or so minutes. This film is a disaster flick of a sort, but the real catastrophe is that of drug and alcohol addiction on the life of the pilot played by Denzel Washington.
Skyfall: This is the newest one, the one with the Adele song, the one with the gorgeous cinematography, the one with Javier Bardem as the villain, the one with the great suit fighting.
Olympus Has Fallen: This is not White House Down. This is the "White House gets captured by terrorists" movie that everyone thought was going to do worse than White House Down, but actually did better. It stars Gerard Butler and there's going to be a sequel.
This Is Not a Film: "Iranian director Jafar Panahi's This Is Not a Film is an extraordinary film," wrote Vulture movie critic David Edelstein in his review of this documentary shot by Panahi — banned by the Iranian government from making movies for two decades because of his opposition to the current regime — in his apartment in Tehran. Smuggled out of the country inside a cake, This Is Not a Film, which finds Panahi musing and raging against his punishment, is a big middle finger to oppressive governments everywhere.
Blancanieves: Released in the U.S. earlier this year, this 2012 Spanish film is a silent, black-and-white adaptation of the Snow White tale. If you can get over both of those humps, it's a really gorgeous and enchanting movie.
Bebe's Kids: "It's Bebe's kids!" If that phrase means anything to you, then you're likely happy that this 1992 animated film is now available to stream.
V/H/S 2: A sequel to the 2012 found-footage horror anthology film, V/H/S 2 (which was initially called S-VHS — and I want that title back, please) is tighter, scarier, and more innovative. One of the short films here is shot from the perspective of a zombie wearing a helmet-cam.
New seasons of:
The Killing (season 3)
Glee (season 4, available November 30)
Sons of Anarchy (season 5)
The Carrie Diaries (season 1)
Dexter (seasons 1–4)
Braxton Family Values (season 3)
Chuck (all seasons)
Leverage (all seasons)
Sister Wives (season 4, available Nov. 13)
Eighties Movies FTW:
Say Anthing
The Great Outdoors
National Lampoon's Christmas Vacation
Teen Wolf
Cloak and Dagger
The Falcon and the Snowman
Big Top Pee-wee
Also Available:
The American (George Clooney stars in this Anton Corbijn movie about a soon-to-be-retired assassin)
Frances Ha
Computer Chess
Urban Cowboy
Bronson (Bane himself — Tom Hardy — stars as a violent prisoner in this early film from Drive director Nicolas Winding Refn)
Graveyard Shift
Silver Bullet
Silent Running
Gallipoli
Twixt
Caligula
The Adventures of Buckaroo Banzai
Death Becomes Her
Escape From Witch Mountain
Colors
High Noon
Sharknado
Last Tango in Paris
Russian Ark
The Addams Family
My Week With Marilyn (available November 23)
Red Dawn (2012 remake, available November 22)
Robot & Frank (available November 10)
Are you a streaming addict? Do you love TV shows and movies? Vulture wants to chat with you! Email feedback@vulture.com with your name and age to be contacted for a brief user interview.