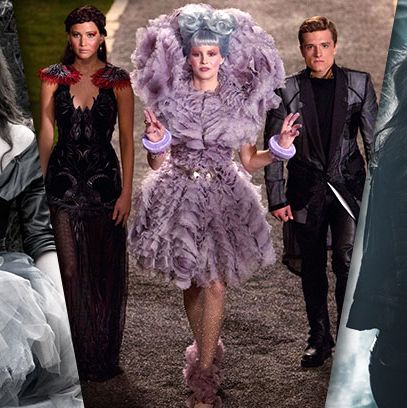 Photo: Lionsgate, CTMG and Alcon Entertainment
Many enter the arena, but only one can be a winner: That's the plot of The Hunger Games, but it could also serve as a summation of all the other would-be blockbusters that have tried and failed to become the next big young adult franchise at the box office. After Harry Potter and Twilight made a mint, studios clamored to buy up every hot YA novel in sight, expecting those books' passionate fans to show up in droves. But only The Hunger Games has become a brand-new phenomenon; most other not-so-fortunate contenders, including The Host and Beautiful Creatures, were one-and-done busts, while expensive franchise-starters like The Mortal Instruments and Percy Jackson fell far short of hit status. As the second installment of The Hunger Games opens today to what's expected to be record-breaking business, we have to ask: Why have so few YA adaptations succeeded while so many have failed?
According to Ben Schrank, president and publisher of Razorbill, the YA imprint of Penguin Random House, there's one surefire indicator by which you can cull the winners from the losers: Book series like The Hunger Games, Harry Potter, and Twilight were simply the most successful at crossing over into an adult readership, while most failed movie adaptations were drawn from YA franchises whose fanbases were still mostly made of, well, young adults. "That's the recipe for enormous success," explains Schrank. "When you see adults on their commutes reading the hardcovers of these books with their jackets removed, it means the movie has a far better chance of working." For reference: Little, Brown has sold around 3.5 million of the four Beautiful Creatures books, which isn't bad, but also hardly compares to The Hunger Games, a three-book series that had moved over 50 million copies for Scholastic just months after the first movie's release. You don't get numbers like that on kids alone.

With older audiences out of the equation, then, relying solely on young fans can be a difficult needle to thread since that younger demographic is often the most capricious. "I think teens are even more likely than adults to avoid movies they've heard aren't good," says Schrank. "Remember, word-of-mouth is all-powerful for teens, and a book's fans have been chatting for a very long time before a movie's first weekend." It's why middling advance-buzz torpedoed The Mortal Instruments, a struggling franchise that was already in pre-production on its sequel and had even cast Sigourney Weaver in a pivotal new role when the first film bowed to a disastrous opening weekend of $9.3 million. Domestically, it could barely muster up half of its reported $60 million budget (though face-saving producers claim they'll still attempt another movie).
It's also key to assemble the right cast, which can be a tricky proposition when you're under the YA microscope: Fans already have vivid ideas of who should play these roles, and sometimes, their influence can get in the way of what's best for the movie. Ask Schrank why The Hunger Games is a hit, and he's got an explanation that's as simple as can be: "Jennifer Lawrence." But here's the interesting part: While the Oscar winner and Tumblr queen may be one of the biggest draws in Hollywood right now, there was actually a time when Hunger Games fans didn't want her to star in the film. Even after Lawrence was cast, director Gary Ross was besieged by complaints that the actress was far too blonde to play Katniss, prompting him to go on the record with the most obvious reassurance ever: "I promise all the avid fans of The Hunger Games that we can easily deal with Jennifer's hair color."

If fans had their druthers, they'd typically fantasy-cast these movies with familiar TV actors; it's why passionate Hunger Games fans demanded Weeds star Hunter Parrish as Peeta, Hugh Laurie as Haymitch, or Grey's Anatomy star Jesse Williams as Finnick, or even why outraged fans of 50 Shades of Grey (which has its roots in YA, since it began as re-skinned fan fiction for Twilight) circulated a petition to cast White Collar star Matt Bomer and Gilmore Girls alumna Alexis Bledel as the movie's two leads. Smart casting directors will block out that noise and simply cast who's right for the part (not to mention available, since most TV actors have incredibly restrictive schedules), knowing that an unfamiliar actor may be met with some initial skepticism but can also assume an iconic role more easily, and perhaps even more artfully, than the better-known stars offered up by fans.

Momentum is also important. The first Twilight movie came out just four months after the final Twilight novel, Breaking Dawn, had sold record-breaking numbers; the first Harry Potter film was released in between the fourth and fifth Harry Potter novels, which deepened and darkened the series in a way that drew in more adults. The first Hunger Games film came out about a year and a half after Suzanne Collins wrapped up her book series, but it had the advantage of being first to a genre — YA adaptations focusing on a dystopian future with a female protagonist and valuable hints of romance — that is now becoming crowded with the arrival of big-screen adaptations of The Host and Divergent.

Schrank doesn't expect the YA boom to go bust anytime soon, despite the glut of failed contenders at the box office; instead, he suspects we'll see a shift into more grounded, realistic stories, pointing to the upcoming adaptations of John Green's The Fault in Our Stars (starring YA queen Shailene Woodley) and Jay Asher's Thirteen Reasons Why. (Though he did offer one enticing prediction for any would-be YA novelists: "Look for someone in YA to try to try to figure out Scandal for teens.") Says Schrank, "The fact that there are more people writing better books for young people than ever before, combined with a culture where fewer and fewer people think of themselves as old, makes over-saturation in the immediate future seem unlikely." YA may be here to stay, but can Hollywood executives crack its code and deliver another blockbuster before The Hunger Games ends its big-screen run in 2015?