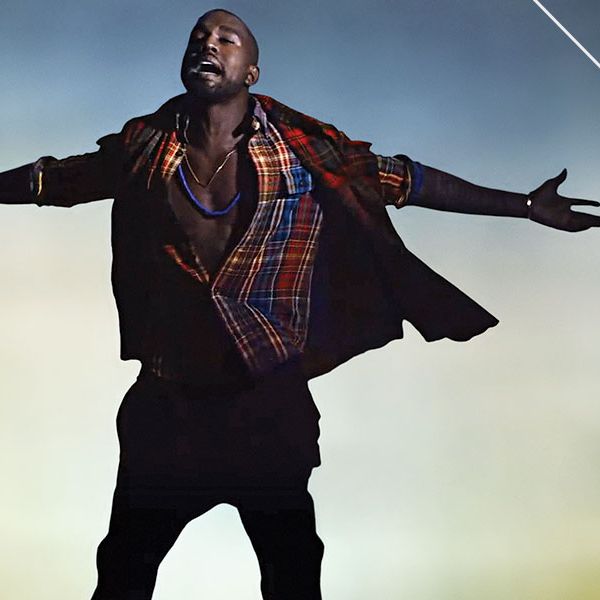 Kanye West in the video of "Bound 2" from Yeezus.
1. 12 Stories, by Brandy Clark
There's not a false move or bum note on the fabulous debut album by 38-year-old country singer-songwriter Brandy Clark. Every tune, every lyric—every pedal-steel line and snare-drum crack and harmony vocal—is slotted precisely in place. The music takes in ballad weepers, chugging honky-tonk, and burly roots rock; the production honors tradition but is crisp and up-to-date, with no trace of retro fustiness. Clark has obviously spent time listening to George Jones and Dolly Parton and knows that great singing is great acting—she knows how to phrase, how to subtly shade her line readings for optimal oomph. Formally speaking, 12 Stories is about as impeccable as country-record-making gets.
Clark learned her craft on Nashville's Music Row, where she has written hits for Miranda Lambert, the Band Perry, and the other great country upstart of 2013, her friend Kacey Musgraves. But Clark's music is different from anything you'll hear on the radio. Her songs are defter and funnier and grimmer: tough-minded variations on classic country themes—­drinking, cheating, praying—full of naturalistic detail and pitch-black humor. There are novelty songs, like "Stripes," in which Clark opts not to gun down her unfaithful lover because she doesn't look good in prison garb. ("There's no crime of passion / Worth a crime of fashion," she sings.) There's Great Recession reportage peeking through songs like "Pray to Jesus" and "Take a Little Pill": glimpses of hardscrabble small-town lives blighted by bad marriages and slave-wage jobs.
And there are ballads. Listen to the magnificent "Hold My Hand," about a woman longing for a public display of affection to show the world, and her partner's sexy ex, that she's "more than just a soft place to land." You could call 12 Stories feminist; certainly, Clark's vision is miles away from the party-hearty frat-bro music that dominated Nashville this year. But really, it's humanist and, you might say, aestheticist—a dozen quietly overwhelming songs about everyday emotions, burnished to a lustrous shade of blue.
2. Yeezus, by Kanye West
Sonically visionary, politically trenchant, morally rancid, funny, smart, dumb, bracing, sordid, gritty, maudlin, ugly, gorgeous: Yeezus, as they say on the Internet, is Everything—except boring.
3. Days Are Gone, by Haim
Did you love the sound of the hit parade in the seventies? How about the eighties, or the nineties? The Haim sisters have ingested several decades' worth of radio pop—the Doobie Brothers, Pat Benatar, Destiny's Child—processed it, and spat it back out in the form of eleven pert, precise songs. For
sheer pleasure per measure, Haim can't be beat in 2013.
4. The Night's Gambit, by Ka
The Brooklyn rapper-producer Ka is a kind of hip-hop Raymond Chandler, delivering hardboiled street tales in deadpan sotto voce. On The Night's Gambit, Ka's flow and beats are stately and transfixing; his lyrics stack up punch lines in neat rows while pondering crime and fate and moral quandaries. The result is a sustained mood piece, low-lit and beautifully bleak—a rap noir.
5. Trap Lord, by A$AP Ferg
Rocky is the marquee name in the A$AP Mob, New York's most sonically progressive hip-hop collective. But on his debut album, Ferg proves himself the more compelling rapper—a weirdo with a voice, and a vision, suited to the arresting sound. The music is woozy and grand; the rhymes mix off-kilter boasts about drugs and sex with confessions, spiritual yearning, and flashes of insight. Trap Lord is sublime and ridiculous, often simultaneously; the production, and Ferg's alternately suave and emphatic flow, keep you glued to your earbuds.
6. Modern Vampires of the City, by Vampire Weekend
On their third album, Vampire Weekend's songwriting has reached master-craftsman level: The band now truly merits mention alongside Paul Simon, the grandee to whom they've often been compared. Their vaunted "Afro-pop" stylings are now just one influence audible in a sound that takes in Brill Building pop, indie rock, hip-hop, and more. As a lyricist, Ezra Koenig is sounding like the heir not just of Simon but of Lorenz Hart: a wise, sour, New York Jewish wit, tossing off aphorisms and aperçus in songs like "Ya Hey," which moves effortlessly from high to low—from Exodus 3:14 to "19th Nervous Breakdown."
7. In Time, by the Mavericks
What a great band. The first album in ten years by the legendary Miami roots stalwarts is a knockout: fourteen Tex-Mex-tinged country-rock songs, beautifully played and sung. The Mavericks don't sound like they've taken a decade off; they glide and attack with force, like a bar band in peak road-honed form. The real wonder is front man Raul Malo's voice: Listen to the eight-minute-plus opus "Call Me When You Get to Heaven," where he sounds, in turn, like Roy Orbison, Enrico Caruso, and a muezzin calling worshippers to prayer.
8. Fidlar, by Fidlar
"I drink/ Cheap beer/ So what?/ Fuck you!" That's the chorus of this Los Angeles garage-punk quartet's single; it's also their philosophy of existence. (Sample song titles: "Wake Bake Skate," "Blackout Stout," "5 to 9.") But there's more than meets the eye (and assaults the ear) in Fidlar's scuzzy, rowdy songs: There's social realism, the nihilism and gallows humor of flat-broke skate rats who chug pisswater beer because they have no money and fewer prospects. The songs are so catchy and well written they could work on acoustic guitar. But why bother when you rock this hard? Fuck you!
9. Side Effects of You, by Fantasia
Fantasia Barrino has stepped into the shoes of Mary J. Blige: She's a hard-hided R&B singer who specializes in melodrama—songs about love and pain and resilience—and has a voice equal to the task. Side Effects of You is that rare commercial R&B release with no filler; the songs brood over love found and lost, framing Fantasia's rugged, rippling mezzo-soprano with production that strikes the genre-straddling sweet spot that Blige aptly calls hip-hop soul.
10. Here's Willy Moon, by Willy Moon
Willy Moon is a 24-year-old Kiwi turned Londoner who looks like he should be an underwear model. In fact, he's a disconcertingly pretty rock singer with a keen sense of history. The formula on his debut is ingeniously simple: Mix the brevity and ferocity of early rock and roll with the pummeling beats of early hip-hop. It works, because Moon is a fine writer: His loud, brash songs come with big hooks and with bravado worthy of Bo Diddley, Run-DMC, and his own Blue Steel sneer.
*This article originally appeared in the December 16, 2013 issue of New York Magazine.