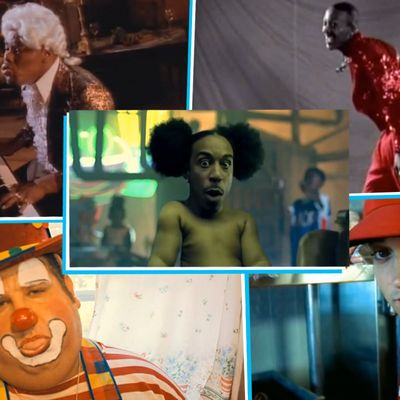 Sugarhill Gang's 1979 single "Rapper's Delight," the first hip-hop song widely heard outside of the Bronx, was pretty funny. The many boasts and anecdotes unleashed during its fourteen-plus minutes are highlighted by a comical quandry: What do you do when you don't like your friend's mom's cooking? The widespread popularity of the humorous song may explain why hip-hop, a musically polyglot art form that arose from Bronx block parties in the seventies, was initially thought of by mass audiences in the eighties as a fairly benign, generally funny novelty. Not surprisingly, hip-hop videos of the era tended to employ slapstick, clowning, and other jokey tropes that even the basest mid-century Catskills comedian would pass up. But as the genre matured into the nineties and beyond, hip-hop videos could get away with being more nuanced. While many videos that used humor were still as outright goofy and pun-tastic as the songs they showcased — see Sir Mix-a-Lot's "Baby Got Back" (and our exhaustive oral history of the video) — others benefitted from healthy doses of wit, cynicism, and sarcasm. Here are ten eternally clever hip-hop videos from the past quarter century that always give us an unironic belly laugh.
DJ Jazzy Jeff and the Fresh Prince, "Parents Just Don't Understand" (1988)
Hip-hop purists might look back at this goofy, iconic, graffiti-ridden video and shudder, "This, right here, is when hip-hop became suburban." They might be right — although you could argue that hip-hop had already done that way back with "Rapper's Delight," or with Blondie's "Rapture," or with Rodney Dangerfield's "Rappin' Rodney," or with Kurtis Blow's "Basketball," or with the Noogman on Miami Vice, or with the Melle Mel sections of Chaka Khan's "I Feel for You," or with Jim Belushi and Pamela Sue Martin's "White Guy Rap" on SNL, or with Run-D.M.C.'s "Walk This Way," or with the Fat Boys' "All You Can Eat," or with the Beastie Boys's entire License to Ill album, or with LL Cool J's "Going Back to Cali" — but faced with the good-natured charm and visual brilliance of this video (not to mention the undeniable mike skills of a future box-office champ), they'd also be curmudgeons.
Biz Markie, "Just a Friend" (1989)
By 1989, hip-hop had entered the Public Enemy/NWA era; furious fingerpointing and gleeful nihilism were ascendant. Then along came a fellow who appeared to have never entertained a hostile thought in his life. The vulnerability inherent in Biz Markie's signature hit is one thing; quite another, and germane to our purposes here, is his decision to, for no discernible reason, dress up as Wolfgang Amadeus Mozart to sing the piano-driven hook, which interpolates soul man Freddie Scott's 1968 song "(You) Got What I Need."
Ice Cube, "True to the Game" (1992)
"You wanna be a big fish, you little guppy / Black man can't be no yuppie" intones Cube, while in the midst of kidnapping black men he finds guilty of Uncle Tom behavior. The grave offenses that warrant being spirited away to a reeducation intervention with Nation of Islam bigwig Khalid Abdul Muhammad (who, incidentally, would soon be kicked out of the NOI for recklessly spewing slurs against "bloodsucking" Jews): having a white girlfriend, living outside the 'hood, kissing up to white bosses, attempting to clench your buttocks, and being MC Hammer. Twenty-one years later, the zero-tolerance Ice Cube showed toward so-dubbed "Oreo cookies" may render him an asshole, but sometimes assholes are funny.
Dr. Dre featuring Snoop Doggy Dogg, "Fuck With Dre Day" (1993)
The second single from The Chronic settled scores. Not only did Dr. Dre and protégé Snoop Dogg imply that 2 Live Crew's raunchy Luther Campbell was a passive participant in anal sex, they mocked Dre's former associates Eazy E and NWA manager Jerry Heller, with whom Dre had fallen out, via the crudest of ethnic stereotypes. Not depicted in the video but still taunted and threatened: Ice Cube (although the beef with Cube was settled before the album's release) and the endlessly fascinating yet largely forgotten East Coast rapper Tim Dog. Note the cameos by Warren G (Dre's stepbrother) and Geto Boys' Bushwick Bill as hapless rappers only too happy to be exploited by the ersatz Eazy.
Luke featuring JT Money & Clayvoisie, "Cowards in Compton" (1993)
Dre and Snoop's taunts did not go unanswered. Eazy-E's 1993 response, "Real Muthaphuckkin G's," bizarrely repeated the caricature his rivals painted of him in "Dre Day." Far more effective was the video by Luke (a.k.a. Luther Campbell), complete with references to Dre's mid-eighties stint with the often sequined and eyeliner-festooned World Class Wreckin' Cru, suggestions that Dre was naught but a "studio gangsta," and a send-up of the "Nuthin' but a 'G' Thang" video.
Missy Elliot, "The Rain (Supa Dupa Fly)" (1997)
Through a fish-eye lens, we see a woman gyrating and gesticulating, her body ensconsed in an inflatable trash bag. This arresting image was the first the wider world would see of Melissa "Missy" Elliott, an artist who has not only been reliably great for the past sixteen years, but has in that time disproved the "women can't be funny" shibboleth over and over. The cameos here from the likes of Sean Combs, Lil Kim, and the track's producer, Timbaland, do not distract from Elliott's incandescence one whit.
Eminem, "The Real Slim Shady" (2000)
Most people in a position to know agree that successful comedians are miserable bastards. Similarly, the best-selling recording artist of the past decade is at once one of the funniest but certainly the most aggrieved rapper in the history of the form. "The Real Slim Shady" — with appearances by Kathy Griffin and Fred Durst, and Eminem portraying a pigtailed Britney Spears and a fast-food worker who spits in your food — is Exhibit A in what happens when the impulse to crack wise triumphs over an ever more dominant tendency to shake his fist at the sky to protest the injustices he's suffered.
Ludacris featuring Shawnna, "Stand Up" (2003)
For the last half decade, the artist also known as Chris Bridges has been rivaled only by Nicki Minaj as the rhyme-slinger you turn to when your tune needs some extra oomph. His own songs cemented his reputation as the one rapper in the past 20 years, give or take a Busta Rhymes, who is unafraid to represent as a funny guy: Each has been accompanied by a video showcasing his robust sense of humor. But if the Vulture braintrust must go with one, we'll go with the one where his adult head is transplanted upon a dancing baby's body.
Nicki Minaj featuring Drake, "Moment 4 Life" (2010)
Young Miss Minaj contains multitudes: Like Missy, she's one of the very few female emcees to stick around for more than a couple of years; like Ludacris, her guest appearances as a rhyme-spitter on other artists' songs have been staggeringly frequent and staggeringly good; and she also has excellent comedic chops, as evidenced in this video's intro.
2 Chainz featuring Kanye West, "Birthday Song" (2012)
Atlanta-area rapper 2 Chainz (formerly, ahem, "Tity Boi") had been a journeyman throughout the aughts, graduating to marquee status with a mixtape, T.R.U. Realigion, in 2011, and a formal album, 2012's Based on a T.R.U. Story. "Birthday Song" is the album's second single, and while Chainz' horndog rhymes are nothing special, this delightfully odd video has its cake and eats it: Any booty addict will get his fix, while critics of the black strip club aesthetic (itself lately mined by Miley Cyrus) will see its tropes subverted. Plus, it's always nice to see that the most self-important, least self-aware entertainer of the era has a sense of humor, hamming it up as he does at the end of the video in front of a portly party clown inexplicably wearing a gas mask.