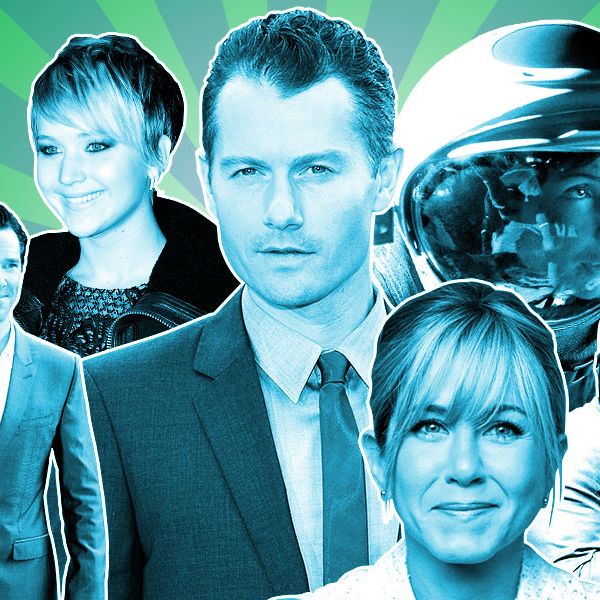 Photo: Maya Robinson and Getty and Warner Bros
Yes, 2013 movies set another record at the box office, in large part because the films were bigger and the tickets were more expensive. And yes, there will probably be more $100-million grossers released this calendar year than ever before, when all's said and done. (According to vital Hollywood-tracking resource Box Office Mojo, the number of 2013 films raking in more than $100 million sits at 31, with Anchorman 2 all but assured to pass the mark, and American Hustle likely to as well; the record is 32.) But when you look more closely at the numbers, some interesting patterns and tidbits emerge about the year in movies, from a financial standpoint. Here are seven things we noticed.
A shake-up at the top for animation.
2013 is the first year since 2002 that the top-grossing animated film of the year was not produced by either Pixar or DreamWorks Animation, up until recently the two undisputed majors in this space. Despicable Me 2, produced by Illumination Entertainment and distributed by Universal, was the highest-grossing animated film of the year, with $367 million. Pixar, of course, had Monsters University, which made an excellent $268 million. DreamWorks' biggest hit this year was The Croods, with a respectable $187 million, but its big summer offering Turbo crashed with only $83 million. (It also took a hit earlier this year when it announced a large round of layoffs, due to the failure of last year's Rise of the Guardians, which, sue me, I liked.) Next year, there will be no Pixar film, so it will be up to DreamWorks to try to wrest the crown back with Mr. Peabody & Sherman, or, more likely, How to Train Your Dragon 2. (And of course there is now a third major, thanks to the success of Frozen, which consummates the ongoing resurgence of Walt Disney Animation Studios, also owned by the same company that owns Pixar.)
Raunch rules.
Remember the PG-13 comedy? Those movies that used to star Ben Stiller and/or Vince Vaughn and/or Owen Wilson and somehow managed to keep their crudeness just soft enough to avoid an R rating and thus have greater box-office potential? Well, they're pretty much dead. This was a banner year for R-rated comedies, with films like The Heat ($159 million), We're the Millers ($150 million), and Identity Thief ($134 million) leading the raunchy way. Meanwhile, Stiller, Vaughn, Wilson, et al. floundered with ostensibly "safer" offerings, such as The Internship, Delivery Man, and The Secret Life of Walter Mitty. The only PG-13 comedy to break the century mark this year was Adam Sandler's Grown Ups 2, with $133 million, though Anchorman 2, which currently has $83 million, should join it soon. So, maybe we should rephrase that: The original PG-13 comedy is dead, but we'll probably see PG-13 comedy sequels till the end of humanity.
The actor whose films made the most money is…
Well, Forbes recently crowned The Rock as the highest-grossing actor of 2013, since he starred in four films in 2013 (Fast & Furious 6, G.I. Joe: Retaliation, Snitch, and Pain & Gain) which collectively grossed about $453 million domestic (and even more worldwide). Since The Rock is always the star of whatever movie he's in (even if it's a Fast & Furious movie, which is technically Vin Diesel and the late Paul Walker's franchise), that's a fair assessment. But if we go beyond stars, something interesting happens. For example, Benedict Cumberbatch, who was in Star Trek: Into Darkness, The Fifth Estate, 12 Years a Slave, and The Hobbit: The Desolation of Smaug, outgrosses The Rock with $460 million (and counting). Steve Carell, who was in Despicable Me 2, Anchorman 2, The Incredible Burt Wonderstone, and The Way Way Back, beats them both with $493 million (and also counting). Jennifer Lawrence, whose Hunger Games: Catching Fire and American Hustle are both still in theaters, could conceivably catch up to all of them; she currently has about $451 million. So could Kristen Wiig, who's got Despicable, Anchorman, Her, and The Secret Life of Walter Mitty, three of which are still in theaters. All of them are beaten, however, by Jon Favreau, who, with Iron Man 3 ($409 million), Identity Thief ($134.5 million), and Wolf of Wall Street ($34 million and still in theaters), has appeared in films that have so far grossed more than $577 million, with more to come for Wolf. But he's bested by Ken Jeong, who was in Despicable Me 2, The Hangover Part III, Turbo, and Pain and Gain, totaling about $611 million in domestic box-office. Jeong even ties Stan Lee, who, thanks to his Iron Man 3 and Thor: The Dark World cameos, also has $611 million. But none of them can hold a candle to the real Box Office King of 2013 … James Badge Dale. By our calculations, the actor, formerly of 24 and Rubicon, had supporting parts in Iron Man 3, World War Z, and The Lone Ranger, grossing him an eye-popping $700 million in domestic box-office bounty this year. (He was also in Parkland, for what it's worth; that made $653,651.) May he swim in residuals checks till the end of time. (Did we miss a higher-grossing actor? Let us know.)
A poor year for 3-D.
Actually, up until Gravity came out, it was a terrible year for 3-D. But Alfonso Cuarón's awesome space epic convinced viewers to shell out the extra money, and 3-D showtimes represented about 80 percent of its opening weekend gross. Otherwise, however, the 3-D shares of highly anticipated spectacles mostly underperformed. (Iron Man 3's opening weekend 3-D share was 45 percent, down from The Avengers' 52 percent. The Great Gatsby's was 33 percent; Man of Steel's, 41 percent.) Meanwhile, BBC and ESPN decided to abandon their 3-D TV channels. Elsewhere, everybody from the director of the Clash of the Titans remake to James Cameron (James Cameron!) complained about the state of current 3-D. That's not exactly a good trend for a technology that some had predicted would dominate the future of movies. Luckily, Cameron's working on three new Avatar sequels, so it ain't going away anytime soon.
Instructions Not Included made $44 million.
If that title doesn't sound familiar, it's because it may not have been marketed to you. Produced by Pantelion Films, which calls itself "the first major Latino Hollywood film studio" (it's a joint venture between Lions Gate Entertainment and Mexican media giant Grupo Televisa), and featuring Mexican superstar Eugenio Derbez, this comedy was aimed squarely at the Hispanic-American market, and was promoted directly to them. The result? The fourth-highest-grossing foreign language film in the U.S., and the highest-grossing Spanish language one. Indeed, niche marketing was all the rage this year. (Two weeks ago, Dhoom 3 set a new record for a Bollywood movie opening in the U.S., with $3.3 million from 236 theaters.) But perhaps the most surprising thing about the success of such demographic-friendly titles is … how surprised people still are at their success. Indeed, even mainstream studio films, like The Best Man Holiday and Fast & Furious 6, managed to wildly overperform box-office expectations by targeting key audiences, like African-Americans and Latinos. Anybody who was watching daytime telenovelas and seeing nonstop ads for Furious 6 just knew that movie was going to be huge.
Kevin Hart: Let Me Explain made $32 million.
Once upon a time, we had these things called stand-up comedy concert films. Back in the eighties, they were reliable moneymakers for then-edgy comics like Eddie Murphy (Raw) and the great Richard Pryor (Live on the Sunset Strip). It's been a dying genre for years now, though The Original Kings of Comedy did good business more than a decade ago. But Kevin Hart's concert film, which made $32 million without ever playing in 900 theaters, has shaken up that calculus. Expect more of these. And let's hope they'll be just as good. 
Sometimes, you do want to be alone at the movies.
Remember Linsanity, the movie? No? Well, it was a documentary about the Jeremy Lin phenomenon, and it didn't do too poorly at the box office overall, grossing nearly $300,000 – not bad for a small doc. But here's the thing: Several weeks ago, on the weekend of December 13-15, Linsanity made $72, playing an estimated 30 shows in two theaters, for a per-screening average of … two dollars. Now, the average movie ticket price in 2013 is $8.05. And since we haven't heard of any moviegoers transcending the laws of physics and biology recently (though some guy at one Mama screening I attended came very close), these were probably discount shows. But still, that's an impressive feat. No doubt some of those screenings consisting of just one person, sitting alone, possibly wearing Lin's old Knicks jersey, in a movie theater. We'd like to think they were happy.