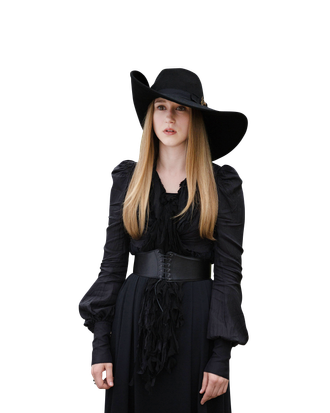 Taissa Farmiga as Zoe.
Photo: Michele K. Short/FX
Is Zoe the next supreme? It seems like a real possibility. Taissa Farmiga's teenage witch began this season of American Horror Story with the worst power — guys who sleep with her bleed from the eyeballs and die — but now she's bringing her dead pals back to life, laying waste to zombies and liberating serial-killing house ghosts. In the last episode, she even found a loophole when it came to her sex problem. Nice! Vulture caught up with 19-year-old Farmiga, who also co-starred in Sofia Coppola's The Bling Ring, to talk about Zoe's rise, Connie Britton's potential return, and, yes, Paris Hilton's ginormous closet.
The last time we saw Zoe, she was about to have a wild night in the bedroom. Was it weird being propositioned by both Emma Roberts and Evan Peters, who are dating in real life?
Yeaaah. It was definitely a little odd, but I think we were just laughing about how crazy it was. I think we just wanted it to be done. Luckily, we went with "the implied version," and we were all happy about that.
Was there a more explicit version of the scene?
You get so many drafts of the scripts; I really don't know what the first version was. But in the end, I think what we did was good enough [laughs]. Emma and Evan are so sweet and so cute together! It was really totally fine, but if you just think about the situation, it's completely odd.
I was happy Zoe got some.
Yeah! She finally got that intimacy, and with the boy she's felt this strong connection to. It was a quick decision she makes to fall into bed with the two of them. And good for her! She got some! Yaaay!
Are we going to hear about precautions you have to take when having sex with dead people?
Well, I think all precautions go out the window, right? You just have fun with it.
Before sexytime, Zoe kills Spalding (Denis O'Hare). Between that and bringing people back to life, do you think she might be on a power trip?
Well, she's got a sincere heart, and she's finally finding her place in the coven. She's realizing now that it means something to her to be a part of what is essentially a dying race. She wants to help protect it. She has that conversation with Cordelia, and finds out Fiona's secrets, so now Fiona is an enemy. Spalding is someone who's very loyal to Fiona, so Zoe takes it upon herself to take matters into her own hands and deal with that issue. I was excited for her to take a stand. She's developing a new attitude and getting stronger, and that's always fun.
Talk about reattaching that tongue, which made me squirm more than it should have.
They had two tongues. They had the hero tongue, which is the tongue we put in Denis's mouth, and this other big fat one. Ugh! It was so disgusting! It felt like a real tongue. It's crazy what the prosthetics people can do. The stabbing was also great. Every time I have a scene with Denis, I'm always hurting him. Two episodes ago, I hit him with the porcelain doll. We had this fake doll but the cushioning in the head wasn't working well, so Denis goes, "Just hit me with the real doll!" and I was like, "Noooo." But I had to. I hit the stunt guy first, and then I hit Denis and I made him bleed. I felt so bad, but he forced me to do it!
If you think about it, Zoe inflicts just as much, if not more, damage than Fiona. The zombies didn't stand a chance.
We shot the zombies at 3 a.m. I was passing out; I was so tired. It was a Friday and we were shooting somewhere in the Garden District, and I felt bad because the people in the houses next door were all trying to sleep and we were being so loud. We had the chainsaws running a long time. The props guy let me pick up a real chainsaw right before we started filming so I would know how heavy it was, and God, that thing is heavy. But now I know that I'm going to be okay. I know I can be level-headed. All my friends are like, "Can you be on my side in the zombie apocalypse?" and I'm like, "I got this."
Connie Britton has said she might return to the show. Having played her daughter in the first season, are you helping to make this happen?
I heard that! I haven't talked to Connie in a while, I know she's busy with her other TV show. But, hey, if she came back, that would be amazing. I would love to work with her again. We had a great time in season one, and she's really sweet.
Who should she play?
I would love for her to be one of the witches in the coven, just so I could have scenes with her.
Sarah Paulson told me you're a pro baker.
[Laughs.] She bought some Betty Crocker and we put it in a pan. It involved an egg and water and all that. It was really good. She live-tweeted it, right?
She did.
She forgot the water.
But she said you had a KitchenAid mixer you wanted to use. That's for serious baking.
Well, she wanted to bake a cake, and I was like, "Let's do it from scratch," because my sister was here and she loves baking. I'm more of the cook; I prefer cooking us dinner. I'm more of a side dish girl. I do make a good ragu pasta, which everyone seems to like. Or that could be just me talking, who knows what they really think. I actually stole the recipe from my older sister Vera, who also loves to cook. I took all my recipes from her.
She's so good in Bates Motel.
Norma Bates is insanely crazy, but you can't help but love her. Vera does such a good job with it. She's so weird, but you're like, Awww, Norma. I know she wants to visit me but their schedules are so crazy. I hope she can. I'd love to bring her to set. I wanna show off for my big sister, like, "Hey, look at me! I can do it!"
I have to know: What's the most surprising thing you found in Paris Hilton's closet while filming The Bling Ring?
I think it was just the vast amount of clothes she had. Her closet was the size of my apartment. And my apartment is two floors. It was crazy. Her shoe wall scared me. I don't have many shoes.