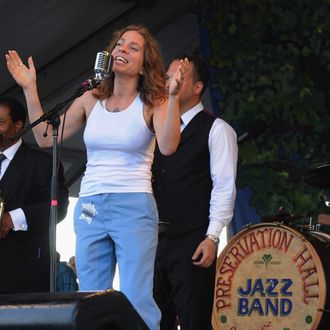 Photo: Rick Diamond/Getty Images
Over the weekend, Ani DiFranco canceled a planned songwriting retreat after fans were outraged at the choice of venue: a former plantation outside New Orleans. And not just any former slave plantation, but one now owned by an ultra-right-wing Australian billionaire. (Also, the plantation's website is remarkably tone-deaf. "A bell, still present in the Nottoway courtyard, was rung by the overseer to announce the time for [slaves'] rising, meals and retiring." Oh, cool!) Perhaps a plantation is not the ideal spot for "workshops and lessons that focus on developing one's singular creativity"? DiFranco announced the cancellation and posted a response on her website last night.
when i agreed to do a retreat (with a promoter who has organized such things before with other artists and who approached me about being the next curator/host/teacher), i did not know the exact location it was to be held. … . later, when i found out it was to be held at a resort on a former plantation, I thought to myself, "whoa", but i did not imagine or understand that the setting of a plantation would trigger such collective outrage or result in so much high velocity bitterness. i imagined instead that the setting would become a participant in the event. this was doubtless to be a gathering of progressive and engaged people, so i imagined a dialogue would emerge organically over the four days about the issue of where we were. i have heard the feedback that it is not my place to go to former plantations and initiate such a dialogue. 

[…]

my intention of going ahead with the conference at the nottoway plantation was not to be a part of a great forgetting but its opposite. i know that pain is stored in places where great social ills have occurred. i believe that people must go to those places with awareness and with compassionate energy and meditate on what has happened and absorb some of the reverberating pain with their attention and their awareness. i believe that compassionate energy is transformative and necessary for healing the wounds of history. … i obviously underestimated the power of an evocatively symbolic place to trigger collective and individual pain. i believe that your energy and your questioning are needed in this world. i know that the pain of slavery is real and runs very deep and wide. however, in this incident i think is very unfortunate what many have chosen to do with that pain. i cancel the retreat now because i wish to restore peace and respectful discourse between people as quickly as possible. i entreat you to refocus your concerns and comments on this matter with positive energy and allow us now to work together towards common ground and healing.

for myself, i believe that one cannot draw a line around the nottoway plantation and say "racism reached it's depths of wrongness here" and then point to the other side of that line and say "but not here". i know that any building built before 1860 in the South and many after, were built on the backs of slaves. i know that in new orleans, the city i live in, most buildings have slave quarters out back, and to not use any buildings that speak to our country's history of slavery would necessitate moving far far away. i know that indeed our whole country has had a history of invasion, oppression and exploitation as part of its very fabric of power and wealth. i know that each of us is sitting right now in a building located on stolen land. stolen from the original people of this continent who suffered genocide at the hands of european colonists. i know that many of us can look down right now and see shoes and clothes that were manufactured by modern day indentured servants in sweat shops. i know that micro profits from purchases that we make all day long are trickling down to monsanto, to nestle and to GE. i know that a sickeningly large percentage of the taxes we pay go to manufacturing weapons and to making war. and on and on and on. it is a very imperfect world we live in and i, like everyone else, am just trying to do my best to negotiate it.
And yet some people wonder why the hashtag #solidarityisforwhitewomen caught on so quickly.