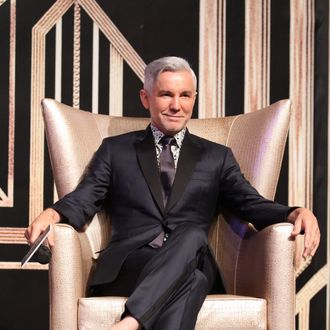 Baz Luhrmann
Photo: TPG/Getty
Baz Luhrmann's first-ever TV series may soon be a reality. Vulture hears that Luhrmann is teaming with producer Shawn Ryan (The Shield, Terriers) and playwright Stephen Adly Guirgis (The Motherfucker With the Hat) on an epic, music-filled period drama exploring the dawn of the hip-hop era as seen through the eyes of two young New Yorkers. Executives at Netflix, Amazon, and FX have all heard the pitch for the project this week, our Hollywood spies tell us; other cable networks, including Showtime, are also said to be taking meetings on the idea. Interest in the show is said to be high, and a deal for production of a pilot (or maybe even a series) seems all but assured. Spectacular Spectacular!
Plot specifics for the as-yet-untitled show are few right now, but it will apparently spend its first season in 1977, with disco peaking and the Sugar Hill Gang's "Rapper's Delight" still two years away. While it's not a musical — characters won't randomly break into song — it will have heavy musical elements and performances. (This is Baz Luhrmann, after all.) The series will tell the stories of five young New Yorkers, with a focus on two best friends: one a talented writer, the other a natural performer. A person who's heard the pitch described the series as a coming-of-age story at heart, as well as a look at how hip-hop was born. Episodes may flash forward to reveal the fates of the central two characters. The grim state of New York City at the time — high crime, the city's financial crisis — also sounds like it might be a character of sorts.
We understand that the idea for the show came from Luhrmann, who last year signed a TV deal with Sony Pictures Television. With the help of his agents at William Morris Endeavor, Luhrmann connected with Ryan (also based at Sony) and brought in Guirgis to begin putting the project together. All three men will produce the show, with Gurigis writing the pilot and Ryan supervising. It's unclear whether Luhrmann will bring in a collaborator from the hip-hop world to help with the project, but if he does, he has plenty of options: After all, he collaborated with Jay Z on the music for his telling of The Great Gatsby.