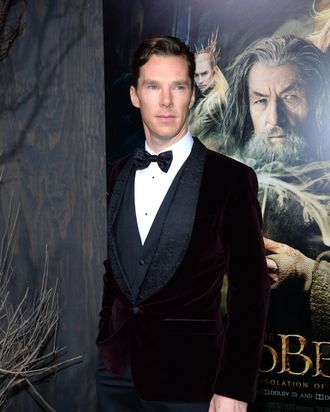 Benedict Cumberbatch.
Photo: Mark Davis/2013 Getty Images
Benedict Cumberbatch plays not one, but two, evil presences in The Hobbit: The Desolation of Smaug — the dragon Smaug, whose hoard of gold includes a gem that our hobbit and dwarves seek, and a mysterious figure known as the Necromancer. But in real life, the actor is twice as nice  … so nice that when we were chatting this summer about his Emmy nomination for Parade's End, he was willing to keep talking until his flight was called (he was at the airport). After we covered all the essentials, we asked him about his experience shooting The Hobbit, and he got talking about lizards, his Satanic voice, and admiring Andy Serkis.
I asked Andy Serkis if he had given you any mo-cap tips, because you don't just voice Smaug, you embody the character.
Thank you for saying that! That's absolutely right, and I told Peter [Jackson] that, when I first met with him, because I had practiced the voice with movement and I was quite keen to do motion-capture, even though they said they just wanted voice at first. And well, Andy, sadly, our paths didn't quite cross over, but to be honest, I did kind of tease him. I said, "You are the master of the biped and the mammal, but I'm not sure … The serpent's new territory, really!" And I spent a lot of time studying iguanas and Komodo dragons and other reptiles at the London Zoo, to get that reptilian movement in my body. But Christ! It's pretty hard to articulate that. In fact, it just has to be an ideal or a reference to it. They used a lot with my face and my hands, as the claws. But obviously I don't have a tail, can't breathe fire, don't fly, and I'm not made of scales or cold-blooded. If you try and [move] horizontally, squeezing your legs together, with your shoulders hunched, and crawling on your hands, it syncs up with what you can do with your voice, which obviously with Smaug is very awesome. It got to the point where it was killing my voice.
What about with the Necromancer? Because that's a very different voice.
We started doing that when I was on this thing, like a bungee, like walking forward but being pulled back at the same time, which was kind of helpful. Peter said he was like a black hole, and [co-writer] Philippa [Boyens] said the voice should be otherworldly, like there's something inhuman about him. And then I said, "Why don't we try recording the Black Speech backwards?" And the Black Speech itself is hard enough to learn forwards! So we wrote it out phonetically. It was like I was performing a Satanic ritual. [Laughs.]
Are they going to release any of your performance capture work like they've done for Andy in the past? I mean, just what he did in his "riddles in the dark" scene with Martin Freeman in the first film, that was like a play, how they shot that.
Peter showed me that! It was amazing, wasn't it? It was the first cut scene that he had when I went over to do stuff, and he showed it to me, and it was kind of mind-blowing. It's all complete, the SFX, it was Gollum, and then a minute, two minutes in, it cut out and it went back to being Andy in a suit for a bit, because they hadn't completed that stage. And after ten seconds, you forgot that you were watching a man in a tight Lycra wetsuit with baubles on it and a face marked like an Aboriginal warrior, you know? He's so completely that character. It's extraordinary how little … it's all there. I just wish more people could see that. Because that guy, he's given Oscar-worthy performances. He really, really does, and I don't say that lightly. What was his character's name in Rise of the Planet of the Apes? Julius, or … ?
Caesar.
That's right. Sorry, I knew it was some kind of Roman emperor name. Again, astonishing. Not just the ape. Obviously the gorilla in King Kong was incredible. But to play that with that edge of human nature in it, so you get an idea of the innocence into the adolescence into a young adult and then an adult, it's phenomenal! And that moment when he goes, "No!" and the human voice comes out? It's so chilling! You completely buy it, because of how he's threaded that character arc all the way through his work. He's such a lovely guy, just having met him and chatting with him about it. He gave me his blessing when he said, "It sounds like you've done great stuff already."
Did he direct any of your motion-capture, because he was directing second unit?
He was directing a lot of second unit, but not me, because all my stuff was on soundstages or mo-cap, so he was out in the field. He was out doing live-action stuff, some great scenes, just not with me. But I would love to work with Andy in the future. He's a remarkable talent. I came in for the first go at it while they were on a break, because that was the only time I could fit it in my schedule, and this time, again, it was isolated work on the weekends. Poor Peter had no days off! But I had the best time doing it, both times around. Peter's just wonderful. He just does it so effortlessly. He's such a good director. I mean, on every level, in every detail. It's not just about the big stuff and broad strokes. We had a really intimate thing, because it was just me and him on the body, on the mo-cap stage, for about a week.
Was Martin Freeman ever on set with you? Because you two have a very different dynamic when you play opposite each other on Sherlock.
We didn't have any live interaction with each other, because of the way these things work! It was impossible. So it was sad — he had my voice, and I had some image of the acting he'd done, but not a live interaction. It was very different than our stuff on Sherlock, but I adore the guy. He's so truthful and subtle and ridiculously talented and smart and funny. He's the funniest man in any room. Just don't tell him that!