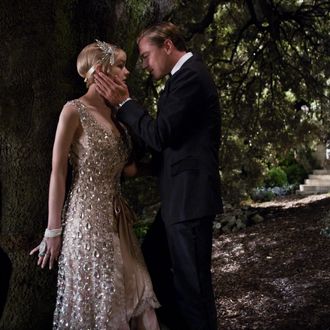 TOBEY MAGUIRE as Nick Carraway in Warner Bros. Pictures' and Village Roadshow Pictures' drama "THE GREAT GATSBY," a Warner Bros. Pictures release.
Photo: Courtesy of Warner Bros. Pictures/? 2013 Bazmark Film III Pty Limited
From Frozen's "Let It Go" to The Great Gatsby's "Young And Beautiful," there are dozens upon dozens of original songs qualified to be Best Original Song nominees. You can check out the full list released by the Academy of Motion Picture Arts and Sciences, though it's worth nothing that Anchorman 2 made the cut for a tune in which Ron Burgundy sings farewell to his beloved shark, Doby.