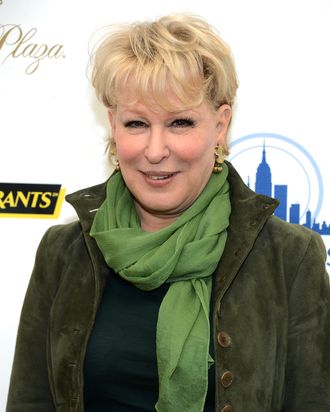 Bette Midler attends the 26th Annual Power Lunch For Women at The Plaza Hotel on November 16, 2012 in New York City.
Photo: Jason Kempin/Getty Images
Deadline broke the news Monday that Bette Midler will play Mae West in an upcoming HBO film based on the movie star's autobiography Goodness Had Nothing To Do With It. The book follows West's Brooklyn childhood and rise to fame after writing, producing, and starring in the 1926 Broadway play Sex. The show led to obscenity charges, and she eventually served eight days in prison for "corrupting the morals of youth." Really, it's difficult to imagine anyone but Midler playing West. Racking up the Hollywood heavyweights, Harvey Fierstein will write the script and William Friedkin (The Exorcist) will direct. Expect this one to win some Emmys.