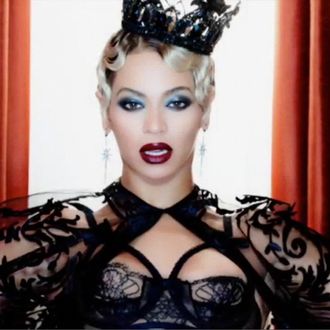 Of course. Of course Beyoncé just dropped a new "exclusive visual album" with fourteen songs and seventeen videos and absolutely no promotion — and yes, that includes a video for every song. Of course Jay Z and Blue Ivy are on the album. Oh, and the title? Beyoncé. The name of Beyoncé's fifth solo album is Beyoncé.
"I didn't want to release my music the way I've done it," Beyoncé explained in a press release. "I am bored with that. I feel like I am able to speak directly to my fans. There's so much that gets between the music, the artist and the fans. I felt like I didn't want anybody to give the message when my record is coming out. I just want this to come out when it's ready and from me to my fans." (Read our music critic's snap judgment take on the album here.)
Do you prefer just a little promotion before you shell out $15.99 for an album? Well, Bey also uploaded a 30-second preview of each video on YouTube.
Appropriately, "Blue" features Blue Ivy, and less appropriately, twerking.
Requisite relationship update: Beyoncé and Jay Z are now "Drunk in Love."
In the body image-focused "Pretty Hurts," there's a Beyoncé beauty pageant.
"Ghost" seems to be part Prince, part Janelle Monáe and verges on spoken word.
"Haunted" has Beyoncé channeling "Vogue"-era Madonna while walking through a sexy genderqueer haunted house.
"Grown Woman" has the same African-style graphics Beyoncé used in her concerts this fall, plus a cameo from mom Tina Knowles.
"Heaven" is a slow, sad ballad. Repeating the lines "Heaven couldn't wait for you," this is your dark "Halo."
Beyoncé is basically doing a Drake impression on "Mine (featuring Drake)". It's wonderful.
And finally, we have "Partition," in which Beyoncé indulges her stripper fantasy.
Check out the other previews here, and watch Beyoncé explain the album concept in the video below. "I remember seeing 'Thriller' on TV with my family. It was an event," she says. "I miss that immersive experience."
This post has been updated throughout.