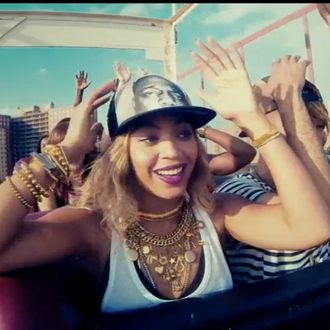 While we'll be busy poring through Beyoncé's surprise Christmas gift to the world for the next few weeks, there are already quite a few fun Easter eggs (some more hidden than others) and cameos that not only reveal Beyoncé's secret-keeping BFFs, but reference back to some classic Beyoncé moments. Here's our first in-depth look through; add what you spotted and we missed in the comments.
First of all, let's start with this drop date. We all know Beyoncé is big on dates. B'Day came on September 4 (her birthday), and her last album was called 4: "It's the day I was born. My mother's birthday, and a lot of my friends' birthdays, are on the fourth; April 4 is my wedding date." Dropping her newest at midnight on 12/13/13 doesn't seem noteworthy? Check the Bible, specifically, Romans 12:12-13: "Be joyful in hope, patient in affliction, faithful in prayer. Share with the Lord's people who are in need. Practice hospitality." #wheresthesingle
In "XO," Bey rides the Coney Island roller coasters in a Biggie hat. Does this count as a cameo?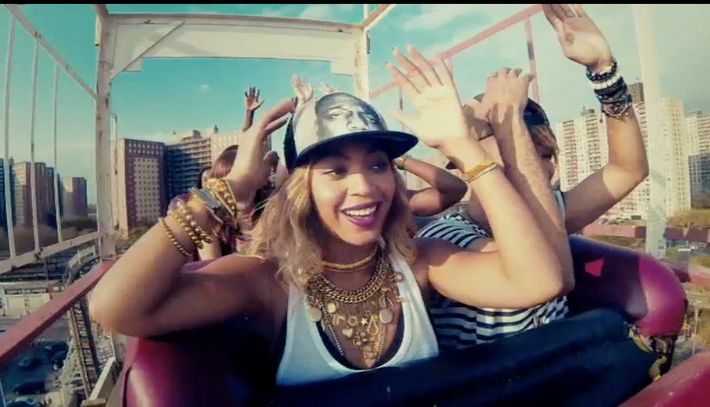 A big motif you'll see throughout the Beyoncé videos is the trophy. Here's one.
And how cute is this moment?
EDIT: Found out who it is! A TMZ guy named, Adam: "Wake up today to find myself in the @beyonce XO music video!! Amazing!! Thank you @terryrichardsonstudio. Blown away. #beyonce"

From "Jealous": "Take it one step further, freakum dress out my closet."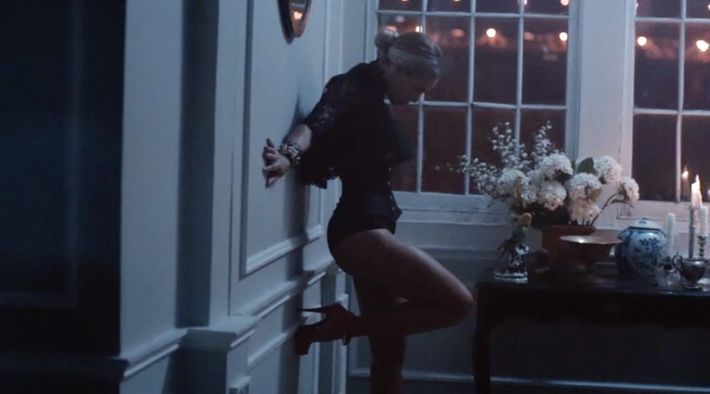 "Every woman got one … "
In "Superpower," did you also gasp when Destiny's Child led the revolution?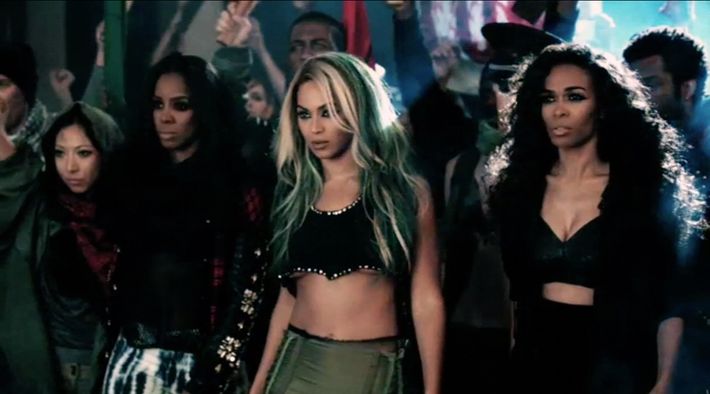 Pharrell is also there, in a great hat. Where's Frank?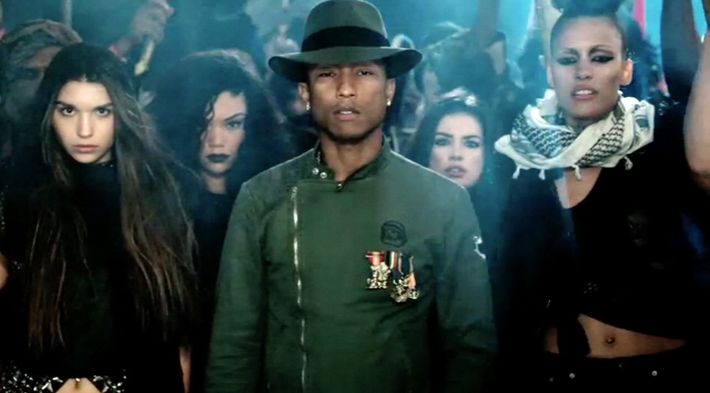 In "Yoncé," Bey is hardly outshined by models Jourdan Dunn, Joan Smalls, and Chanel Iman. In an interview with the Cut, director Ricky Saiz reveals his inspiration: "We were just looking at George Michael's 'Freedom' video. That was the drop-off video; David Fincher did that video. It was amazing. We wanted to do something more contemporary and a bit more street, and of course use iconic black women."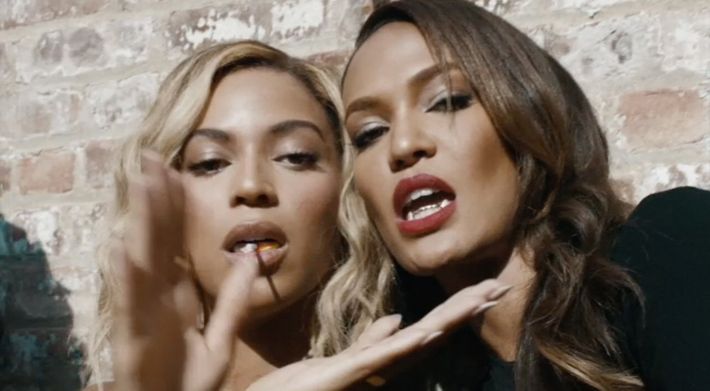 Did you hear the Instagram shout-out? "All on Instagram, cake by the pound / Circulate the image every time I come around / Gs up, tell me how I'm lookin', babe."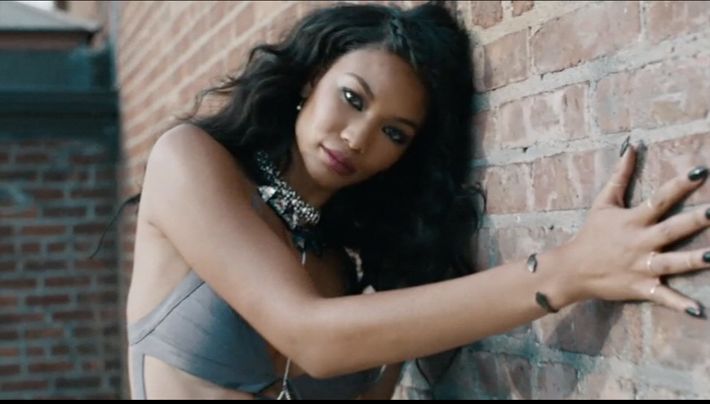 And while "Partition" gets pretty steamy ("He like to call me Peaches when we get this nasty"), guess who Bey is dancing for: Did you catch Jay in the audience?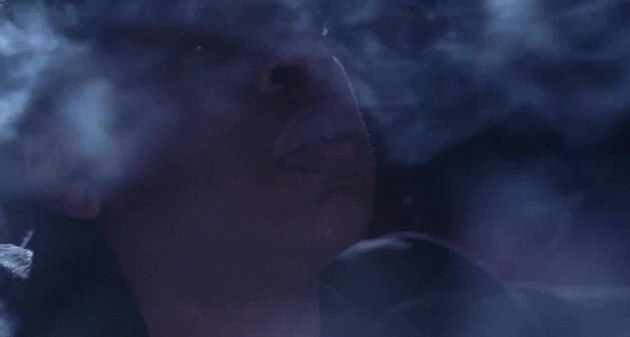 Another fact about "Partition" …
Enough with the sexy for a second. This album's answer to "Halo" is "Heaven" — a heartbreaking track. Even more so if you believe the rumblings that this is the song about Beyoncé's miscarriage. Makes sense, if you remember that Jay included a track also called "Heaven" on his last album, Magna Carta Holy Grail.
On to the Pierre Debusschere–directed "Mine": Does it not remind you of another Drake duet, "Take Care"? A bit! Meanwhile, Drake's obsession with talking about "good girls" and "bad girls" continues on: "Do you wanna roll with a good girl? / Do it big, do it all for a good girl." (See: Rihanna.)
Bey + Drake = his ear on her forehead. Magic: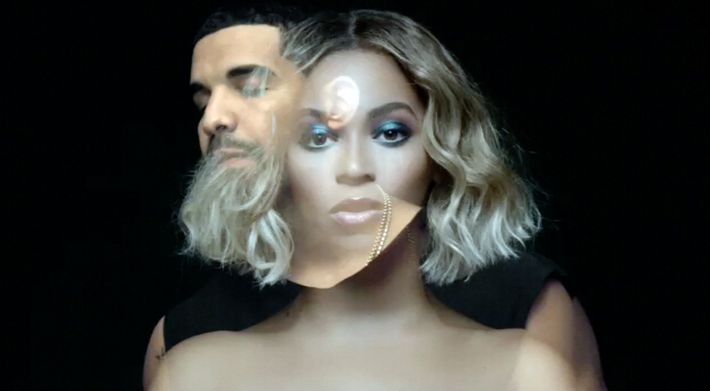 "Blue" is endlessly screencap-able because of its featured guest: BLUE IVY. Beyoncé and Jay Z's little bundle of joy is all over this one.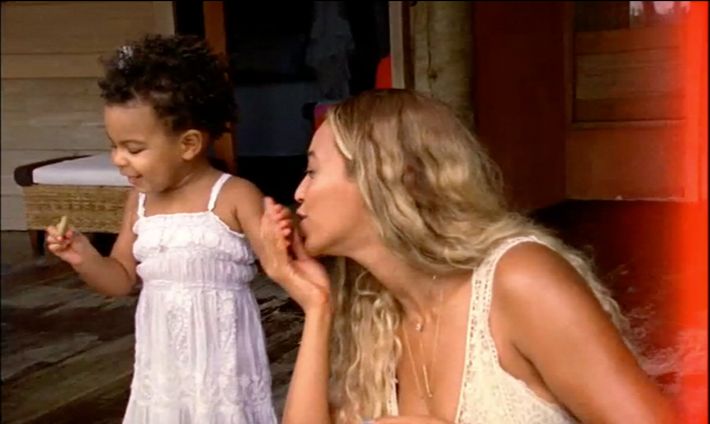 Looks like the fam is hanging out in Brazil. And what exactly does she say at the end? Here's what I heard: "Hold on to me, hold on / Been-say / Been-say / Mami, mami, mami." [Dies.]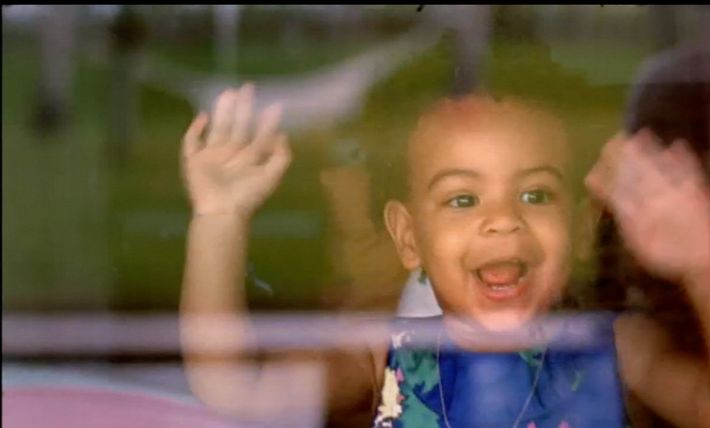 In "Flawless" (a.k.a. the Song Formerly Known as "Bow Down"), Beyoncé reminds you that she lost Star Search back in the day. To a bunch of really lame dudes.
The speech in the interlude is taken from Chimamanda Ngozi Adichie's Ted Talk "We Should All Be Feminists."
Also, if someone doesn't teach me the "I WOKE UP LIKE DIS" dance, I'm gonna flip.
In "Ghost," Bey uses the bodysock dancer from Yeezus, perhaps? And is this lyric a bit of insight into Beyoncé's new no-promo record release strategy?: "All the shit I do is boring / All these record labels boring / I don't trust these record labels I'm touring."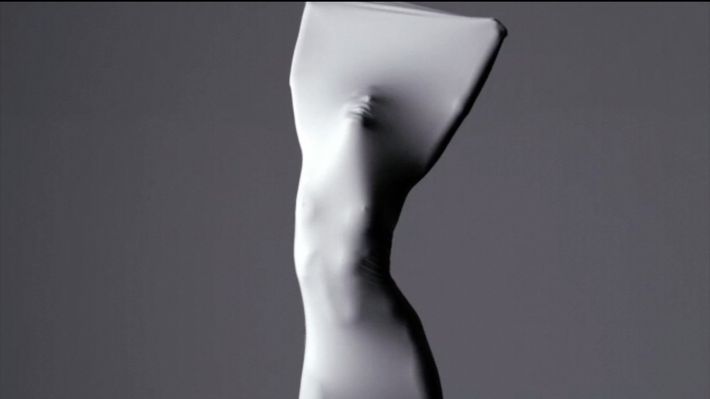 "Haunted" has Beyoncé doing her best American Horror Story impression. And it's scary! The key she's holding reads "94," and if you know Beyoncé, you know that 9/4 is B'Day, a.k.a. Beyoncé's birthday.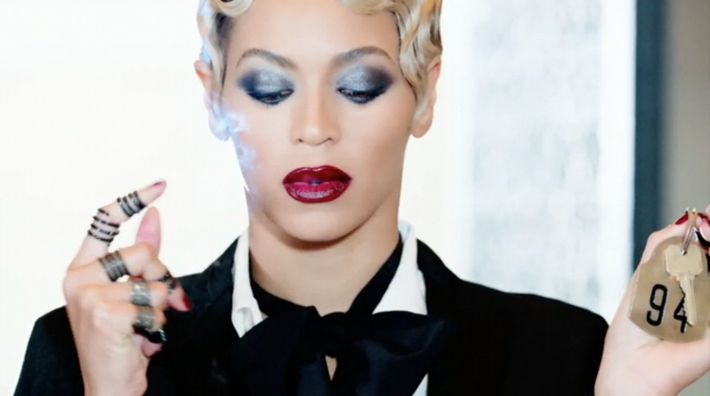 Does the "Haunted" mansion look familiar?
"Drunk in Love" is the best Bey-Jay duet since "Crazy in Love," no? Come on. Just look at them: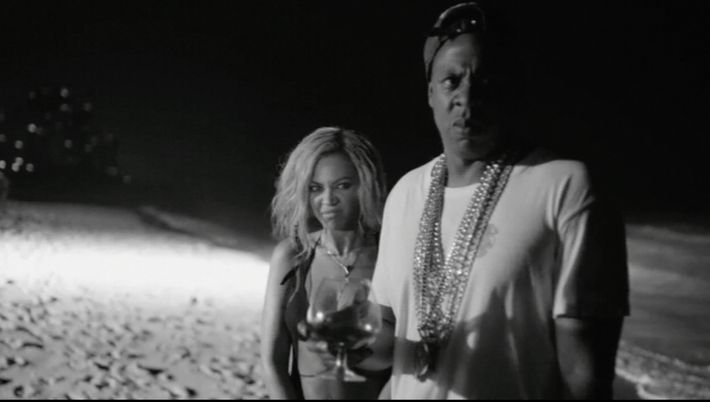 Did you catch the trophy?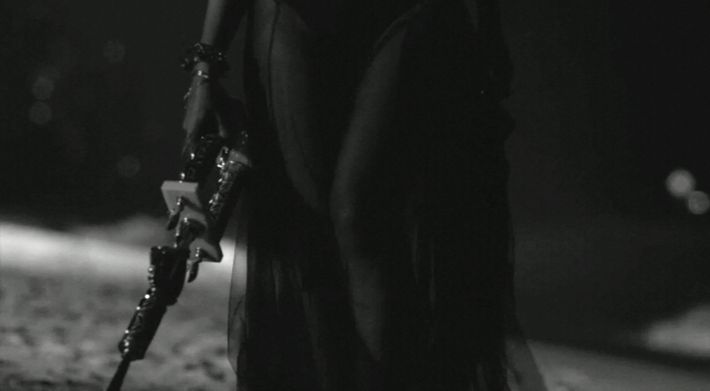 In "Blow," Bey is riding bikes with Solange. Hey, Solange!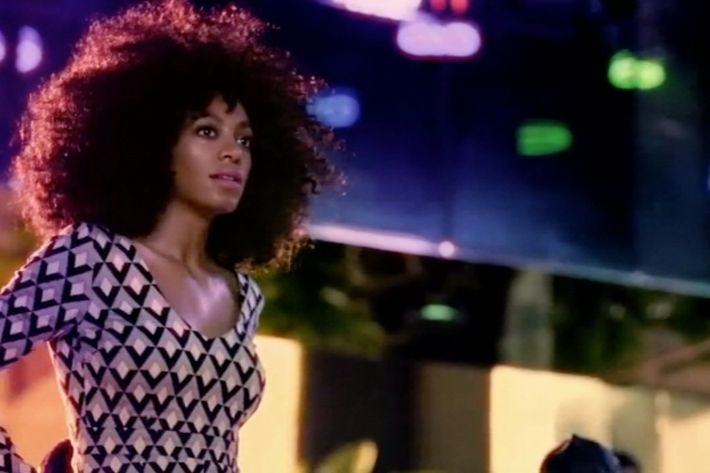 And paying homage to Warrant's "Cherry Pie"?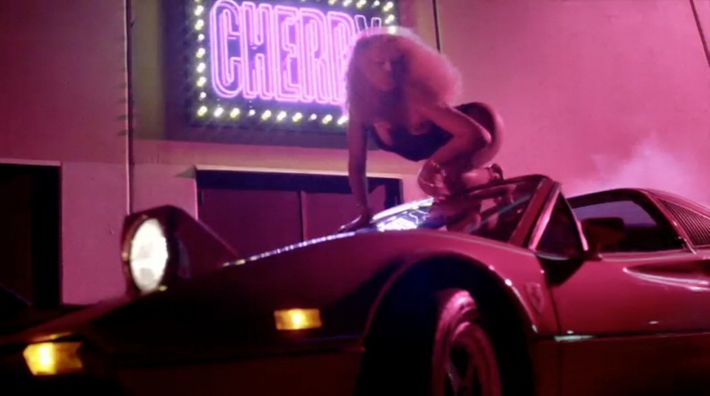 In "No Angel," Bey is all about her hometown of Houston. Everyone was there: "W/ director @LILINTERNET Bun B, Paul Wall, Slim Thug in Houston at the Beyoncé No Angel shoot."
What's there to say about "Rocket"? Bey's ode to D'Angelo's "(Untitled) How Does It Feel?" is insanely sexy. Guess who wrote it? Miguel. Duh.
In "Pretty Hurts," Bey plays a beauty queen representing the Third Ward — a nod to the area of Houston where she grew up.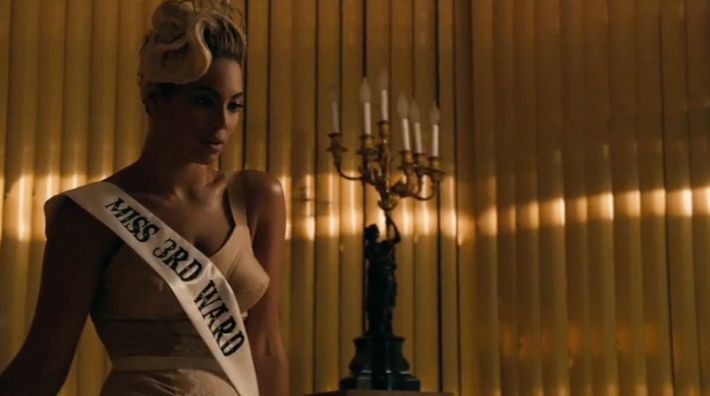 The guy running the pageant? If he looks familiar, it's because you recognize model Shaun Ross, who recently played the Adam to Lana Dey Rey's Eve in her short film Tropico. He was also in Beyoncé's video for "Party."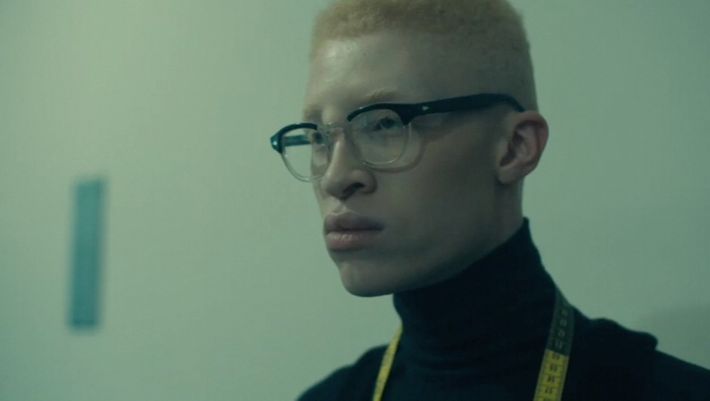 Also, there go all those trophies.