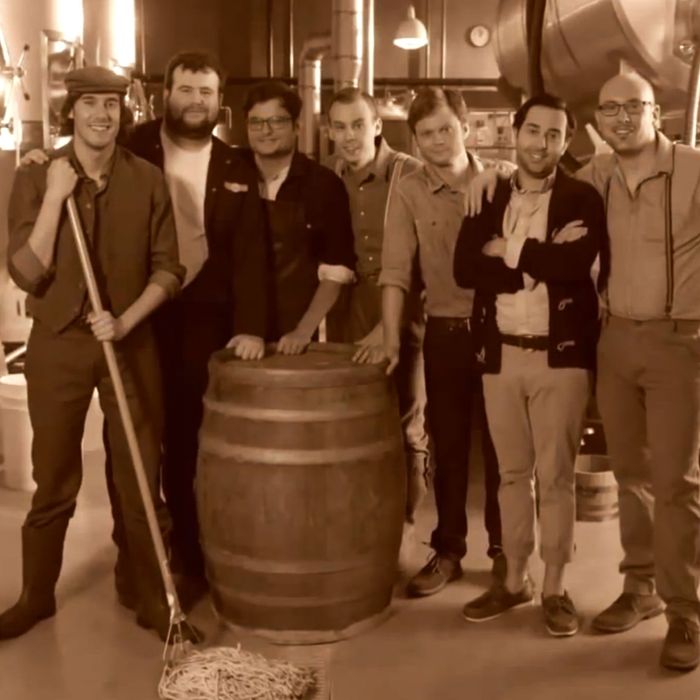 In his review at the beginning of the season, Matt Zoller Seitz wrote, "Is IFC's The Birthday Boys hilarious and weird and wonderful, or do I just miss HBO's great, long-ago-canceled sketch classic Mr. Show With Bob and David? Probably the latter. But I'll take it anyway." The Birthday Boys are obviously indebted to Mr. Show, especially since Bob Odenkirk executive produces and appears in every episode, but over their first season's ten episodes, they have proven to be worthy of praise on their own terms. Like Mr. Show, the Birthday Boys are great at a certain underplayed absurdism — often finding the mundane in the extraordinary, as opposed to the opposite. Particularly good are their parodies that often feel like they are satiring the idea of satirizing something. With the season finale airing tonight, here are their nine best sketches so far.
"Contemporary Family"
The Birthday Boys love to make fun of overly earnest conventional wisdom. Here they mock the often-patronizing public service announcements that a "family" doesn't just refer to a mom, dad, and kids anymore. "A family can be ten dads! That's it: just ten dads with no kids … A fat guy, a watermelon, and a stack of magazines? Family."

"Too Many Terms"
Sometimes the lack of payoff is the payoff. And this sketch, which ultimately makes fun of comedy that tries to take on big issues, like our corrupt financial system, finds the joke in playing it bizarrely straight.
"No Afterlife"
This is kind of a companion piece to the last one, taking on big business by pointing out how fundamentally meaningless it and all things are.
"Keepin' the Beat"
There's maybe never been a better sketch about how silly drummers are than this. Drummers, seriously: What goons.
"Autistic Basketball Player"
Though "Autistic Basketball Player" is an extremely specific parody of a famous ESPN personal interest piece about an autistic basketball player, it works as a send-up on of the whole overly earnest, Upworthy-style, emotion-driven puff piece.
"Seven Brothers Brewery"
This is another very specific parody of faux earnestness, tackling beer commercials, like those Sam Adams used to do, that focus on incredibly passionate brewers. These brewmasters show their personal investment in their beer by bathing in it.

"Harp Sounds"
Without giving too much away, this sketch (and its companion "Blurry Vision") perfectly nails a popular TV cliché.
"Woosh!"
The Birthday Boys are less overtly weird than many sketch groups out there. Even this one about a birthday-song-singing alien is incredibly grounded in its way. It's also super sad.
"Pioneers of Aviation"
This one really feels like a Mr. Show sketch. It starts in a fairly normal place, but then bounces from scene to scene, introducing more and more ridiculous characters.