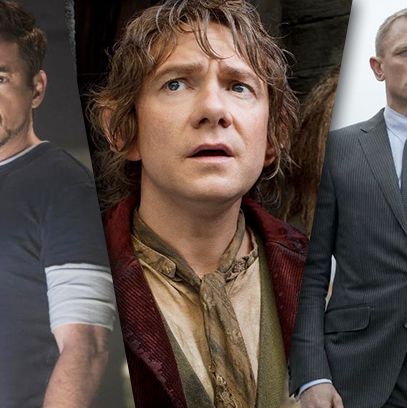 Remember when movie sequels were rare, trilogies were reserved for a holy few, and franchises that extended on to five, six, or even seven movies were strictly the domain of slumming series like Police Academy or Nightmare on Elm Street? Cling to your memories, because your kids will find those stories awfully quaint in twenty years, when you're taking them to the multiplex to decide between Iron Man 15 and the fourth series reboot of Spider-Man. These days, you're nothing if you don't have a megafranchise running in perpetuity, as evidenced by this week's bonanza of sequel news: Paramount is moving ahead with sequels to World War Z and Jack Reacher, the new Terminator film has begun casting, Disney has acquired rights to future Indiana Jones movies, and Universal is working on a radical rewrite of the seventh Fast and Furious movie. But which studios have the biggest and best franchises, and which are still playing catch-up? Here's a thorough analysis of what the big six studios currently have to offer.
DISNEY
Biggest Franchise: Fittingly, Disney's highest-grossing franchise is The Avengers, a super mash-up of several other Marvel franchises the studio now owns. It was released last year and took in a gigantic billion and a half dollars; the sequel, The Avengers: Age of Ultron, will begin shooting in just a few months.
Portfolio Check: It's almost staggering to think of how many franchises Disney has going. Owning Marvel gives the studio not just The Avengers but Iron Man, Thor, and Captain America, and then there's Pixar, which now seems determined to sequelize all the classics you'd formerly thought were one-and done (already they've mined Toy Story, Monsters Inc., and Cars, while a Finding Nemo sequel is currently in production). Disney also controls the Muppets franchise, with a second installment in that rebooted series coming next year, and they have homegrown blockbuster franchise-starters in Alice in Wonderland and Oz the Great and Powerful, which follow the family friendly lead of their megaseries Pirates of the Caribbean. Other studios would kill for just a handful of those franchises; Disney has them all, and knows better than anyone else how to monetize them through a vast array of media, including TV, toys, and theme parks.
Sputtering Franchise: The studio had a lot riding on Tron: Legacy, sinking $170 million into that resurrection of the Tron franchise, which also meant a lot of expensive, elaborate promo at Comic-Con and Disneyland. But when the film only brought in $172 million domestically, the futuristic epic's future seemed unclear. Disney feinted in the direction of continuing by hiring writer Jesse Wigutow to write a sequel, but we're now three years out since Tron Legacy's mild bow, and a new installment would have to get into production soon, since it would require years of effects work to complete. Will Disney let the series go offline?
Resurrection Attempt: No project has a bigger priority right now than Star Wars: Episode VII, which Disney has promised will arrive two years from next week, even though director J.J. Abrams still hasn't cast anyone and is working furiously on a rewrite of the script. Time is tighter than anyone involved would like, but if they can nail this series extension, Disney will have a new and incredibly lucrative series to add to its ledger each year. If they misfire … well, they're still going to be making boatloads. Now do you see why they're rushing?
Next Big Hope: Marvel is making hits with Pixar-like precision these days, but the real test comes at the end of next summer, when the truly weird Guardians of the Galaxy arrives. If it's a blockbuster, that will take some of the pressure off of other risky Phase Three movies from the studio, including Ant-Man and Doctor Strange.

WARNER BROS.
Biggest Franchise: Why did Peter Jackson and Warner Bros. split a slim book like The Hobbit into three separate, incredibly long films? After the billion-dollar gross of The Hobbit: An Unexpected Journey, do you even need to ask? The critically dubious Lord of the Rings prequel grossed less domestically than any of its predecessors did a decade ago, but overseas, it more than made up for that shortfall and outgrossed all but The Lord of the Rings: The Return of the King; two more 3-D-aided installments will give WB plenty to sing about.
Portfolio Check: It's a time of transition for Warner Bros, which has recently seen three very lucrative franchises come to a seeming close: Harry Potter, The Dark Knight, and The Hangover. Don't expect WB to let most of those projects lie dormant, however. The studio is developing a Harry Potter spinoff, Fantastic Beasts and Where to Find Them, to be scripted by J.K. Rowling; meanwhile, they've added Ben Affleck's Batman to a stuffed Man of Steel sequel that will also include Wonder Woman and other superheroes, all of whom can be mined for spinoffs and a potential Justice League flick. Beyond those mammoth movies, WB has perhaps the most diverse slate of franchises, including an in-the-works sequel to surprise horror hit The Conjuring, a new installment of Horrible Bosses, a prequel to 300, and potential follow-ups to Magic Mike and Pacific Rim. Hell, even 2011 sleeper hit Dolphin Tale is getting a sequel. (And why not, since its $72 million take beat out other would-be franchises that year like I Am Number Four?)
Sputtering Franchise: After the original Happy Feet grossed nearly $200 million, WB had every reason to believe that Happy Feet Two (which added celebrity voices Brad Pitt and Matt Damon) would establish a dominant animated franchise for years to come. Instead, it barely made $64 million. Oof.
Resurrection Attempt: Back in 1998, Sony attempted a Godzilla reboot with director Roland Emmerich, who was hot as could be coming off the mammoth Independence Day. The expensive monster movie stalled at $136 million, however, and it was such a critical dud that it's taken over fifteen years for its stink to be wiped away. WB hopes that next summer, its Gareth Johnson–directed take can become the definitive version. (That striking new trailer helps.)
Next Big Hope: Through diminishing returns, Warner Bros. has stuck with directing duo Andy and Lana Wachowski, hoping the two can eventually recapture the magic of the seminal Matrix trilogy (though both Speed Racer and Cloud Atlas were costly underperformers). The Wachowskis' next project, Jupiter Ascending, looks like it will come the closest; starring Channing Tatum and Mila Kunis, it's another futuristic bit of sci-fi about ancient prophecies and acrobatic fight scenes, and it too is meant to be the first of a new trilogy.

FOX
Biggest Franchise: How about the biggest franchise of all-time? James Cameron is finally moving ahead on sequels to worldwide champ Avatar, with three more installments in the works. The first film grossed a holy-shit $2.78 billion — $600 million more than the next biggest movie of all time, Cameron's Titanic — and if the new movies can simply stay in that realm, Fox will have more money than it knows what to do with.
Portfolio Check: Fox is doubling down hard on its X-Men properties, shoving every X-actor possible into next year's Days of Future Past, which will be followed by the already-announced X-Men: Apocalypse. Will audiences bite? The last X-Men flick, The Wolverine, was a mixed-messages effort: Domestically, it was the lowest grosser of the series, but overseas, it made a big $282 million, more than any other X-Men movie had ever made abroad. Even as domestic audiences show signs of fatigue, then, Fox is banking on the series just hitting its stride worldwide. The studio also just added The Croods to its list of high-grossing animated franchises, which also includes How to Train Your Dragon, Ice Age, Madagascar, Kung Fu Panda, and Rio (as well as the mostly animated Alvin and the Chipmunks), an enviable stable, aided by the acquisition of DreamWorks Animation, that only Disney can surpass.
Expect new follow-ups to Night at the Museum and Taken soon, though the prognosis is a little more unclear for franchise hopeful Prometheus. Fox was hoping that Ridley Scott–directed prequel would pump new life into the Alien series, but after just-okay grosses, the studio is more focused on reviving Roland Emmerich's Independence Day — the 1996 original is still one of its biggest movies of all time.
Sputtering Franchise: What can kill John McClane? This year's A Good Day to Die Hard came closest to retiring the iconic Bruce Willis character, since its miserly $67 million gross is a serious franchise low. Still, the movie made $237 million overseas — just a tick less than its previous installment, Live Free or Die Hard — so Fox may not be ready to give up the ghost just yet.
Resurrection Attempt: Three years before Iron Man became Marvel's biggest hit, Fox adapted the comic-book company's iconic series The Fantastic Four. The 2005 entry took in $154 million, its sequel made more than $20 million less, and that appeared to put a pin in things. Now, though, Fox is hoping that rampant Marvel fever presages a Fantastic Four revival, and they've hired Chronicle director Josh Trank to helm it. Might help, though, if the studio could lock down a new cast after months of looking.
Next Big Hope: Every studio is hoping to launch a YA hit that can follow Twilight and The Hunger Games, and after the middling Percy Jackson failed to give Fox that blockbuster, the studio will try again with the postapocalyptic The Maze Runner, which stars Tumblr-friendly up-and-comers Dylan O'Brien and Kaya Scodelario.

PARAMOUNT
Biggest Franchise: There was a point at which Michael Bay claimed the "Transformers trilogy" would end with 2011's Transformers: Dark of the Moon; I'd like to think that Paramount executives just chuckled inwardly every time. There was no way, no how that Paramount would let its biggest franchise close up shop after three movies, and sure enough, after Dark of the Moon's $1.1 billion gross, Bay has returned to direct next year's fourth installment.
Portfolio Check: Paramount has quite a few of Hollywood's longest-running franchises, including big grossers like Star Trek and Mission: Impossible, as well as the Tom Clancy series of novels that began with The Hunt for Red October and will continue with next year's Jack Ryan: Shadow Recruit. The studio lost several of its animated franchises (like Kung Fu Panda and How to Train Your Dragon) when DreamWorks Animation signed a distribution deal with Fox, but there are several live-action series still going, including Paranormal Activity, G.I. Joe, Anchorman, and the newly sequelized World War Z. Coming up, Paramount will attempt to breathe new life into Teenage Mutant Ninja Turtles with a Megan Fox–led reboot, and a spinoff of Paranormal Activity and the revamped Friday the 13th ought to entice horror fans.
Sputtering Franchise: Paramount thought it would have a second Tintin film by now helmed by Peter Jackson, but the director has been tied up in Middle-earth working on the swollen Hobbit trilogy. Jackson promises that he'll get to it eventually, but considering his packed schedule, it's doubtful we'd see another Tintin until 2016 or later. Will Jackson still be as interested in revisiting this property years down the line (as he just said he was), or will he hope to move on to something new?
Resurrection Attempt: Skydance and Annapurna have brought the Terminator franchise to Paramount, and the studio will release the reboot in 2015, six years after McG's Terminator Salvation failed to continue the franchise. Arnold Schwarzenegger is planning to return to his most iconic role, but one wonders how they'll deal with his notably advanced age.
Next Big Hope: Dwayne Johnson has a reputation for being franchise Viagra, but he's past due for a blockbuster series of his very own. Next summer, Paramount will attempt to remedy that with Johnson cast perfectly to type in the musclebound adventure Hercules, directed by Brett Ratner.

SONY
Biggest Franchise: Skyfall isn't just the biggest movie in the James Bond series — at $1.1 billion, it's the highest-grossing movie Sony has ever released, period. Skyfall director Sam Mendes swore he was too busy to return for the next Bond film, but with grosses like that, you'd better believe that Sony wouldn't take no for an answer: Sure enough, the studio eventually secured him for Bond 24.
Portfolio Check: For years, visitors to Sony's Culver City studio lot have been greeted with two giant character murals at the front gates: The left one touts Spider-Man, while on the right, Will Smith chills in his Men in Black guise. The former is still an important franchise to Sony, and the next Spidey installment swings into theaters next summer, but a new Men in Black movie is unlikely to come anytime soon, and may be ripe for a reboot years from now. Instead, after a poor showing from franchise wannabe After Earth this year, Sony is moving forward on another Smith franchise, Bad Boys, hiring a writer to script a potential third installment.
Beyond Spider-Man and Will Smith, however, Sony hasn't got a lot on the franchise front. There are a few comedies that have earned a No. 2, like Grown Ups and 21 Jump Street, as well as some animated entries like Hotel Transylvania, The Smurfs, and Cloudy With a Chance of Meatballs, but the studio hasn't been able to lure Angelina Jolie into making a second Salt, and though it should have moved ahead with Bad Teacher 2 as soon as the first one proved itself to be a surprise hit, the studio strip-mined the property for a CBS midseason replacement instead.
Sputtering Franchise: The Girl With the Dragon Tattoo was a literary sensation, but as a big-screen franchise, it appears all but dead. The first film barely inched its way over $100 million domestically, and it should prove prohibitively expensive to reunite exacting talents like David Fincher, Daniel Craig, and Rooney Mara for the next go-round. All involved appear to have moved on.
Resurrection Attempt: Sony didn't have much luck rebooting Total Recall, but they're hoping for better returns from Robocop, arriving in February. That's nearly 27 years after Paul Verhoeven's original movie. (You are old.)
Next Big Hope: Virtually alone among his fellow A-listers, Denzel Washington has never made a sequel. If Sony has its way, that may change, because they've installed Washington in a big-screen adaptation of the TV drama The Equalizer, due out in 2014. Should it prove successful — and most of the dependable Washington's movies do — expect the studio to consider it a franchise-launcher.

UNIVERSAL
Biggest Franchise: Despicable Me 2 brought in a mammoth $367 million this summer, bigger in its single run than every single Pixar movie besides Toy Story 3, and the most profitable movie that Universal has ever released. It's no wonder, then, that the studio is moving full speed ahead on a spinoff series that will star Despicable Me's Minions.
Portfolio Check: Aside from Despicable Me, things get more than a little dicey for Universal. The studio's other priority franchise is Fast & Furious, but the latest installment is in serious trouble after star Paul Walker's untimely death in the middle of production. With little guaranteed for Universal, execs are scrambling to turn recent hits into potential sequel machines: Ted, Identity Thief, Pitch Perfect, The Purge, Snow White and the Huntsman, The Best Man Holiday, and Mama all have follow-ups in active development (while even the long-dormant Dumb & Dumber is getting a number-two next year). Still, Uni is holding an awfully weak hand compared to studios like Disney and Warner Bros., who can each boast several worldwide hits that have grossed over a billion bucks. The only property Universal owns in that league is Jurassic Park, which finally nudged over the billion-dollar mark thanks to its recent rerelease; Uni will hope to recapture the magic with a new installment, Jurassic World, set for 2015.
Sputtering Franchise: Universal just announced a new Bourne sequel for 2015, but the most recent film in its once-mighty franchise grossed a weak $113 million domestically. Without Matt Damon in the driver's seat, can the Jeremy Renner–led continuation of the series truly excel?
Resurrection Attempt: The first two Mummy films did blockbuster business for Universal around the turn of the century, and the studio is readying a Andy Muschietti–directed reboot of the series for 2016 (after a year of development with Underworld director Len Wiseman failed to produce a go picture).
Next Big Hope: Universal has a lot riding on Warcraft, the Duncan Jones–directed adaptation of the ultralucrative massively multiplayer role-playing game. If they get this right, we could have the first certified video game blockbuster yet, a potentially game-changing development for an industry that has never quite managed to mine that medium successfully. Still, the effects-heavy movie won't be out until 2016.