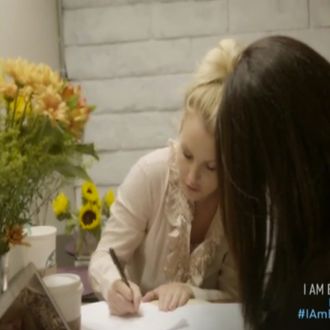 It's quite likely that Britney Spears's fans were excited after watching I Am Britney Jean, last night's two-hour E! documentary about the prepping of her new Vegas residency at Planet Hollywood, which starts December 27 and will run through 2015. Her new production looked amazing, and her rehearsals showed a glimpse of the old Britney, the flawless blonde so many of us loved as teenagers and felt we were getting further from after each disappointing attempted comeback (most recently with her new album, Britney Jean, which came out just this month and received deservingly dismal reviews). Judging from the special, underneath all that digital layering there is still a woman who has been performing most of her life and can turn it on for a stage show (helped by the fact that she's probably not actually singing): The popping-and-locking, gum-snapping Britney we fondly remember appeared to be keeping up with her crew of background dancers in this gigantic spectacle. (Fire! A waterfall that changes patterns!) Unfortunately, the "She's back!" excitement of seeing her perform energetically was undermined every time she opened her mouth to reveal that when the music stops, she's back to her default mode: Unengaged Britney.
All of her support staff spend I Am Britney Jean enthusiastically stressing just how much creative input Britney has: We see her say she dislikes a particular costume and she stands up to the designer (or, rather, her assistant passes on her issues), and the costume is gone! And yet it was incredibly obvious that those decisions had already been made. Britney asks that one of her new songs, "Alien," be included in the show, and it's clear that there just isn't enough time to slot it in. Later on, in a moment that seems as rehearsed as her choreography (and far more wooden), she strides up to her manager, Larry Rudolph, to declare that she's decided the song should not appear until later in the show's run, because it is better to wait until "Alien" is out as a single. "You know, it was her decision to not put 'Alien' in the show," Rudolph stresses afterwards. "But I think it was the smart decision."
Throughout the special it was pretty clear that she's constantly surrounded by people deciding things for her: mostly her staff and family (who are also often employed as staff). When production people go over the strict schedule leading up to the show's fast-approaching premiere date, someone asks if Britney will "want to work on her birthday." "Sure," her assistant immediately answers. And so, she spends her birthday at a press junket: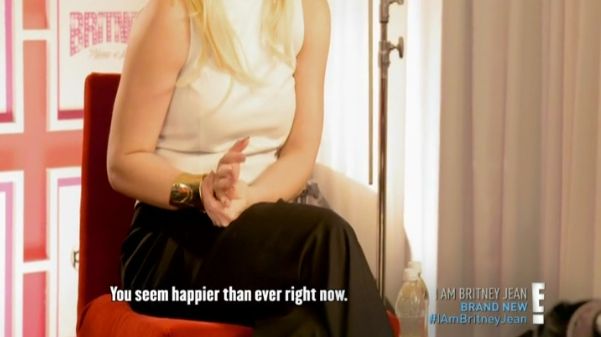 When she's not staring off into space, Spears can occasionally summon a lovable silliness fans recognize from the old days — perhaps that's thanks to spending more time with two young boys. And yet even this can backfire and only underscore some of the sadness about her career. Like here, when she's asked about her sex life:
It's not sex that makes you feel like you're "like 20 … and then 50." That sensation comes from working since you were 12, now being a 32-year-old mother of two, and still having to act like you're 23.
While Vegas might be the best decision Britney probably ever had made for her, if you are planning on making a pilgrimage out there to see a glimpse of the old Britney, be sure of what you mean by "old Britney." Because yes, it will be great to be reminded of her power as a performer — but beware of offstage exposure to her, because other signs of a lack of evolution are disconcerting. Note this: The first episode of her short-lived 2005 reality show Chaotic opened with a first-person shot of her legs, with Britney narrating: "They look like boobs. But they're not. They're knees!" I Am Britney Jean opened with her saying: "Watermelon bubblegum, man. It's the best. It's so good."