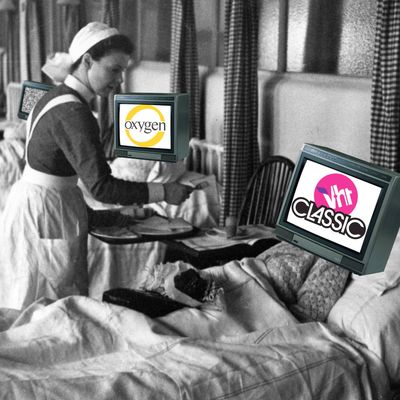 11th March 1939: A nurse talking to a patient on her ward. Original Publication: Picture Post - 98 - Visiting Day - pub 1939 (Photo by Kurt Hutton/Picture Post/Getty Images)
Photo: Photo: Getty ImagesKurt Hutton
Back in 1982, cable-pioneer Ted Turner was so impressed with what he'd accomplished — CNN! SuperStationTBS! — that he hired a country-music band to record a song about his exploits, "He Was Cable When Cable Wasn't Cool." Three decades later, cable couldn't be any cooler: Once-tiny networks such as Sundance and BBC America are churning out critical gems; others are setting new ratings records with reality shows (Duck Dynasty) and miniseries (The Bible); and the year's number-one TV show among viewers under 50 is a cable hit (The Walking Dead). Still, not every cable network can be a winner. There are some channels that, despite years of trying or the random semi-hit, just seem to limp along. (And sometimes, they just disappear: A&E Networks today announced that its longtime also-ran Bio Channel is going away, replaced by something called FYI.) These networks aren't necessarily financial failures: The economics of cable are such that even little-seen outlets can eke out a profit through a mix of subscriber fees, low overhead, and lots of infomercials. What makes these channels disappointments is that they don't contribute anything of value to the pop-culture landscape, nor do they seem to make any particular niche audience very happy that they're around. They just sort of exist. Given how often we document cable's triumphs, Vulture thought it appropriate to identify five of these laggard networks — and try to figure out where they've gone wrong.

Oxygen
Stated mission: "A multi-platform entertainment brand that delivers relevant and engaging content to young women who like to 'live out loud.' Oxygen is rewriting the rulebook for women's media by changing how the world sees entertainment from a young woman's point of view."
The reality: It's the bastard stepsister of sibling networks Bravo and E!
Why it hasn't broken out: While the other NBC Universal cable nets focused on women have their respective blockbuster franchises with the Kardashians and the Real Housewives, Oxygen has never advanced much beyond the "Women Be Crazy" notion at the center of its long-running Bad Girls Club shows. And while the various spinoffs of BGC do OK — a March reunion special did big numbers, at least by Oxygen standards — there's just not much to Oxygen beyond that one franchise. And it's not for lack of trying.
NBCU took over Oxygen in 2008, buying out Oprah Winfrey and the network's other original owners. It was put under the same Peacock umbrella as Bravo; millions were invested in new programming, a new brand, and extensive marketing. Shows would cater to what Oxygen execs called "Generation 0," late-twentysomething city-dwelling women who made a decent living. But despite getting buzz for its Tori Spelling docusoap Tori & Dean: Inn Love and two seasons of (the very good) The Glee Project, Oxygen was never able to build any momentum. It didn't help that NBCU was bought by Comcast, the owner of E! and Style, two nets aiming for the same demo target as Oxygen. Throw in Bravo, and suddenly NBCU's networks were cannibalizing themselves. Earlier this year, the company shut down Style (and turned it into the male-focused Esquire Network), which could help a little. Oxygen chief Jason Klarman has also departed, which could mean more changes to the brand. But the bigger problem for Oxygen remains: Too many networks — those owned by NBCU, plus the red-hot VH1 and the increasingly female-centric MTV — are doing the kinds of shows Oxygen does, and doing them better.
Boomerang
Stated mission: "24-hour cable/satellite network offering the best in classic animated entertainment."
The reality: A lazily curated, woefully limited collection of crusty cartoons.
Why it hasn't broken out: Launched as a block on Cartoon Network in 1992 and spun off into its own channel in 2000, Boomerang originally looked like it could be the Turner Classic Movies of animation — a place where Turner (which owns both networks) could maximize its extensive content library. But while TCM is thriving — themed months, original documentaries about classic films, an annual film festival in Hollywood — it seems as if execs at Turner have simply forgotten they still own Boomerang. Instead of expanding its roster of shows, Boomerang seems to have cut back on what it airs: Barely a dozen shows are listed on the network's website as being in regular rotation, and they're mostly the ones that have been on the network forever: The Flintstones, Scooby-Doo, The Smurfs. Except for perfunctory holiday marathons, there's no attempt to package shows together to create events (say, a week of Pebbles-centric episodes of The Flintstones). And if Boomerang has an official and active Twitter or Facebook presence, we couldn't find it.
In the past few years, Boomerang has tried to evolve ever so slightly, adding in a few Cartoon Network shows that now qualify as "oldies," including The Powerpuff Girls and Cow and Chicken. But the bigger problem with Boomerang, other than benign neglect, is that Turner seems to have no interest in evolving its demographic target for the channel. As the network's name implies, Boomerang originally was meant to appeal to nostalgic baby boomers via a steady diet of the Saturday morning shows they grew up on. That made sense back in the '90s and early 2000s, when some boomers were still in their 40s and early 50s. But now, Gen X is where the Boomers were when Boomerang began. Why not refresh the Boomerang lineup by adding in more toons from the late 1970s and the '80s beyond just The Smurfs? Tiny Toon Adventures, Super Friends, Captain Caveman, Laff-a-Lympics, and Jabberjaw should all be in regular rotation. Oddities from the Hanna-Barbera library (The Gary Coleman Show or The Dukes) could become the classic toon equivalent of Sharknado. It's completely logical that Boomerang is not a priority at Turner; the audience for old cartoons is never going to be huge. But given the vast animation library at the company, and the ability of social media to drive viewers to the most random and obscure corners of the TV universe, it seems almost criminal for Boomerang to languish as it does.
VH1 Classic
Stated mission: "Brings you the best metal, rock, soul and pop from the '70s, '80s and '90s. The channel features the gods of rock – from Black Sabbath, Metallica and Iron Maiden to Stone Temple Pilots, Pearl Jam and Dire Straits – in marquee concerts and music specials, and of course, tons of classic music videos."
The reality: A missed opportunity to appeal to those who grew up on the original MTV.
Why it hasn't broken out: Like Boomerang, VH1 Classic launched as a full-time network in 2000 with the promise of exploiting viewers' fond memories of a time when the "M" in MTV stood for music videos. Early on, when VH1 Classic had fairly limited distribution, it was understandable that parent MTV Networks didn't pay too much attention to it, and mostly just played old videos. But the channel is now in over 60 million U.S. homes, and its brand now seems even less defined. You can still find blocks of '80s videos on the network, but there's now a weird emphasis on heavy-metal programming and hard rock. Reruns of SNL are now in rotation, but they're often ones from just a few years ago, not throwback episodes. And just to further confuse things, The Larry Sanders Show is a staple of the schedule. Because nothing says '80s music nostalgia like Garry Shandling? (Hey now!)
VH1 Classic's problem seems the opposite of Boomerang's: Instead of corporate parents who've walked away from their offspring, the suits at MTV seems to be putting too much thought into their channel — and the thoughts are all dumb. For one thing, because MTV execs are deathly afraid of hurting the mothership, they've refused to call VH1 Classic what it ought to be called, and what the retro channel is called in the U.K. and other parts of the world: MTV Classic. (Can't have the kids thinking there's anything old about MTV!) The original MTV VJs, now stuck doing patter on SiriusXM's 80s on 8 channel, should be put back on camera to introduce blocks of videos as well as air checks from the first ten years of the network. There should be theme weeks devoted to icons of the era, "Where Are They Now?" specials, reruns of Remote Control, and frequent replays of Live Aid and the US Festival. And, because millennials are starting to get nostalgic, the channel could start working in shows and talent from the 1990s (Beavis and Butt-head, yes; Jenny McCarthy, no). Would MTV Classic be a top 20 network? Absolutely not. But during the third quarter of this year, the channel's average total day audience was 23,000 viewers — or less than half that for another tiny channel without an identity, CLOO. Only three out of more than 100 other networks drew a smaller crowd. It's hard to see how a more focused MTV Classic could do worse than VH1 Classic.
TVGN (TV Guide Network)
Stated mission: "Celebrates Hollywood with original series and specials. Hollywood Starts Here."
The reality: A channel trying to move beyond its clip show and program guide past.
Why it hasn't broken out: Unlike most networks, which are designed to appeal to a specific kind of viewer, TVGN's reason for being has, until recently, been to help viewers find something to watch on another channel. It was the channel with the scrolling on-screen program guide, back in the days when you couldn't just push a button and have your cable system tell you what was on right now without waiting for it to glacially roll through hundreds of other channels. (In some cities, TVGN still includes the scroll.) Still, TVGN/TV Guide Network has been doing original programming since 2005, trying out everything from Joan Rivers awards coverage to a weekly TV critics' debate show called Square-Off. In the last few years, there's been an emphasis on countdown clip shows (The 10 Greatest Episodes of …) and bad reality shows (Nail Files), with a smattering of old sitcoms. Most of it has been generic, and all of it has pretty much flopped.
But for the first time it is existence, TVGN presently has owners who actually know something about making TV: CBS and the studio behind Mad Men, Lionsgate, purchased the channel earlier this year and are in the middle of a top-to-bottom makeover. (A new brand identity, and possible a new name, should come by next spring.) So far, early efforts have focused on repurposing some popular CBS programming on the channel, from same-week Survivor reruns to a Big Brother live-feed show and Entertainment Tonight–branded specials. Last night saw the debut of a standard-issue docusoap called Tequila Sisters (rich kids frolic in Hollywood), while next year promises a slate of Hollywood-centric fare: A game show from Scandal star Josh Malina, a room-makeover show, a making-of series focusing on classic TV shows. The new direction has yielded some early ratings gains, with overall viewership up double digits compared to viewership last year. CBS's track record with its broadcast network suggests it should be able to turn things around at TVGN, and yet what's been announced so far feels very much like warmed-over E! programming at a time when E! isn't doing all that well itself. It'll be interesting to see how things evolve over the next few years.
REELZChannel
Stated mission: "Devoted to delivering entertaining and fresh programming that explores, uncovers and lives inside the magic of Hollywood wherever it happens. Hollywood Happens Here."
The reality: A mishmash of movie-themed infotainment, reality fare such as Beverly Hills Pawn and random Canadian crime shows.
Why it hasn't broken out: Unlike every other network on this list, Reelz isn't owned by some massive media conglomerate. Headquartered in New Mexico (really!), it's part of independent TV company Hubbard Broadcasting, which is owned by cable and satellite legend Stanley Hubbard. Despite having far fewer resources than the big guys, Reelz has managed to get carriage in nearly 67 million TV homes and at times this year has drawn a bigger primetime audience than networks such as CNBC or the Fox Movie Channel. In homes which get their TV via Dish, it's actually a top 40 network. And yet, it's hard to understand what niche Reelz is trying to fill. Originally designed to be something of an E! clone that was focused exclusively on movies, the network quickly moved away from that narrow mission and started running everything from old TV shows (Brothers and Sisters and Ally McBeal have aired on the channel in the past) to acquired miniseries such as The Pillars of the Earth and The Kennedys. The latter generated lots of buzz, good ratings, and actually won several Emmys. But, as with the other programming efforts, it did nothing to help Reelz define a brand. It got the network noticed, but didn't allow it to break through.
In a perfect world, it would be nice to think that Reelz could succeed if it became the cable destination for movie nerds, with a focus on everything from the latest rumors about the next Marvel movie to debates over who's the greatest director of the past 30 years (it's Jackass guru Jeff Tremaine, right?). It could be what we always hoped E! would be in its early days, when that network aired movie trailers and lots of box-office analysis. Alas, such programming almost certainly would draw fewer viewers. What's more, reality fare such as Beverly Hills Pawn can be repeated dozens of times, whereas a behind-the-scenes show about a specific movie feels dated just a few weeks after the film is released. Still, if there are going to be reality shows on Reelz, perhaps the network could move away from cliched subjects like pawn shops and mob families. Why not a show about the secret lives of movie extras or what goes into the staging of Comic-Con? Reelz doesn't need to reinvent cable TV to work, but it might stand out more if it took some creative chances.