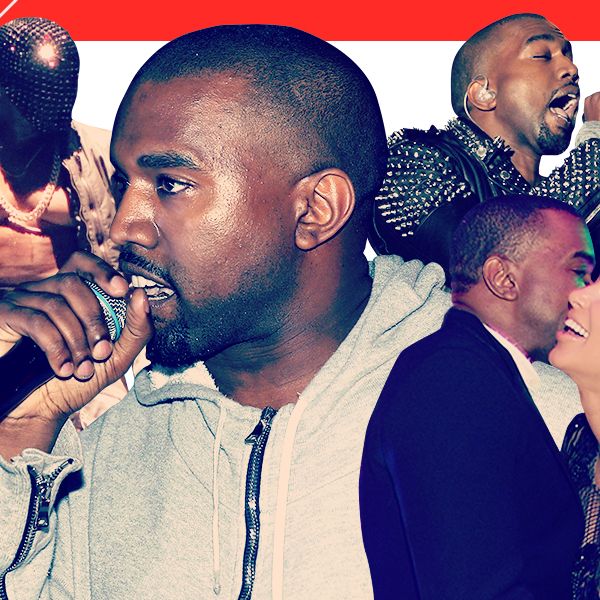 Photo: Maya Robinson and Photos by Getty
The Year in Kanye actually began on December 31, 2012, when the world learned that Kim Kardashian was pregnant with the couple's first child. Kanye announced the news onstage, mid-song, as he is wont to do. A couple of nights before, he'd worn a crystal Margiela mask and yelled about the Grammys. In retrospect, you can see Kanye's whole year coming together: the very public personal life; the renewed commitment to speechifying; the fixation on Fashion and Design and Creating. Maybe we did not expect to spend so much time talking about Le Corbusier, but the signs were all there. Kanye was out to win 2013 — musically, personally, promotionally — and, give or take a VMAs performance and a surprise last-minute album, no pop star was more relevant. (This is why we argued about him so much.) Here are some of the many achievements from the Year in Kanye.
Best Creation: Yeezus
What makes Kanye's year different than, say, Miley Cyrus's, is that in addition to being an excellent celebrity, he was also an excellent artist. Whatever you think about Yeezus, it is hard to argue with its musical accomplishments, or the fact that everyone is still talking about it sevens months later. There are not many albums in that category this year. (Vulture's music critic, Jody Rosen, placed the album at No. 2 on his list of the year's best.)
Best Life Philosophy: "All I want is dopeness!"
The "Christmas presents" line from his New York Times interview is a runner-up, but dopeness became a rallying cry during Kanye's many must-see interviews. It is also representative of Kanye's greatest gift, which is to say true things — who can argue with dopeness? — in memorable (and sometimes difficult) ways. Kanye Rants are their own form of art.
Best Reaction Face: the stone-faced laugh on Jimmy Kimmel
Jimmy Kimmel deserved this, after that whole "mock Kanye's hopes and dreams with a small child" fiasco. See also: the best lightning rods of 2013.
Best Punctuation: PLEEEASE MARRY MEEE!!!
Of course it wasn't a question. Kanye West does not ask questions. He dreams things, in all caps with multiple exclamation points, and then he wills them to come true.
Best Comeback: the LED screen
Also fits under "most specific tour press release" or "best example of Kanye's commitment to vision over practicality": "Yesterday, on the road to Vancouver, a truck carrying The Yeezus Tour's custom-made video truss and 60-ft circular LED screen was in an accident that damaged the gear beyond repair.This gear is central to the staging of The Yeezus Tour, and central to the creative vision put forth by Kanye West and his design team at DONDA." They fixed it. It was worth it.
Best Baby Name: Nori
It is a genuinely cute name. A cute baby, too.
Best Reason for Not Appearing on Reality TV: the cinematography
"I don't really do [Keeping Up With the Kardashians] just because I don't particularly like the way the producers shoot some of the shots. I'm very meticulous to that. I like to get a different DP or whatever." —Kanye, to Hot 97
Best Family Values: the Kris Jenner show
Not only did Kanye agree to go on his mother-in-law's short-lived talk show, but he said this: "There's only one brand now, and that's family. That's the only brand I care about."
Best Display of Affection: "HEADING HOME NOW"
Kanye does not crack jokes very often — and this is really only half a joke — but it was endearing! (Also, that Kim photo is insane.)

Best Art Lesson: the "Bound 2" video
It gave us the New Uncanny; it let us glimpse into the strange and fascinating world that is Kimye. (Or at least simulated their sex life, which is what most people were curious about, anyway.) Again, was any video more argued over in 2013? Kanye will probably never get the universal acclaim that he craves, but he certainly got the attention. It is a start.