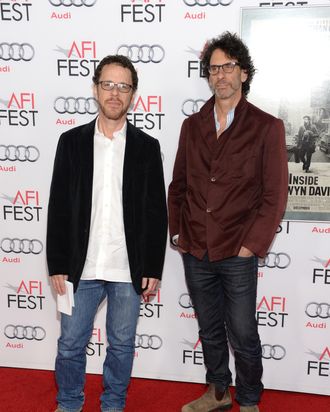 Ethan and Joel Coen.
Photo: Jason Kempin/Getty Images
For their new folk-music dramedy Inside Llewyn Davis, directors Joel and Ethan Coen reteamed with T-Bone Burnett, who produced the hit soundtrack for their 2000 film O Brother, Where Art Thou?, in order to perfectly capture that sixties Greenwich Village sound. The movie, then, is so full of musical numbers (sung by stars Oscar Isaac, Justin Timberlake, and Carey Mulligan, among others) that when I met up with the Coen brothers a few weeks back, I asked them if they had any desire to direct a full-blown musical. "I think this is kind of as close to a full-blown musical as we would make," said Joel. "Certainly, there's as much music in this movie as in any full-blown musical."
"Perhaps less dancing," grinned Ethan, before making a big reveal: "But one of the two things we're writing right now, it's not a musical per se …"
"… but it has what might be considered more traditional musical numbers," said Joel.
Clarified Ethan, "It's a musical comedy."
The potential project would be set in the world of opera, though it's competing for the Coens' attention: They're also working on a "sandal drama" set in ancient Rome. The only thing they were willing to guarantee is that whichever project they make next, it won't contain cats.
"You always blithely write shit in and then find out that it's a pain in the ass to do it," groaned Joel. "In Inside Llewyn Davis, we very blithely wrote that there was a cat in all of these different scenes. And then we got on the set and had to do it, and you know, cats are a pain in the ass. They're just an unvarnished pain in the ass, that's all there is. There's nothing fun about it."
And though the Llewyn Davis cat ends up being a scene stealer, the Coens were quick to point out that there's not a single Uggie-like superstar feline responsible. "You have lots of different cats on set," said Joel. "'Oh, that one won't do the scene? Try this other one, see if he'll do it.' And you just sit there until he does it, or until you say, 'Fuck it, he ain't gonna do it,' and come up with something else."