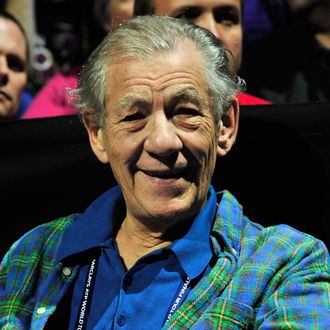 How you could say anything mean about this man is baffling.
Photo: GLYN KIRK/AFP/Getty Images
In what he now says is a "soundbite [he's] been giving since 1999," Homeland star Damian Lewis told the Guardian in an interview back in October that he's glad to have broken into TV and away from the stage when he did, lest he "be one of these slightly over-the-top, fruity actors who would have an illustrious career on stage, but wouldn't start getting any kind of film work until I was 50 and then start playing wizards." Somehow (likely through a magical combination of reading and reasoning), people likened that description to Sir Ian McKellen, who was subsequently asked about Lewis' comments in a recent interview with Radio Times.
The veteran actor — and Patrick Stewart BFF — responded with a marvelous combination of grace and sass, saying: "So he feels sorry for me, does he? Well, I'm very happy; he needn't worry about me…To be allowed for the first time in your later career to play leading parts in extremely popular movies is not a situation to worry about. No one needs to feel sorry for me or Michael Gambon (who played Professor Dumbledore in the Harry Potter movies) or anyone else who has fallen victim to success."
Naturally, Lewis apologized Wednesday night, calling McKellen "one of the greats and one of the reasons I became an actor." "I am hugely embarrassed that comments of mine have been linked in a negative way to Sir Ian McKellen. I have always been, and continue to be, an enormous fan and admirer of Sir Ian's…I have contacted [him] and have given him my sincerest apologies," he said.
Classy to the end, McKellen assured Lewis that there are no hard feelings, and found a way to plug both of their projects in 140 characters. They don't call him "sir" for nothing.