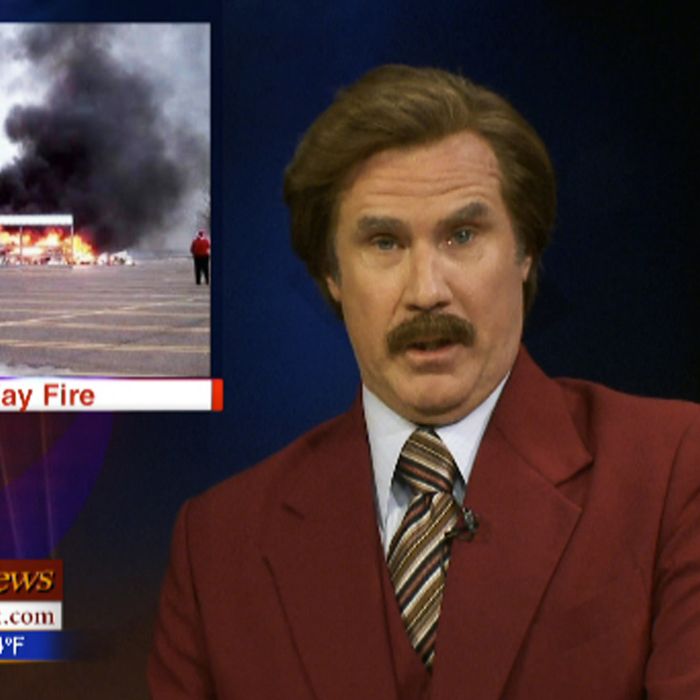 Ron Burgundy (Will Ferrell) participates in the KX News evening broadcast on November 30, 2013 in Bismarck, North Dakota.
Photo: KXMB TV Bismarck via Getty Images
Yesterday, I asked an entertainment blogger friend if she was going to see Anchorman 2: The Legend Continues. "I feel like I already have," she responded. "I just mean all the promos for this movie could be edited together to make another Anchorman movie." She is stating a growing criticism of the film's heavy advertising campaign. The Wire wrote about "Ron Burgundy Fatigue"; the Wrap made a list of "5 Reasons He Might Be Wearing Out His Welcome"; the Loop asked, "Are We Already Sick of Ron Burgundy?" Still, these are the complaints of an extremely media-savvy few who ignore the fact that most people will only see a handful of these spots and that maybe this was Will Ferrell & Co.'s best chance for success. Regardless, the campaign sure seems to be working.
It started nearly two years ago, when Will Ferrell dressed up as Ron Burgundy for an appearance on Conan in which he played some jazz flute and announced that an Anchorman sequel was finally happening. No one could have predicted the Ron Burgundy–rich publicity onslaught that was to come. To date, it includes 70 ads for Dodge Durango, regional-specific YouTube messages, a book (which was excerpted by The New Yorker), multiple appearances at the 2013 MTV EMAs, a song for Canadian mayor of the year Rob Ford, a gig announcing curling for TSN, speaking at Emerson College Communication School (which was named after him for a day), interviewing Peyton Manning for SportsCenter, reading Yahoo's top searches of 2013, blogging for Huffington Post, doing the actual local news in Bismarck, North Dakota, and more. Of course, Sacha Baron-Cohen has done the in-character press tour before, but it makes sense now more than ever, as we exist in a superhero-blockbuster era, in which characters are promoted more than the movie stars playing them. Or, as Charles Gant, the Guardian's box-office expert, put it, "I'm not sure in any case that the world is really crying out to see Will Ferrell in person." Ron Burgundy is a character whose legacy was in many ways built by the Internet, so it makes sense that to promote his return, the studio would try to take advantage of that relationship.
"Our fans have been creating content and essentially marketing for us," Megan Wahtera, Paramount's senior vice-president of interactive marketing, told Ad Week about the first film's popularity. "It's our job to feed the frenzy." It's been so much that even Ferrell was taken aback, saying, "This has been the most comprehensive amount of material I've ever participated in." They haven't expected every stunt to hit; they just want to put as much as possible out there and let the Internet decide. As DJ Edgerton, CEO of Zemoga, the company Paramount hired to spearhead digital, put it, "One of the beautiful and disruptive components of social is that the cream rises to the top. The creative director doesn't decide what's best at the end of the day — the audience does." The tacit argument is that there's no danger of overexposure, as the Internet will account for that, only allowing the most necessary clips to filter through. The exception to this is those higher up in the virality food chain, like pop-culture bloggers and writers, who find themselves exposed to it all as a result of being on the Internet all day every day. On one hand, you have the Wire predicting Burgundy's SportsCenter appearance (which eventually got scaled back for news reasons) would be the beginning of Anchorman 2 fatigue, and on the other, you have my older brother calling me saying how much he loved it, oblivious that such a protracted campaign had even been taking place. It's easy to imagine that mostly there are a lot of people in between that have seen just enough to be excited. 
And people are excited. The effort, which has been called a "breakthrough" by L.A. brand strategist Matti Leshem in the Guardian, has worked. "The anticipation for Anchorman 2 is certainly bigger than there has been for a Ferrell movie in a long time," said Gant. (Just compare the buzz around Anchorman 2 to that of his last few films — The Campaign, Casa De Mi Padre, Everything Must Go — and this is immediately apparent.) Jesse Berger, a producer of films such as Oblivion, told the Guardian that the film has reached "total awareness" in the marketplace. The film is tracking very well, with a high-$40 million gross expected by the end of the weekend, potentially beating the opening weekend totals of the year's biggest opening comedies, The Hangover III ($41 million), Grown Ups 2 ($41 million), and The Heat ($39 million). This all suggests the idea of an Anchorman backlash is widely exaggerated, if not completely out of touch.
It seems to stem from a misperception that the first Anchorman was a big movie, just because it became a big movie on the Internet. Upon release, Anchorman was met with lukewarm reviews and box-office returns. It topped off at around $85 million, making it 2004's seventh biggest comedy, behind Mean Girls ($86 million), Starsky and Hutch ($88 million), Along Came Polly ($88 million), Dodgeball ($114 million), 50 First Dates ($120 million), and Meet the Fockers ($279 million). And it's not like Ferrell was an unknown at the time, as this came after Elf made more than double that. The film went on to bigger things on TV, DVD, and the Internet, but a sequel was never guaranteed.  The proof of this was just how hard it was for Will Ferrell and Adam McKay to get this sequel made in the first place. For comparison, look how quickly The Hangover got its two sequels. Or how quickly we're getting Ted 2. Hell, a deal was made to write a sequel to The Heat before the film came out, and then months later, a deal was made to make a spinoff. It took Anchorman eight years and Ferrell and McKay agreeing to a $50 million budget (which is basically half of what The Hangover III cost).
As these things go, a small production budget means a small promotion budget. Anchorman 2 doesn't have the luxury of a massive traditional ad campaign; they had to grind it out on the Internet. Ferrell didn't get paid for those Dodge Durango ads. He did it all for the free advertising. That's not the move of an ad campaign that's flush with cash. Ferrell and McKay could've easily gotten more money to make a different movie, but this is the movie they wanted to make. Anchorman 2, like Anchorman, is the purest distillation of Ferrell and McKay's brand of comedic genius and they need it to do very well for them to be able to make another one. The Anchorman 2 campaign is not some big business onslaught — it's artists fighting to get to make art on their own terms. Ferrell once told Entertainment Weekly that Anchorman was "the most satisfying thing I've ever done" and that "[Ron Burgundy] is my favorite character I've played." I say the more of that, the better — even if we have to hear him talk about cars. So, let the man wear a fake mustache for a couple of months. Who knows if he'll ever get to again.