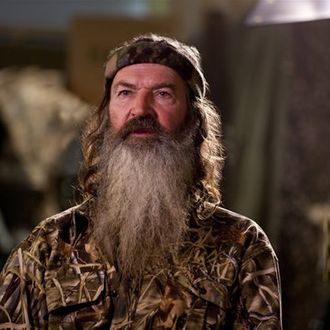 Duck Dynasty star Phil Robertson is a "Bible-thumper," he tells GQ. The show itself generally depicts a more generic, vague Christianity, but Robertson is really, really into Jesus. And homophobia.
"It seems like, to me, a vagina—as a man—would be more desirable than a man's anus. That's just me. I'm just thinking: There's more there! She's got more to offer. I mean, come on, dudes! You know what I'm saying? But hey, sin: It's not logical, my man. It's just not logical."
Well, maybe it was just that one weird statement? Nope, it wasn't.
What, in your mind, is sinful?

"Start with homosexual behavior and just morph out from there. Bestiality, sleeping around with this woman and that woman and that woman and those men," [Robertson] says. Then he paraphrases Corinthians: "Don't be deceived. Neither the adulterers, the idolaters, the male prostitutes, the homosexual offenders, the greedy, the drunkards, the slanderers, the swindlers—they won't inherit the kingdom of God. Don't deceive yourself. It's not right."
He's also very concerned about the dangers that come from living in anything other than a Christian society.
"All you have to do is look at any society where there is no Jesus. I'll give you four: Nazis, no Jesus. Look at their record. Uh, Shintos? They started this thing in Pearl Harbor. Any Jesus among them? None. Communists? None. Islamists? Zero. That's eighty years of ideologies that have popped up where no Jesus was allowed among those four groups. Just look at the records as far as murder goes among those four groups."
But, of course, none of that is judgement per se.
"We never, ever judge someone on who's going to heaven, hell. That's the Almighty's job. We just love 'em, give 'em the good news about Jesus—whether they're homosexuals, drunks, terrorists. We let God sort 'em out later, you see what I'm saying?"
Yes, Phil. We see what you're saying.