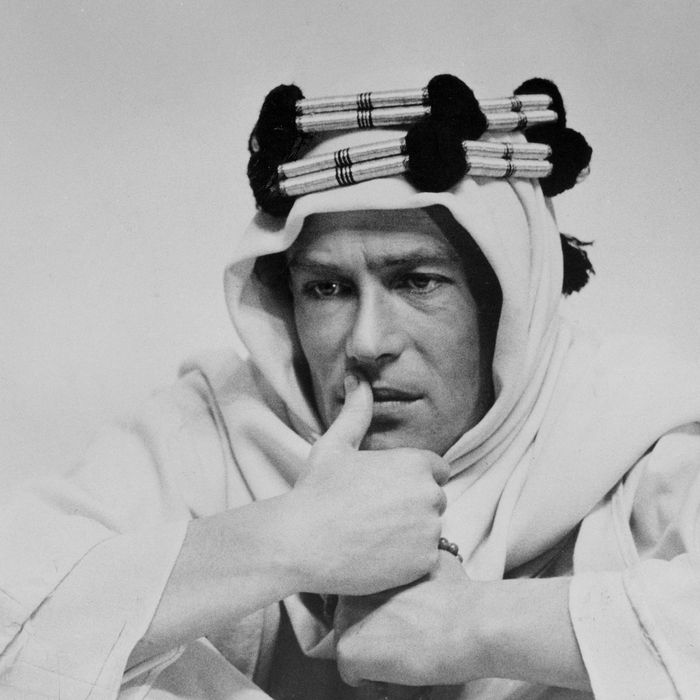 FILE - In this undated photo Actor Peter O'Toole is from his movie "Lawrence of Arabia." O'Toole, the charismatic actor who achieved instant stardom as Lawrence of Arabia and was nominated eight times for an Academy Award, has died. He was 81. O'Toole's agent Steve Kenis says the actor died Saturday, Dec. 14, 2013 at a hospital following a long illness. (AP Photo/File)
Photo: Anonymous
He was beautiful — I always get stuck on that — in Lawrence of Arabia. Early on in that film, his T.E. Lawrence tries to account for a general's exasperation: "It's my manner, sir. It looks insubordinate but it isn't." But of course it was. He was girlish, his voice light and musical and femininely insinuating among the stiff, officious Brits, and positively alien (his golden hair glowed) among the Arabs. What was this slender, blue-eyed, fair-skinned Englishman doing in Arabia? How could he not be violated?
He was never so beautiful again, but for Peter O'Toole, T.E. Lawrence — the role that made him a huge international star — was a baseline against which everything else was measured. He fought against it with roaring, masculine performances, among them his King Henry in both Becket (although he was slated to play the martyred cleric until Richard Burton was cast) and A Lion in Winter. I think that what he liked best was to go back and forth between feminine delicacy and masculine roaring, sometimes in the same role. (Along those lines someone, I forget who, once marveled that he had "a double phallic name.")
I never saw him onstage, but he failed to make his mark in the heavyweight roles. No one was impressed by his Hamlet in the inaugural production of Britain's National Theatre, under the direction of Laurence Olivier. His Macbeth was a legendary disaster. Onscreen, he mostly let us watch him dissipate, occasionally gloriously, as in My Favorite Year, in which he played a matinee idol in his cups — one of the great comic performances of the last 50 years, worthy of John Barrymore. Tipsiness became part of his persona, but it was an elegant tipsiness, with a touch of Cary Grant. He was floppy-limbed but erect and ready to swashbuckle.
His last great performance was in Venus. O'Toole was shockingly skeletal, his flesh gray, almost translucent, and pulled tightly over his bones; his quavery cadences recalled his Lion in Winter co-star Katharine Hepburn. He played a former matinee idol who becomes infatuated with a teenager (Jodie Whittaker). He looks at her with liquid eyes, as if trying to reach across the chasm that separates them, to fill the vacuum in his soul with her youth.
Too much has been made of his many Oscar nominations and failure to win anything but an honorary award. The year of Venus he was up against Forest Whitaker in The Last King of Scotland.* Host Ellen DeGeneres cited his eight nominations and said, "You know what they say: 'Third time's the charm!'" I don't remember him laughing too hard.
But O'Toole lived high and by all accounts well. My favorite account of him is in Christopher Plummer's memoir, In Spite of Myself. When O'Toole was busy filming Lawrence, he had to give up the role of Cyrano, which went to a delighted Plummer. Later, Plummer encountered him in a pub.
What are you doing here?" I asked. "I thought you were in the desert." "I have a week off from the bloody camels. They made me ride the buggers bareback." As he said this, he proceeded in front of the speechless, po-­faced group to pull down his pants and show us his ass. It was absolutely raw and riddled with welts. "Look at this," he screamed. "It's all your fault, you colonial prick. You're playing my part and this is the thanks I get!" The horrified little posse quickly dispersed and Peter and I went to the nearest pub and got pie-­eyed.
Some months later, Plummer again stumbled on O'Toole drinking hard.
I couldn't believe it. He had finally finished Lawrence, and brimming with Irish whimsy, a Jameson in one hand, his cigarette holder in the other, he was busy regaling them with tales of the desert…I went up to him, gave him a hug and thanked him for Cyrano. With his usual sweeping largesse, he loftily quipped, "I heard you did me proud—you thieving cunt!"

Peter O'Toole is truly one of the great personalities of our time… Fiercely intelligent, with a Shavian wit, he is also the most incurable of romantics—far more than I could ever hope to be. Though he was supposedly born near the Cliffs of Connemara, he unquestionably comes from another world altogether. Where that world is I cannot be sure, but I'll hazard a guess it is hovering happily somewhere in the air above the mists of Avalon.

He had just begun to tell the boys at the bar about his camel sores. I knew he'd somehow get to it. "Show us, show us, show us," they gleefully chanted. Dragging out the suspense by taking a long, elegant sip of his drink, he gave them his most quizzical look: "Very well, you hungry peasants," and in the somewhat staid atmo­sphere of The Players, he began to take down his pants. I headed for the door. "Where are you going?" someone shouted at me. "O'Toole is about to show us his ass." "No thanks," I called back, colouring my voice with world-­weary cynicism. "I've seen it before."
Plummer was lucky to have drank with — and drank in the spirit — of O'Toole. I envy him, but I also think that by watching him at his finest we were all, in a way, his drinking buddies.
* This piece previously stated that O'Toole had been up against Daniel Day-Lewis in There Will Be Blood the year he was nominated for Venus.