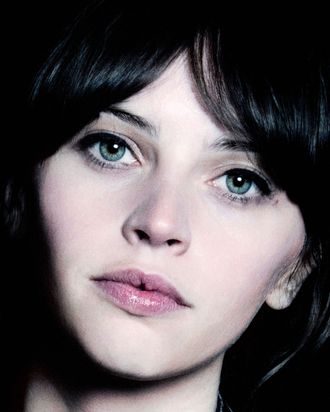 Felicity Jones, photographed by Kalpesh Lathigra/Contour by Getty Images
Photo: Kalpesh Lathigra
If Felicity Jones should ever go missing, there's probably a simple explanation: She's just gotten lost wandering the streets of Los Angeles. "Without sounding like a granny, I love walking," says the London-based actress. So much so that on a recent December morning, she found herself perhaps the only person on Sunset Boulevard who wasn't in a car. "I go for walks to keep my feet on the ground, because after five hours of press you go slightly insane at the sound of your own voice." So she popped out of the Chateau Marmont, where she's been holed up promoting her new role as Charles Dickens's mistress in the Ralph Fiennes–directed period drama The Invisible Woman. "And I nearly got run over three times."
Returning to the hotel harried and late to lunch, she admits it was her own fault for jaywalking. "You get halfway out and suddenly there's a truck in front of you," she says. "But I hate the idea of taking longer on your journey when you can just nip across the road."
In her work, though, a slow pace suits her fine. Three years ago, at 27, Jones seemed poised to follow fast-rising starlets like Carey Mulligan and Jennifer Lawrence from Sundance into the mainstream after the film festival awarded her a special jury prize for her performance in 2011's Like Crazy, Drake Doremus's mostly improvised romance about a young couple separated by visa problems. Since her initial breakthrough, she spent a brief, hot moment as a muse to Burberry, but as an actress she's mostly stuck to independent movies, including Doremus's 2013 Like Crazy follow-up, Breathe In, which debuted with a thud at Sundance and still hasn't been released in the U.S. She turned down the lead role opposite Julia Roberts in Mirror Mirror to do an eighteenth-century German play, Luise Miller, on the West End.
The Invisible Woman is her biggest project since Like Crazy—or at least the first to put her up at a luxury hotel. She's been celebrating by swimming in the pool. She orders us "a feast" to be charged to her room and even indulges in a $12 juice. "I only want the almonds-dates-vanilla-bean-and-sea-salt juice," she says, laughing. "I mean, this is the world we live in, where this exists as a combination." I raise the prospect of Bloody Marys. "Start drinking now!" she demands, even though it's only noon. "It's the right time at the Chateau Marmont!"
This L.A. trip is rehearsal for the next phase of her career, jokes Jones, who has three major movies in the can. "Once you get a taste of the high life, it's going to be difficult to go back to my normal life." Not that that life is normal. For the past year, she's been "a nomad" living out of a suitcase, with only a Baies-scented Diptyque candle from her mom to give her a sense of home; she lights it whenever she stays in a new room, probably in violation of fire codes. ("Please don't tell anyone I have this array of candles," she says.) Last winter, she went from the London set of The Invisible Woman to New York to play Jonah Hill's girlfriend in True Story, based on the book by New York Times Magazine reporter Michael Finkel (Hill in the film), whose identity is stolen by a murderer (James Franco). She just wrapped Theory of Everything, about the relationship between Stephen Hawking (Eddie Redmayne) and his wife, Jane. And in between she took on an unspecified role in a little movie called The Amazing Spider-Man 2. According to rumor, she'll play the villainous Black Cat ("I'm the Goblin's girlfriend," Jones said recently, "and his accomplice"). But she won't confirm anything: "I've been sworn to secrecy."
She met Fiennes while playing his daughter in the 2010 comedy Cemetery Junction. They crossed paths again when he came to see Luise Miller, then showed up at a pub for the after-party. "I didn't think he went to bars. It's like, 'Voldemort's here. That's strange.' " Over pints, he pitched her on The Invisible Woman, a dark drama based on Claire Tomalin's nonfiction book about the scandalous affair between 18-year-old actress Ellen "Nelly" Ternan and 45-year-old Charles Dickens (played by Fiennes). "It was quite strange going from playing his daughter to playing his mistress," says Jones. "Very Freudian."
As a director, says Jones, Fiennes is straightforward. "You'll do a take, and he'll come up and say, 'That was terrible.' " He also kept things strictly prudish—there's zero ­bodice-ripping in the film. "We wanted to explore the chasteness and truth of the sexual interaction," says Jones. "It wasn't something, according to the book, that Nelly enjoyed." Jones successfully lobbied Fiennes to tone down the film's sympathy for Dickens, who, after he and wife separated, denounced the mother of his ten children in the press. "Then he stopped his children from seeing his wife as well!" says Jones. "He wasn't a kind man behind the scenes."
There hasn't been much written on Ternan, so Jones "had to be a detective." A chronic overpreparer—for the 2011 rom-com Chalet Girl, she worked undercover scrubbing toilets at an Alpine ski lodge—Jones studied old photographs, visited the cottage where Ternan grew up, and read lots of Dickens, since she spent only "one measly week" studying him at Oxford, "where I just read the shortest book of his I could find."
Jones's performance as a woman burdened by a secret was by necessity a restrained one. She spends much of the movie on a beach weighed down by a corset, a petticoat, a cage, two more petticoats over the cage, and a dress that absorbed seawater to become even heavier. "I have such respect for Nelly," says Jones. "There's just this strength—unlike men who just put on a pair of trousers and a shirt." The first time Jones wore the costume, she promptly fell over. "Which was really cool when you've just met a crew of 50 people," she says. " 'Hi guys!' … And she's down in the sand."
She hopes her next role will be less restrictive, or at least more mature. This October, Jones turned 30, which was "amazing," she says. "I've been playing teenagers for so long, I feel like I've lived my twenties for 100 years." She is also single, having ended a relationship with the artist Ed Fornieles, whom she dated since university, and plans to ditch the suitcase for a while. "I need a breather to feel inspired again," she says. She wants to get a flat in London near Hampstead Heath so she can take long, contemplative walks. "Although," she says, "I'll do three days of that and be ready to go back to work."
*This article originally appeared in the December 23, 2013 issue of New York Magazine.