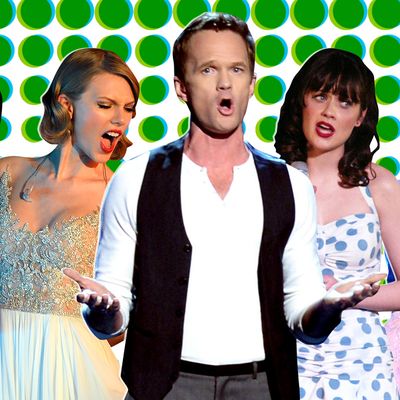 NBC's live production of The Sound of Music was a ratings hit, so of course the network has vowed to do it "again and again." While few other shows enjoy the overwhelming popularity Sound of Music has, there are some viable options. Here are a few suggestions, plus ideas about who could star.
Wicked
It's one of the most successful musicals in recent history, and there's still no movie of it — so NBC's version could be the movie fans have been waiting for. While a sane person would probably try to reunite original stars Idina Menzel and Kristin Chenoweth, this is NBC we're talking about. They'd probably opt for Lea Michele and Miranda Lambert.
Grease
Sound of Music might be the more obvious family classic, but when was the last time you heard one of its songs at karaoke? Grease has a similarly popular movie, but just like SoM, it has a stage show every high school has put on half a dozen times. Even though the show is technically set in and around a high school, it'll be more fun to cast it older. Let's get Zac Efron as Danny, Taylor Swift as Sandy, and Rihanna as Rizzo. Maybe get J.Lo for Teen Angel, just for kicks.
My Fair Lady
You know what, let's dream high-end for this one: Get Alan Rickman to play Henry Higgins and Anna Kendrick as Eliza Doolittle.
The Music Man
Trouble! Trouble right here in that there's already been a TV adaptation of this back in 2003 —  but it was pretty crummy, and no one remembers it. The solution is to get Neil Patrick Harris to grab his 76 trombones, and for Janelle Monae to be Marian the librarian.
1776
It's way less popular than the other shows on this list, but American independence stuff is having a serious moment right now, between Sleepy Hollow and AMC's upcoming Revolutionary War drama Turn. So dust off 1776 already. Get Aaron Tveit to play John Adams and Naya Rivera as Abigail. Craig Bierko as Thomas Jefferson and Mandy Moore as Martha. And just for kicks, Stephen Colbert as Benjamin Franklin.