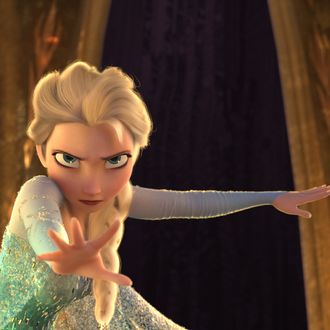 "FROZEN" (Pictured) ELSA.
Photo: Disney
While the weekend after Thanksgiving tends to be slow, this one managed to bring in 22 percent more revenue than the same period last year. That was thanks to Frozen, which climbed to the top of the box-office rankings with $31.6 million in its second week (total so far: $134.3 million), and The Hunger Games sequel. While the Disney feature knocked Catching Fire to second place (with $27 million*), the three-week-old film has so far made nearly $675 million globally, on track after only three weeks to beat out the $691.2 million its original made overall. Meanwhile, newcomer Out of the Furnace, the revenge drama starring Christian Bale and Casey Affleck, opened in third place with a disappointing $5.3 million. Rounding out the top five were Thor: The Dark World, with $4.7 million for its fifth week ($193.6 million to date), and Vince Vaughn's Delivery Man, which brought in $3.8 million (for a totaly of $24.8 million). The competition will be much stiffer next weekend, when The Hobbit: The Desolation of Smaug, American Hustle, and Saving Mr. Banks are all released.
* A correction and a clarification. First, Catching Fire is not in 3D. Second, to clarify some confusing wording: While the Hunger Games sequel has not yet outgrossed its predecessor, the fact that it is only $16 million shy of doing so after only three weeks means it surely will by next weekend.