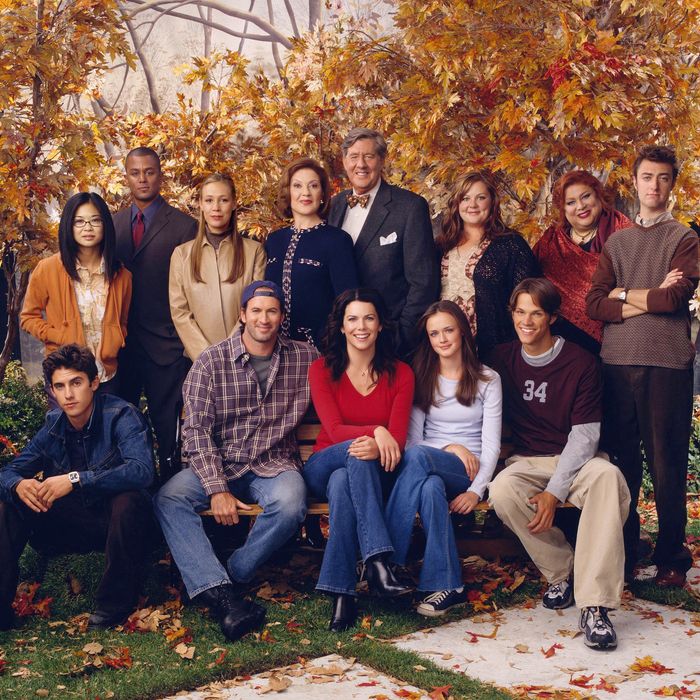 TCDGIGI WB018
Photo: Warner Bros/Courtesy Everett Collection
TNT's Mob City premiered this week, with a sumptuous noir aesthetic but not much in the way of rich characters. For some, though, the most notable part of the series is that it co-stars Milo Ventimiglia — a.k.a. Jess from Gilmore Girls. What better occasion, then, to revisit the residents of Stars Hollow? Where are these actors now? And more important, what shows should they be on?
Lauren Graham: One thing you notice upon repeat (and repeat and repeat) viewings of Gilmore Girls is that Lorelai is almost psychotically selfish and self-absorbed. But you like her anyway, and that is because Lauren Graham is great.
Where is she now? She's Lorelai 2.0 on Parenthood, where she plays the single mom Sarah Braverman.
And where should she be? That seems right.
Alexis Bledel: Oh, Rory Gilmore, so uptight and kiss-ass-y and constantly stressed out. For a girl so smart, she sure had lousy taste in dudes.
Where is she now? She's engaged to Pete from Mad Men, and she's the star of the upcoming Fox comedy Us & Them, an American version of Gavin and Stacy. The show has only filmed seven episodes, so the future is not looking bright.
And where should she be? Her three episodes of Mad Men indicated that she looks right in period garb and plays a good mid-century sad person. Get this woman on Masters of Sex already!
Scott Patterson: Let no chin go un-stubbled, no shirt be not-plaid. Luke Danes is on the case.
Where is he now? After the wonderful and underrated Aliens in America was canceled in 2008, he was on The Event, which was also canceled. He's also in a bunch of smallish movies.
And where should he be? On The Mindy Project, since he is the spiritual forefather of Chris Messina's eternal grouch Danny Castelano.
Edward Herrmann: Nobody messes with insurance genius and bow-tie aficionado Richard Gilmore. Except his daughter and granddaughter, who mess with his heart.
Where is he now? Herrmann's been on a dozen shows here and there, playing authoritative lawyer/doctor/judge/minister types mostly.
And where should he be? Playing some kind of disgraced senator on Scandal.
Kelly Bishop: Lorelai and her mother never hug and barely touch in seven whole seasons. That's how withholding Emily Gilmore is with affection.
Where is she now? She was, until recently, co-starring on Bunheads (R.I.P.).
And where should she be? She could also be a disgraced senator on Scandal, given how much casting overlap the shows already have. But she'd also fit right in on American Horror Story.
Melissa McCarthy: Did it sometimes feel like Lorelai was taking advantage of her BFF Sookie St. James's talent and good nature? Yeah, once in a while.
Where is she now? Trapped on the terrible Mike and Molly, though she has earned an Emmy for the role. She became a household name after Bridesmaids (which earned her an Oscar nomination), and she anchored two of this year's three highest-grossing comedies — The Heat and Identity Thief.
And where should she be? Her star's still rising! As it should be!
Liza Weil: She started out as the nasty antagonist constantly getting in Rory's way, but eventually Paris Geller became the show's best one-liner factory.
Where is she now? Weil was a major part of the first season of Scandal, as Amanda Tanner, and is another Bunheads alum.
And where should she be? On The Newsroom. That show could use a few of her withering stares.
Keiko Agena: Rory's hometown bestie Lane Kim deserved a better story line in later seasons. Married at, what, 20, and pregnant with twins after one unpleasant act of intercourse? Short end of the stick.
Where is she now? Another GG/Scandal crossover: Agena played one of the people who was killed when Fitz got shot. (She's hit the Shondaland trifecta, actually, appearing on one episode each of Private Practice and Grey's Anatomy, too.) She's also appeared on a few episodes of Shameless.
And where should she be? Veep. Her brief gig on Scandal made it clear she can seem very politically savvy.
Jared Padalecki: Why do so many 19-year-olds get married in Stars Hollow? For some reason, Rory's first love Dean got married as a teenager, though he did manage to squeeze in enough adultery to be Rory's first sexual partner.
Where is he now? Supernatural.
And where should he be? On Supernatural, which will be on TV forever.
Milo Ventimiglia: At some point, Rory's romance with the doofy but devoted Dean had to run its course. And Jess Mariano was just the guy to make it happen, all broody and moody and literate.
Where is he now? He did Heroes for four years, and now he's in the Frank Darabont miniseries Mob City. Plus, he's in a bunch of movies.
And where should he be? On The Good Wife, butting heads with Cary Agos.
Matt Czuchry: Ah yes, chapter three in the Great Rory Romance Chronicles: Logan Huntzberger.* His parents were jerks, and he himself was …mostly a jerk, which is why it was weird that Rory dated him for so damn long.
Where is he now? On The Good Wife, as the slightly less jerky Cary Agos.
And where should he be? TGW is the correct place for him.
Yanic Truesdale: Confession: I have no idea why so many fans loved Michel. I found him insufferable. He's a terrible employee, and he hates everyone. Bleh.
Where is he now? He did some French-language television in Canada.
And where should he be? On a sitcom somewhere. Trophy Wife, maybe? Suburgatory?
Sean Gunn: Every town needs a mailman. And a D.J. And a grocery store cashier. And in Stars Hollow, Kirk is all of those things. (And more.)
Where is he now? He was on the web series "H+" for a while, and of course popped up on Bunheads.
And where should he be? On Agents of S.H.I.E.L.D. That show could use someone as entreatingly weird as Kirk.
* This post has been corrected to spell Logan's last name correctly.