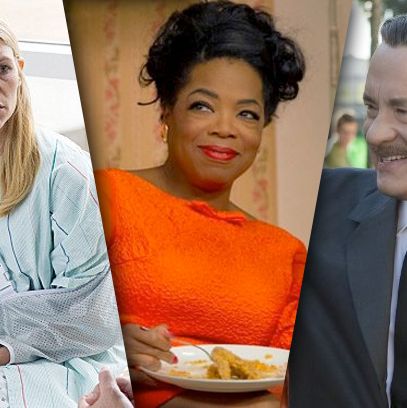 Every year, the Golden Globes manage to grow in esteem, but let's never forget that this whole thing is mighty weird. Sure, the Hollywood Foreign Press Association makes some choices we like (Amy Poehler and Tina Fey should host everything!) and they're attuned enough to awards chatter to reward most of the expected nominees (12 Years a Slave led the movie side and Behind the Candelabra dominated in TV, because obviously), but when you've got a voting body that consists of less than a hundred totally daffy, questionably credentialed foreign journalists, some surprises are bound to happen. Here, then, are all the notable snubs and shockers we found in this year's nominees (not all of which are bad!).
The Butler didn't click with the HFPA
Lee Daniels' The Butler is widely expected to figure into a host of Oscar categories, including a surefire nod for Oprah Winfrey as Best Supporting Actress. Well, the HFPA was clearly not having this movie at all! Just a complete and total shutout across the board, and one that allowed Mandela: Long Walk to Freedom's Idris Elba to squeak into the Best Actor in a Drama category ahead of his presumably better-positioned competitor Forest Whitaker.
Neither did Saving Mr. Banks
Disney submitted Saving Mr. Banks as a drama, which was an odd move: It's filled with comedy and music from Mary Poppins, and surely would have fared much better in the comedic categories. Accordingly, only Emma Thompson scored a nomination, while Tom Hanks was shut out in Supporting Actor, and Banks lost a Best Drama nod to Euro-flavored sleeper nominees Philomena and Rush.
"Please Mr. Kennedy" was nominated for Best Original Song
This comic highlight from Inside Llewyn Davis isn't actually an original song: It's an obscure little sixties ditty that the Coen brothers rewrote with the help of Justin Timberlake and T-Bone Burnett. Because of that, it'll be ineligible for an Oscar nomination, but it's indisputably great, and at least half-original, and that was enough for the HFPA, who put the song up against juggernauts like U2, Coldplay, and Taylor Swift.
Julie Delpy and Greta Gerwig were both nominated for Best Actress
You never know how the HFPA is going to fill out the comedic acting categories. Past surefire nominees this year like Meryl Streep, Amy Adams, and Julia Louis-Dreyfus, would they pad Best Actress in a Comedy with nods to mainstream hit-makers like Sandra Bullock and Melissa McCarthy from The Heat? Happily, they went for two terrific choices, Before Midnight's Julie Delpy and Frances Ha's Greta Gerwig, who have been criminally underrewarded this awards season.
James Gandolfini got no love
The late actor is a potential Oscar nominee for his work in Enough Said, but one ghastly HFPA voter famously shrugged off his chances in a fall chat with EW's Anthony Breznican, saying, "Well … he can't come to the show." Sure enough, Gandolfini's name was nowhere to be found this morning.
Blue Jasmine's Sally Hawkins finally got a nomination
Sure, Cate Blanchett is an absolute powerhouse in Blue Jasmine, but her capital-A Acting works because she's got the sweet, poignant counterbalance of Sally Hawkins as her salt-of-the-earth sister. I've long worried that voters would find Hawkins too small for awards recognition, but at least the Globes made room for her in Best Supporting Actress … and over Oprah, no less!
Tatiana Maslany got some well-deserved recognition
Orphan Black is a terrific show, and Maslany is fantastic on it — but a sci-fi show? Getting a nomination for something? Unheard of! Most Orphan fans have quietly resigned themselves to the idea that the series will live in relative obscurity, but we were pulling for her to get an Emmy nom, so this will do for now.
Brooklyn Nine-Nine isn't that good, is it?
Brooklyn Nine-Nine has had a solid freshman season so far — but best-comedy solid? Over Veep? Not quite, guys. And if anyone from the cast was going to be nominated, it should be Andre Braugher over Andy Samberg.
The TV drama category is a snub bonanza
It's bad enough that Downton Abbey continues to rack up nominations even though the second and third seasons are largely terrible. But no Mad Men in the drama category? Game of Thrones? Southland? The Americans? Lots of good dramas got left out. But it's nice to see Masters of Sex get some recognition.
No love for Homeland
Homeland's second season had its ups and downs, but it's rare for a previous year's winner to be completely absent from nominations. Last year, Homeland won Best Drama, Claire Danes won Best Actress in a Drama, and Damian Lewis won Best Actor in a Drama. This year? Nada.
Or Mad Men
MM won Best Drama in 2008, 2009, and 2010. This year, Jon Hamm couldn't even get a Best Actor in a Drama nod. Somehow James Spader's work on The Blacklist was deemed more impressive.
Wait, what's Dancing on the Edge?
It's a Starz mini-series that aired in October. It's set in London's jazz scene in the thirties, with Chiwetel Ejiofor as a band leader and Jacqueline Bisset as an influential rich lady.
* 30 Rock, previously mentioned in this piece, has been removed, as its short 2013 run made it ineligible for Golden Globes consideration.