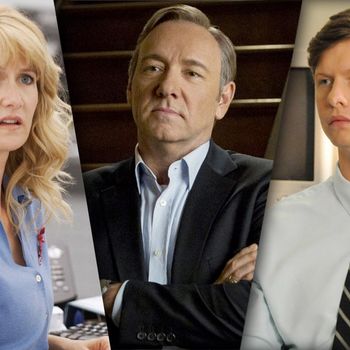 Photo: LACEY TERRELL/HBO; Melinda Sue Gordon / Knight Takes King Prod.; Comedy Central
There was a lot of good TV in 2013. So much, perhaps, that a few things slipped through the cracks. Now that holiday breaks are here, though, it's the perfect opportunity to catch up on some of the best shows of the year — there's nothing new currently airing, and many of us have some unclaimed down time that's just crying out to be spent with a lovable television companion. Some of these shows are major investments, but some can be enjoyed in tiny increments. Something for everyone!
I Don't Want to Make Too Major a Time Commitment

Adventure Time
146 eleven-minute episodes, many of which are on Netflix, and some of which are also on Cartoon Network's website
Why is it worth catching up on? Because it's audaciously delightful and suitable for all ages, and many episodes include inspiring messages about committing to one's own creativity, about rejecting rigid gender roles, and about trusting yourself and your friends. (Much of this wisdom comes from a magical shape-shifting talking dog named Jake.)
Do I need to watch all of it? Not at all. Episodes are mostly self-contained, though the mythology gets richer the more you watch.
Workaholics
40 half-hour episodes, all on Amazon and iTunes
Why is it worth catching up on? Because it's super funny and brash. If you were ever into The League or It's Always Sunny in Philadelphia, Workaholics will be your jam.
Do I need to watch all of it? No. You can easily pick an episode at random and enjoy it, but a safe bet is season three's twelfth episode, "A TelAmerican Horror Story." And as funny as the show is, it's not compulsively watchable like, say, Bob's Burgers — after two or three eps of Workahlics, you'll probably be ready for a break.
Well, I'd Devote an Afternoon to the Show

Rectify
Six one-hour episodes, available on iTunes
Why is it worth catching up on? Because one of these days, Abigail Spencer is going to be way more famous, and you'll be able to say you knew her when. (You might also recognize her as Sally's teacher from Mad Men or Scotty from Suits.) Rectify follows Daniel (Aden Young), who is freed from death row after nineteen years, and the six episodes only cover six days — six days of strained conversations, of frightening encounters, of confusion and conflict, but also surprises and joy and discovery. (Spencer plays Daniel's sister.) The cinematography alone would be worth it — you can practically feel the Georgia humidity sticking to your clavicle — but the show's dreamy, immersive feel comes from its characters and loose plotting, too.
Do I need to watch all of it? Yes. But it's only six episodes, and they work great in a marathon session.
Hannibal
Thirteen one-hour episodes, available on Amazon and iTunes
Why is it worth catching up on? Because it's spooky and cool and proof that sometimes Tumblr is right. It's a prequel of sorts to the Hannibal Lecter oeuvre, but more substantially, it's an arty and intriguing spin on murder-centric procedurals.
Do I need to watch all of it? No. Hannibal is interesting and visually captivating, but it is still mostly a procedural, and skipping episodes will cause only occasional, minor confusion. (Recurring secondary and tertiary characters' presence are usually re-explained.) Start with episode three, "Potage," and bounce around from there.
Enlightened
Eighteen half-hour episodes, all on Amazon, iTunes, and HBO Go
Why is it worth catching up on? Because it's not like other shows. Laura Dern stars as Amy Jellicoe, a mixed-up tragic heroine who's trying to lead a better life after a stint in a sort of spiritual rehab facility. She's deeply and wholly weird, but so is everyone on the show; it's not a fish-out-of-water story so much as a fish-in-a-tank-you-didn't-even-know-existed story. Sadly, these eighteen eps are all there is; HBO canceled the show earlier this year.
Do I need to watch all of it? No. You should, because it is great, but the first season can be a little tough to get into. Start with episode four, "The Weekend," and then skip to episode nine, "Consider Helen." (Again, it's always best to watch all of a show, but if you just want to test the waters, skip around and then go back when you are fully committed.) You can also start with season two, and what you miss in backstory you make up for in more action. This is probably the worst way to do Enlightened, but: You can try season two, episode five, "The Ghost Is Seen," as a stand-alone piece. If you fall in love, go back and watch everything. If you don't, call a coroner because you are deceased and will need a death certificate so your family can move forward in dealing with your estate.
I Am in It to Win It — I Have an Entire Day

The Americans
Thirteen one-hour episodes, available on Amazon and iTunes
Why is it worth catching up on? Because it returns in February, and it's going to be even buzzier this year than last. Keri Russell and Matthew Rhys star as KGB spies living deep, deep undercover in eighties Washington, D.C. — posing as a married couple, with children who have no idea that their parents are actually secret agents.
Do I need to watch all of it? Yeah, it's very serialized, and watching every episode will help keep all the characters and their shifting allegiances straight. But there's a lot of action in the show, so thirteen episodes fly by.
Orphan Black
Ten one-hour episodes, available on iTunes
Why is it worth catching up on? Because there hasn't been a sci-fi show with this much mainstream appeal since Battlestar Galactica. Sarah Manning is a low-level grifter who bumps into a woman at a train station — a woman who looks exactly like her. That woman then kills herself, and Sarah decides, in a moment of panic, to take over her life, to pretend to be this other person. From there, things get more sci-fi-ish.
Do I need to watch all of it? Yes. The story is very propulsive, though — you will be hard-pressed to stop.
House of Cards
Thirteen one-hour episodes, all on Netflix
Why is it worth catching up on? HoC was supposed to be Netflix's calling card, birthed from internal viewing metrics that told the streaming service its fans liked David Fincher, politics, and Kevin Spacey. And the show is pretty good, though it works better in a binge format than if it were held to the scrutiny that week-to-week recapping entails. Spacey plays a corrupt politician, Robin Wright plays his elegant and brilliant wife, and Kate Mara plays a scheming blogger.
Do I need to watch all of it? You will probably want to watch all of it in order, but if a scene gets boring it's 100 percent okay to fast-forward: All the salient points and "twists" are repeated or explained at least a few times.
No, I Am Really in It to Win It — I Have Many Days to Devote to This Show

Scandal
39 one-hour episodes; the first 29 are on Netflix, Amazon, and iTunes; the most recent ten are on Amazon and iTunes, and the most recent five are also on Hulu Plus 
Why is it worth catching up on? Because it is the breakout show of 2013, and it's thrillingly fast-paced. Kerry Washington stars as Olivia Pope, a D.C. fixer with plenty of secrets of her own, namely that she is the president's mistress.
Do I need to watch all of it? No. The first season is sort of blah, and certainly the first four episodes are totally skippable. Again, you'll be a little confused, but Scandal is a show where characters frequently tell other people who they are and what they should do. "You are the first lady, and you owe it to me to behave in [whatever] ways"; "I am your boss, and I am telling you to do [something]," etc. Season two is when things really start to take off.
Breaking Bad
62 one-hour episodes, most of which are available on Netflix and Amazon; the final eight episodes are available on Amazon
Why is it worth catching up on? Because all the hype is true: It really is that good. And you're nearing the point where the broad social expectation is that you've seen it, which means it's getting harder and harder to avoid spoilers.
Do I need to watch all of it? Yes, but the first season is a bit different than the rest of the series, so if you're not immediately captivated, power through. I will confess, I did not love the first season of BB the first time I watched it because it is so damn depressing: Sad dude gets a sad cancer diagnosis and sadly coughs himself to near-death, all while sadly trying to make sad crystal meth. It was too much! But later seasons do away with the feeling of happenstance — Walt becomes a character who's defined not by the bad things that happen to him but by the bad things he does to others, which is a lot more interesting.