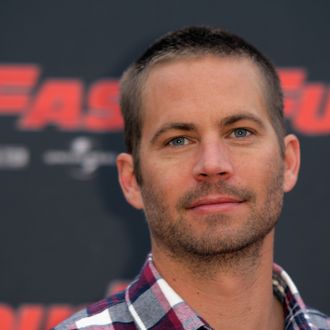 While Universal decides how it will proceed with the seventh Fast & Furious installment in light of Paul Walker's tragic and sudden death last weekend, the studios have come to a decision regarding the other two films the actor completed this year. According to the New York Times, both Hours (a low-budget drama about a father trying to keep his daughter alive in the aftermath of Hurricane Katrina) and Brick Mansions (a District 13 remake) will be released in early 2014 as planned. Both films will avoid mentioning that they are the 40-year-old's final performances. That's something a studio head who spoke to the paper anonymously calls "the single grossest thing you can do, because it looks like you are capitalizing on [the death]." Rather, the focus now becomes "honoring this guy's memory by celebrating the performance," according to the exec.
The matter of Fast & Furious 7 is considerably more complicated since an "aggressive shooting schedule" already left the production team with little room for delays. As of last month, the crew had wrapped up in Atlanta and were set to resume in Abu Dhabi after the new year. A separate Times piece details the somber meetings Universal had Monday morning with Ron Meyer, vice chairman of NBC Universal, Jeff Shell, chairman of the Universal Filmed Entertainment Group, and Donna Langley, chairwoman of Universal Pictures. The three are said to be dividing duties to figure out just how the their biggest 2014 blockbuster (running the studio a reported $250 million to produce and market) will fare in light of losing a major star.
"Because there is this horrible irony where life is imitating art, they have a very, very fine line to walk, both with revisions to the script and in the marketing campaign," said marketing consultant Dennis Rice. Options include writing Walker's death into the film, cutting his performance, or hiring another actor to finish his role. While none are ideal, Rice is convinced Universal will land on their feet. "They will succeed in the end, in part because they must. As horrible as his death was, there is a business investment to protect," he explained.