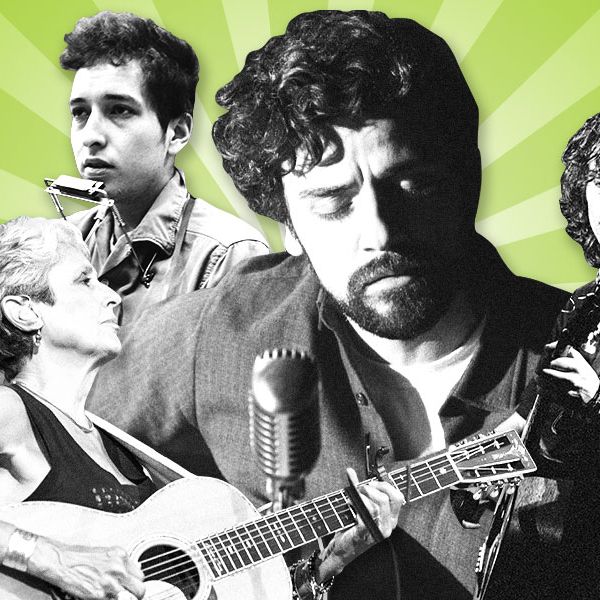 Photo: Maya Robinson and CBS Films and Getty
Near the beginning of Inside Llewyn Davis, the title character and folk musician (Oscar Isaac) plays a record on which he and his recently deceased partner sing a tune called "Fare Thee Well (Dink's Song)." The song pops up twice more in the movie — when he's briefly made to play it for his professor patrons and their friends and at the end, at his final performance at the Gaslight. It might've been the perfect song to use, as it is the platonic ideal of a folk song, perfectly typifying Llewyn Davis's quote from early in the movie: "If it was never new, and it never gets old, then it's a folk song." By that definition, "Dink's Song" is most definitely a folk song. Over a century old, it has been covered and interpreted in myriad ways, always sounding simultaneously contemporary and timeless. Here are some of the best renditions, which in a way tell the story of the last century of Western folk music.
First, some history: It got its name because it was literally the song of a woman named Dink. The story goes that in 1904, legendary musicologist John Lomax went to do field recordings down by the Mississippi levees and was eventually pointed in the direction of a woman with that name crooning it.
The original recording of the song was broken ages ago, leaving Libby Holman's 1942 version as the earliest one we have. Holman was an actress and more of a jazz singer than a folk singer, so her rendition has a torch song feel. 
For a more traditional folk version, we unsurprisingly have a version by Pete Seeger. Seeger recorded the song a few times, but this live version from 1957 is particularly charming, as he takes breaks to tell the history of the song. 
Here are three very different versions that show the diversity of folk music in the sixties (though Joan Baez's version was technically recorded recently). First, you have Dave Von Ronk, whom Llewyn Davis was partly inspired by. Ronk's version is similar to Davis's solo version in the movie, in that it features a comparable aggressive strumming pattern and expressive singing. (You can also hear Ronk's tendency to imitate the single style of the original, black folk artists.) Bob Dylan's version is a bit more rollicking and cool. Baez's is simply and expectedly gorgeous, showcasing her soaring vocals.
Now for something totally different and freaking awesome: Jeff Buckley's stunning eleven-minute live version. Bringing a rock energy and that voice of his, it is one engaging piece of music. Buckley's version, which includes a few improvised verses, heightens the lost-love scorn, blending the song's natural remorseful tone with a genuine anger. It feels like 1903, 1963, and 1993. For our money, this is "Dink's Song" peak.
The Pixies' Frank Black recorded an alt-country-ish version that is light-hearted to the point of near irony for his 2006 album Fast Man Raider Man. It sounds like the Band just hanging out drunk.
Gabriel Rios's minimal electronic take on it sounds a bit like the Blow and the Postal Service, but still maintains some of the song's folk roots, especially in its harmonies. It really is a beautiful version and a true testament to the song's versatility a century after the fact.