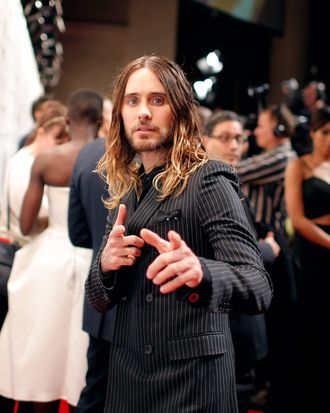 Jared Leto.
Photo: Jemal Countess/Getty Images
One of the advantages we have in New York is attending the IFP Gotham Awards, which celebrates independent filmmakers in a non-televised broadcast. And because it's not on television, some people do and say things they might not at other awards shows. More swearing! More violence! More nudity! (At least, there would have been, if co-presenters Mike Birbiglia and Kathryn Hahn had their way.) Here are some of the highlights from last night's Gotham Awards, where Inside Llewyn Davis won best feature.
Jared Leto, accepting best actor on Matthew McConaughey's behalf.
"I am not Matthew McConaughey. But we have some technology at work here, it is called the iPhone, and we have Mr. McConaughey on the phone right now. He just said, 'All right, all right, all right.' You're getting big laughs, buddy. [Tries to put him on speaker.] Can you hear anything? This is terrible. I have to interrupt. I'm going to speak for you. Here, talk to me. Yeah, there's a lot of people looking at me right now, and Matthew happens to be one of the few actors working today, so he's got a fucking job, guys, and he can't be here! But anyway, I have a couple of words on behalf of Matthew, who is an amazing person and an incredible actor. [Reads letter.] Yeah, shut the fuck up and please listen. Thank you. You can eat your crème brûlée after … and to Jared Leto — that's me! — for being the only guy I met months after working together … One last thing on behalf of Matthew, he says he loves you, you look great, you're a very sexy crowd, he loves New York City, and just keep living. He's laughing."
Brie Larson, seeming genuinely surprised at her win for best actress.
"Hello! I was not expecting this. Thank you very much. Okay, thank you, Michael [B. Jordan], for hugging me and telling me to breathe. Okay. This may be the only time I accept an award, so I'm going to try and get everybody in … [Thanks a long list of cast and crew, then to her producers.] Thank you and hi. What the hell?! I'm sorry, I don't know if I can say that … And I'd like to thank my boyfriend, Alex Greenwald, for making me pasta and taking care of our puppy while I made this movie."
Host Nick Kroll, making fun of the movie business.
"You know, in an era where blockbuster budgets will balloon and still bomb at the box office, the indies have consistently shown the major studios that you can spend only a fraction of that amount and still make movies that no one sees. Fifteen years ago, you had to hunt down copies of VHS tapes at obscure video stores, but now you can watch new releases on demand in your own home. I like to think I'm a pioneer of the on-demand model, because I've been ordering movies in hotel rooms for years. Pornos, everybody! … There seems to be a common theme in this year's movies, the horrors that we inflict upon each other: slavery, war, folk music … Speaking of, the Coen brothers are back at the Gothams with Inside Llewyn Davis! It's the story of a pain-in-the-ass folk musician who sleeps with Carey Mulligan. I believe the original title of this movie was Mumford & Sons. Nailed it. You have to wonder what the movie pitches were for these before they originally came out. How did they pitch this? Like, What if Life of Pi had less magic and tigers, and more of Robert Redford's face looking worried?"
Mayor Michael Bloomberg, presenting an award to Katherine Oliver as though he's a comedian.
"For the record, the mayor of Toronto and the mayor of New York do NOT have a lot in common! But I guarantee when one of you makes a movie about me, or even better, about Katherine and me, it will be shot in New York City. Now, I think the perfect casting would be George Clooney and Sandra Bullock, but I'm not sure that would work out on an indie budget."
Natasha Lyonne, having envelope problems.
While Lyonne struggled to open the envelope with the winner's name for breakthrough actor, her co-presenter Zosia Mamet asked her, "Need some help?" Lyonne said, "Yeah, why don't you help me out?" but continued without her. "Never opened an envelope!" she said half to herself while Mamet laughed.
Mike Birbiglia and Kathryn Hahn, competing for liveliest presenters.
Mike: "We're going to break the room in two parts. All right! Are you guys ready for the audience award?!"
Kathryn: "This side. Are you ready for the audience award?!"
Mike: "Kathryn, I don't think they're ready. This side, I want you guys take a glass of wine and smash it over the person's head next to you! And shout, 'I love independent movies!' Are you guys ready for the audience award?"
Kathryn: "And this side, I want you, when I say, 'Are you ready?' to stand up, rip off all of your clothes, look around for a shard of glass on your table, and write on your naked stomach, 'Is this independent enough for you?!' Are you ready?!"
Mike: "I think they're ready. Some of the people didn't do this stuff, but it doesn't matter."
Kathryn: "A lot of blood in this room tonight."
Nick Kroll, imagining a perfect Gotham Awards movie.
"The idea is Cate Blanchett returns to her hometown to find her half-sister Brie Larson caught up with bad influence and homeless musician Jared Leto. He and his brother, recently widowed Ethan Hawke, are not on speaking terms since he became a cop, partnered with Michael B. Jordan, who's gay, and his dad is — wait for it — Isaiah Washington. Darren Aronofsky's mustache will do the visual effects, and Richard Linklater has been e-mailing Matthew McConaughey's character in Dazed & Confused, who is now Jesus in his late sixties, who is still trying to have sex with teenage girls. It's actually pretty dark. But at the end, it's uplifting!"