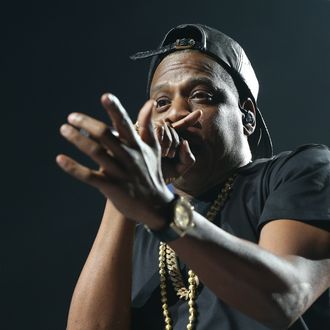 Rapper Jay Z attends the Jay Z and D'USSE Cognac Host The Official Legends of the Summer After Party at Lumen on July 22, 2013 in Chicago, Illinois.
Photo: Adam Bettcher/Getty
And it is hard to argue with his top four, though you will probably want to register a Life+Times comment name just to yell at him about "Empire State of Mind." ("Sorry critics, it's good.") But that is the point — you are supposed to yell at Jay Z in this circumstance. It is the reason for the List Season. Anyway, here are his rankings. (The notations are Jay's. Forgive him for not following the traditional countdown-list format; he is new to this.)
1. Reasonable Doubt (Classic)
2. The Blueprint (Classic)
3. The Black Album (Classic)
4. Vol. 2 (Classic)
5. American Gangster (4 1/2, cohesive)
6. Magna Carta (Fuckwit, Tom Ford, Oceans, Beach, On the Run, Grail)
7. Vol. 1 (Sunshine kills this album … fuck …  Streets, Where I'm from, You Must Love Me…)
8. BP3 (Sorry critics, it's good. Empire (Gave Frank a run for his money))
9. Dynasty (Intro alone …)
10. Vol. 3 (Pimp C verse alone… oh, So Ghetto)
11. BP2 (Too many songs. Fucking Guru and Hip Hop, ha)
12. Kingdom Come (First game back, don't shoot me)
At least he knows how bad Kingdom Come was.