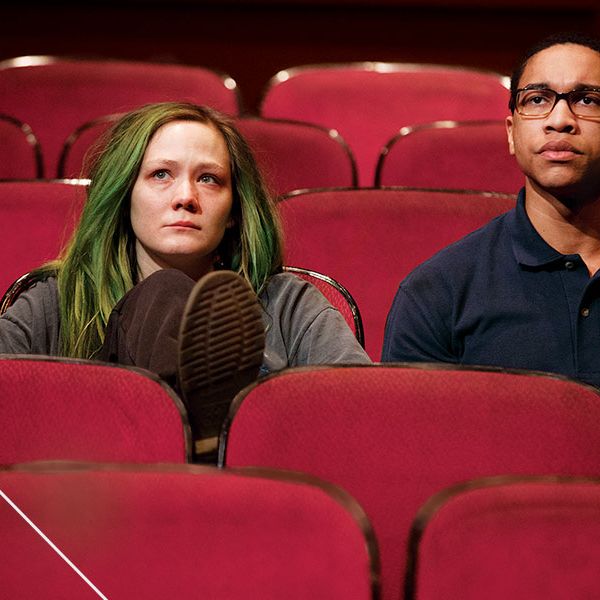 1. The Flick
Playwrights Horizons
The slacker staff of a down-at-heels cinema, doing nothing much beyond cleaning up popcorn, paradoxically provided the most spellbinding three hours of theater this year. How? I couldn't tell you; Annie Baker, abetted by director Sam Gold, is sneakily crafting an entirely new dramaturgy for the millennial stage.
2. Fun Home
Public Theater
Alison Bechdel's graphic memoir about growing up gay with a closeted dad underwent the most unlikely genre translation imaginable to become the year's best new musical, both hilarious and crushing. The chief re-imagineers were Jeanine Tesori (music) and Lisa Kron (book and lyrics), under the direction, once again, of Sam Gold.
3. The Glass Menagerie
American Repertory Theater/Broadway (Booth Theatre)
Each generation should have its own unforgettable version of Amanda and Tom and Laura and Jim; director John Tiffany provided it for ours by scraping away the play's accumulated surface realism until he hit poetic bone. A perfectly daring cast led by Cherry Jones and Zachary Quinto knew how to go there with him — and bring it back alive.
4. After Midnight
Encores!/Broadway (Brooks Atkinson Theatre)
Lacking stories, revues leave very little room for error; luckily, this song-and-dance tribute to Duke Ellington and the Cotton Club made none. As conceived by Jack Viertel, and directed and choreographed by Warren Carlyle, it just soared from joy to joy — especially in the hot arrangements played by the Jazz at Lincoln Center All-Stars band.
5. Passion
Classic Stage Company
Pretty much every Stephen Sondheim musical has been multiply revived; seldom are they distilled as bracingly as in John Doyle's intimate staging of the oddest love story ever told. With Judy Kuhn as the sickly, possessive Fosca, this risky work (with a book by James Lapine) was as beautiful as a string quartet and as round-the-throat gripping as a thriller.
6. Nikolai and the Others
Regular Singing
Lincoln Center Theater/Public Theater
The rocky relationship between art and freedom was the pressing subject of Nikolai and the Others — the "others" including George Balanchine and Igor Stravinsky. That should have been enough for one playwright in one year, especially as beautifully directed by David Cromer and performed by a terrific ensemble cast. But Richard Nelson topped off the calendar (and his Apple Family tetralogy) with Regular Singing, a quietly devastating look at final things, and the last word in the unmatched power of stage naturalism.
7. Here Lies Love
Public Theater
Few ideas could have seemed more awful on paper than a disco musical about Imelda Marcos. But smartly ironized with catchy songs by David Byrne and Fatboy Slim, and immersively directed by Alex Timbers, finally shedding his snark-skin, a potential homage to totalitarian chic instead became the anti-Evita: never idolatrous, always humane. And danceable!
8. Domesticated
Lincoln Center Theater
What if Eliot Spitzer weren't an anomaly and an embarrassment to his sex but the logical product of the evolutionary sidetracking of the human male? Knee-jerk provocateur Bruce Norris explored this thesis in the sharpest comedy of the year, expertly delivered by Jeff Goldblum and Laurie Metcalf under the direction of Anna D. Shapiro.
9. The Assembled Parties
Manhattan Theatre Club
One of the secret strengths of the two-act drama lurks in the intermission; when Richard Greenberg's tale of upper-middle-crust manners leapt twenty years in those twenty minutes, the result was a sucker punch to the soul. So was the rest of the play, directed by Lynne Meadow and starring Jessica Hecht, Jeremy Shamos, and the delicious Judith Light.
10. The British Double Bills
Broadway (Belasco Theatre and Cort Theatre)
An original-practices Shakespeare repertory directed by Tim Carroll worked gorgeously in Twelfth Night and strangely but fascinatingly in Richard III exactly because the period style engaged us as moderns. Also because of the incredible Mark Rylance. Meanwhile, the pairing of Beckett's Waiting for Godot and Pinter's No Man's Land (directed by Sean Mathias), each an excellent production on its own, benefited from a kind of exponential existentialism. And from the incomparable Ian McKellen.
This article originally appeared in the December 16, 2013 issue of New York Magazine.